Straight From ABC's "Shark Tank"
Abe Geary, PetPaint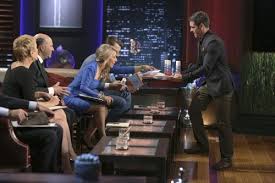 Abe Geary pitched his pet-related idea to the sharks on ABC's Shark Tank. He ended up turning down an offer that required too much equity. Now he's on Animal Radio® to share his PetPaint with listeners. Abe tells us what it was like for him on the prime-time blockbuster show. His mere appearance on the TV show has driven sales.
PetPaint is a dog-safe, washable, quick-drying, temporary color hairspray for dogs. It is bright, easy to use and safe for dogs to lick, and you know they can reach!
Abe Geary, who sought to change the way people celebrate occasions and holidays with their dog, founded the company. After the establishment of clinical protocols, and rigorous formula testing, PetPaint was conceived. PetPaint is a quickly expanding color spray line for dogs built on creating a lasting relationship between dogs and their owners.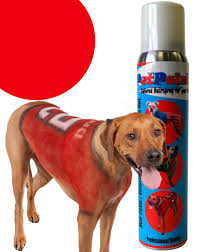 Abe tells us about his experience pitching his PetPaint on the Shark Tank. He went in there and asked for $200,000 for 20% of his company. In retrospect, he now says he would have changed those figures. He tells us that some of the "Sharks" are strictly by the numbers, while others are about the ideas. Barbara Corcoran did offer Abe the full amount of money he was asking for, but she wanted 60% of the company, which he turned down. While they show the pitches in about 5 to 10 minutes on the show, the actual negotiations can go on for up to an hour.
Abe says that he has been working on this idea for a couple of years and has a substantial amount of money invested. He has eaten, slept and drank PetPaint for the last couple of years!
In the past, the word "Color' was a fairly naughty word when it comes to getting in to the general public. Abe has invested a lot of time getting it to bloggers and building a good story behind PetPaint. He even tells us that rescue organizations are now embracing color, using it to stencil the words, "Adopt Me" on their dogs.
Even though Abe didn't make a deal on Shark Tank, he said his phone has started ringing like crazy and his website has received over 200,000 hits since the show's airing.



Cowboy Poet Veterinarian
Baxter Black, Poems Worth Saving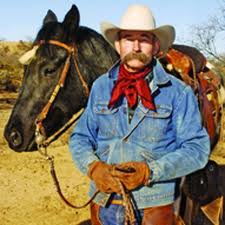 Perhaps you've already had a chance to hear Baxter Black on NPR or The Tonight Show. A former veterinarian turned poet, entertainer and philosopher - you will be thoroughly entertained by this odd character and his Thanksgiving Turkey tribute.
Baxter was a former large animal veterinarian and is now a successful living poet. Baxter was a veterinarian for 13 years, and is now making a living as a cowboy poet, or trying to!
He's written several books, done over a dozen audio and video tapes, CDs and DVDs, and has achieved notoriety as a syndicated columnist and radio commentator. One of his books is entitled, "Poems Worth Saving." Baxter says this leaves him room for a sequel, "Poems Not Worth Saving!"
Baxter uses many large words during the interview, which throws Hal off. While Hal is scrambling to find a dictionary, Baxter tells us that you know when you use a word that you know exists but you can't find it in the dictionary? Well, he has invented a word for this, but can't remember what it is!
Baxter shares one of his poems with us for Thanksgiving, from a turkey's point of view:
A Turkey's Thoughts At Thanksgiving
"I always thought I'd do more with my life. Become a writer, maybe. But it was hard to hold a pencil, I couldn't find a typewriter with the turkey alphabet, it only has five letters counting the double B, and it didn't seem right to use a quill.
"Like any young poult, I entertained the idea of becoming a fireman 'til I found out I was flammable.
"As I matured I became active in worthy causes like 'Free Tom' and the Turkey Anti-Defamation Society and The 2 Kilometer Turkey Trot to benefit the Dumb Friends League, in which turkeys outnumber cows, the next largest species, by 100 to 1.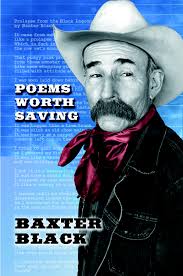 "I painted signs for the Turkey Illiteracy Foundation. Which was sort of foolish 'cause nobody could read 'em and I couldn't write. I just drew pictures of turkeys looking at pictures. And, of course how could I forget the Anti-Subway Sandwich protest. We held a sit-down strike in front of the local Subway til most of us got run over.
"I went through the snood and wattle piercing phase. We thought it looked cool. Then our apartment manager put a band around our ankles. You talk about being decked out. We could rattle when we strutted our stuff.
"But it all went by so quickly and now I'm in the prime of life. I look at my contemporaries. We're all grown and have big plans. I've been working on an International Turkey Olympics, maybe hold it in Ankara. With events like Head Bobbing, Track Leaving, Egg Laying for weight and distance.
"Lots of people don't give much thought to a turkey's point of view. They just assume we spend all day gobbling at each other, eating bugs and staring into space. In my case I spend most of my time trying to think. Anything, just trying to think anything. When I put my mind on it sometimes I get an idea, as you can tell. The hard part is trying to remember it.
"Did I mention politics? I know some may believe there are already too many turkeys in office; but I think I might have a chance. If I can just establish residence in Florida.
"Oh well, people are talking about Thanksgiving. Everybody's goin' home for the holidays. Turkeys are a big part of it, I'm told. I'm not sure exactly what it is we do. But I hope we do it well and that our contribution is appreciated."
Tinsel & Tails With A Prince
Prince Lorenzo Borghese, Celebrity Catwalk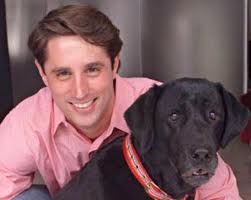 Prince Lorenzo Borghese is back. This time we clear up any confusion about him being related to Napoleon. Since being on the TV reality show The Bachelor, almost a decade ago, he's been actively involved with his high-end boutique pet line, and he's been advocating for our furry-friends.
Lorenzo tells us that Napoleon's sister married a great-great uncle of his through an arranged marriage, because he wanted a link to Italy and the Vatican Church.
Even though The Bachelor Show seems so long ago, Lorenzo tells us that it gave him the opportunity to promote what he loves, which are animals. We also had to ask if he is single, to which he replied, "I am currently in a relationship, dating someone, and its been going well." But, he adds, "I still haven't gotten married." So girls, there's still hope!"
Lorenzo is the founder and president of Royal Treatment Italian Pet Spa, a high-end bath; body and skin care line for pets, using organic ingredients and fragrance oils from Italy. He is also the founder of Animal Aid of the United States. One of the things they focus on is spaying and neutering. Lorenzo states that it is a fact that if there were spaying and neutering laws throughout the United States, that every shelter would truly be a no-kill shelter. A portion of all sales from his Royal Treatment Pet Spa goes to spaying and neutering facilities in low-income areas.

Look for Lorenzo at the Celebrity Catwalk's 2nd Annual Tinsel & Tails, a Holiday Tastetacular. Proceeds from Celebrity Catwalk go directly to non-profit organizations that work tirelessly to put a dent in those staggering statistics. With the help of today's hottest designers, stars from film and television participate as celebrity models in this highly anticipated fashion & lifestyle event.
Every year celebrities lend their time and talent by hitting the catwalk for charity, raising funds and awareness for National Animal Rescue. Jamie Foxx, Nicole Richie, Mya, Heather Mills and Melissa Rivers are a few of the luminaries who have hosted this fashion event which fuses the worlds of fashion and entertainment into one unforgettable evening.
Amateur and iconic chefs will be serving their signature dishes. Dogs and owners will enjoy Cocktails & Doggie Bags; Pup-parazzi Photos; and Holiday Themed Costume Contests. Animals available for adoption will also be in attendance.
The event will be held on December 7, 2013 from 1:00pm-4:00pm at Calumet Photo, located at 20 West 22nd Street (2nd Floor) between 5th & 6th Avenues in New York City.
http://www.celebritycatwalk.com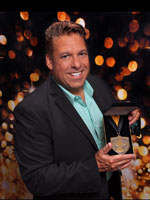 The Dogfather's Grooming Tip with Joey Villani
Think about Grooming Needs Before Selecting A Dog
A question that Joey hears frequently when people are searching for a dog is, "What kind of dog can I get that doesn't shed?" His response is always, "Don't get a dog then!" as shedding is part of a dog's coat's natural process.
Dogs that shed actually have lower maintenance than dogs that don't shed that much. It's like a double-edged sword. People will get what is called a "hypoallergenic dog." These dogs shed very little, but they do shed. And while they do nothing to help with your allergies, it does help keep the hair in your house to a minimum. These dogs include the Bichon, the Labradoodle and the Portuguese Water Dog.
But what you need to realize about these dogs, is that they require heavy grooming maintenance. Groomers see dollar signs when someone brings in these dogs such as a Labradoodle, as it is a lot of work. Their coats take about 45 minutes to an hour alone just to dry, and this doesn't even include the haircut. If your groomer charges $50 to $75 an hour, it adds up.
Joey advises people when looking for a dog and they want to know what their grooming requirements are, there is, "An App for that!" It is called the "AKC App," and it will tell you about all breeds of dogs, not only those that are registered by the AKC, but also the new designer dogs as well. This will give you all of the tips you need to know about dogs that shed and about dogs that shed very little. It will also give you information on dogs that require a little or a lot of grooming.
People don't nomrally add in the cost of grooming when figuring out how expensive a dog will cost. They usually just think about food and regular vet visits. You must factor in all aspects of owning a pet to get an accurate figure of possible expenses.

Animal Radio® News with Stacey Cohen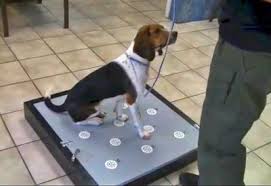 Are You Pregnant? Ask a Beagle!
Want to find out if you're pregnant? Forget those home pregnancy tests, get a Beagle! Zoos around the country will soon find out whether a Beagle named Elvis can let them know when their polar bears are pregnant. The 2-year-old has been specially trained for a year by a Kansas handler who has taught dogs to sniff out everything from explosives to bed bugs. A Cincinnati Zoo animal conservation scientist had the idea after reading about studies on using dogs to detect cancer. Confirming pregnancies of the massive bears, a threatened species, has been difficult, and zoo officials say knowing can help make sure they and the mama bears are ready for birthing and raising cubs. They separate them from males, get them into dens with extra bedding, step up video-camera monitoring, and line up staff and volunteers for 24-hour "cub watches" later. "It's always nice to know in advance," said Randi Meyerson of the Toledo Zoo, who coordinates polar bear species survival planning for the Association of Zoos and Aquariums. She praised the beagle project as "thinking outside the box" to provide a potentially important new tool. It's non-invasive and simple for zookeepers, who pick up fecal samples for Elvis to check out.
Horse Slaughtering Temporarily Blocked
A federal appeals court is granting a temporary injunction to block government inspections of horses due to be slaughtered. The Tenth U.S. Circuit Court of Appeals granted the emergency request made by the Humane Society of the United States and other animal protection groups. They contend the U.S. Department of Agriculture failed to do environmental reviews before granting approval for meat companies in New Mexico, Iowa and Missouri to slaughter horses for human consumption. This follows a district judge's recent dismissal of a lawsuit filed by the groups, which had cleared the way for the horse slaughters to resume.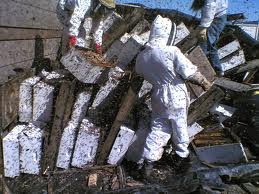 Truck Spills The Bees
Forsyth, Georgia is abuzz after a thousands of bees spilled onto the highway. According to the Macon Telegraph, a semi-truck carrying beehives had a tire blowout and the resulting accident littered the highway with broken hives, honeycomb and a cloud of angry bees. Clean-up crews were able to remove the hives and the bees, but two lanes of traffic were closed for several hours. Monroe County Emergency Agency Director Matthew Perry described the incident as a "sticky mess."
Police Dog Pension Plan
Police dogs in Nottingham, England won't have to worry anymore about big vet bills after they retire. According to the Nottingham Post, Police and Crime Commissioner Paddy Tipping has drawn up a scheme that will give the dogs their own pension plans. The pups will be given up to $800 a year for three years after they retire, with the money intended to cover veterinary bills for problems sustained while on the job. The police dog pension plan, which is the first of its kind in Britain, is scheduled to go live in December.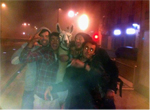 Intoxicated Teens Take Stolen Llama on Tram
A group of French teenagers is in trouble with the law after they allegedly stole a circus llama. According to the British newspaper the Independent, the group of five teens, who were allegedly intoxicated and coming home from a night of clubbing, came across Serge the llama at a closed down circus in the city of Bordeaux. Apparently, the group first tried to take home a zebra, but the animal wouldn't go with them. However, one of the group members, Mathieu, says Serge walked with them, "like a good dog would have." The group was busted after they took the animal onto Bordeaux's tram system, which caught the eye of a ticket inspector. The teens were eventually arrested for stealing Serge, who reportedly made it back to his habitat in good condition.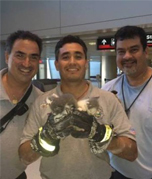 It Literally Rains Kittens
Can it really rain cats and dogs; at least it apparently can rain cats or at least kittens, if you are waiting for a flight at the Miami International Airport. Three kittens recently fell from the ceiling of Terminal J in Miami International Airport. The kittens were discovered after one traveler complained of odd noises in a certain area of the airport. At one point, she looked up toward the ceiling with curious security employees, and what followed was, it's raining kittens; three little kitties tumbling from the ceiling. Firefighters took the kitties to animal control, which will put them up for adoption.
Name That Panda
It's time to play "Name That Giant Panda Cub" at the National Zoo. People can go to Smithsonian.com and choose from one of five Mandarin Chinese names for the zoo's infant panda cub. They include "Mulan," which is the name of a famous Chinese warrior woman, and "Bao Bao," which is a combination of the Chinese characters for "precious" and "treasure." The winning name will be announced on December 1st.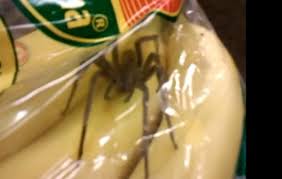 Venomous Spiders Invade Bananas
Consi Taylor was halfway through a banana when she saw a white spot on the skin, which she thought was a patch of mold. That thought is gross enough, but then the "spot" burst open and baby spiders started scurrying across the fruit. The British woman told the staff at Sainsbury's supermarket about their spider-infested offerings and they gave her a $15 coupon. But when she sent a picture of the spiders to a pest-control company, things got REALLY scary. Taylor was told that those unwanted little nasties could be Brazilian Wandering Spiders, which have been called the most venomous spiders in the world. According to SKY News, those particular arachnids can be "extremely aggressive" and a bite from them can "trigger loss of muscle control, breathing problems, paralysis and eventual asphyxiation." Sainsbury's not only apologized to the family, but also put them up in a hotel and paid for their entire home to be fumigated.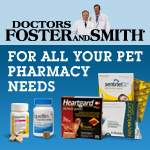 NEWS UPDATE brought to you by Drs. Foster & Smith, affordable pet supplies. Low prices every day, so you save on every order.

Listen to the entire Podcast of this show (#729)