Josh Duhamel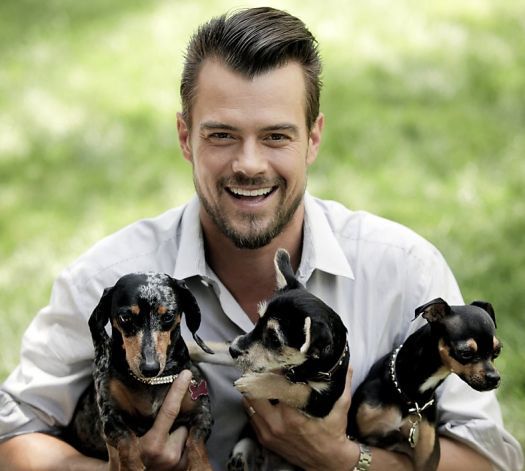 Actor Josh Duhamel wasn't originally interested in acting while he was studying at Minot State University in North Dakota, where he grew up. He had planned on going to dental school after getting his degree, but was short on credits.
Josh then worked in the construction business when he was noticed by a scout from a modeling agency in San Francisco and offered a job. He did a lot of commercial work, even beating out fellow model Ashton Kutcher for a place as a top model. Modeling eventually gave way to acting, where he starred in the daytime soap opera All My Children. Next was a part in Win A Date With Tad Hamilton! And then he landed one of the starring roles alongside Oscar-nominated James Caan in the television series Las Vegas.
Josh admitted that he bought his first dog Zoey, not knowing anything about rescuing. A co-worker on the show Las Vegas scolded him and said, "What are you doing, you rescue, you've got to rescue, do you know how many dogs are out there that need a home?" Josh didn't realize that. So when he was searching for a new dog, he knew the only way to go was to rescue.
In searching for an adopted dog, a rescue organization brought a dog to his home to see how they would get along with his current dog, Zoey. Josh was told that the dog was a great athlete, and as if on cue, the dog got stuck between the coffee table and the stairs. This was a dead giveaway that he wasn't very athletic! Josh stated that, "He also didn't have the best breath, but Meatloaf was so cute and turned out to be such an incredible little friend for the last 6 or 7 years." Unfortunately Meatloaf has passed away.
When Josh adopted Meatloaf, his name was Dillon but he looked like a meatloaf. He was a fat little thing and brown in color. Josh loves Meatloaf the singer, so the name stuck.
Josh now tells anyone who is thinking about getting a cat or a dog that you have to think about adopting. Not only because it's the right thing to do, but because they are actually incredible pets. They are so appreciative. They know what the alternative is. They know what the shelters are like, and they are so appreciative and loving.




Don't Stuff Your Pet With Thanksgiving Leftovers - Dr. Debbie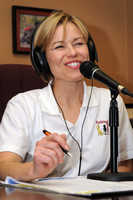 Thanksgiving is all about enjoying time together - family, friends and great food. In many households the family pet may also sample a taste from the holiday table; a morsel of turkey breast for Tabby or a side of fixings for Fido. Tuned in to those enticing smells, our pets know how to manipulate us with a flutter of sad puppy dog eyes or incessant meowing.
Sharing these Thanksgiving goodies with our pets can put their health in jeopardy, but many of us do it. Over 60-percent of pet owners confess to sharing their holiday meal with their pets, but that doesn't make it wise.
Here's Why
Dogs' and cats' digestive systems thrive on a stable, consistent diet. Toss in a few leftovers and your pet will respond with a thankful tail wag, but it could leave him with gastroenteritis and leave you with vomit and diarrhea messes sprinkled about the house.
Sharing Thanksgiving leftovers can risk more than just an upset belly though. Feeding human food to our pets can trigger pancreatitis, an inflammation of the pancreas that results in release of digestive enzymes into the abdomen. Pets with pancreatitis develop vomiting, diarrhea, lack of appetite and abdominal pain, often demonstrated by a hunched abdomen. Pancreatitis is painful and life-threatening and may result in bleeding disorders or heart arrhythmias. Treatment for pancreatitis includes hospitalization, intravenous fluids, pain medications and anti-nausea medications.
Pancreatitis risk is greatest in obese pets or those that ingest especially fatty foods like greasy meat trimmings, sauces and other rich side dishes. Be especially cautious with Schnauzers, who have an increased risk of pancreatitis due to breed predisposition.
Thinking of handing that turkey bone to your dog? Fugettaboutit! Any bones even cooked bones have the potential to splinter, damage the digestive tract, or cause an intestinal obstruction. Bone chewing also leads to damaged, chipped teeth, which may require root canal surgery or surgical removal. You are better off to just brush those pearly whites than risk tooth pain and a costly dental procedure.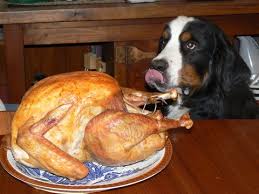 If you are looking for a safer way to include your pets in the holiday cheer, have a handful of pet treats on the ready. Better to stick with snacks you are certain will agree with your pet's digestive system. But if you must look on the table for your pet's treat, offer a small amount of white turkey meat without the skin or bones. Skip the sides, sauces and deserts. And be wary foods that are toxic to pets such as raisins, grapes, onions, macadamia nuts and chocolate.
After the meal is done, do a thorough cleanup and discard the turkey bones in a secure, outdoor garbage can away from pet access. Store leftovers in the refrigerator or where pets cannot reach them. Keep on the watch for the curious pets with a nose for trouble. Pets will ingest the turkey string, foils and any items with juices dripped on them.
Being thankful for your pets doesn't mean you have to stuff them with leftovers. Veterinary clinics across the country see a surge in sick pets every year after Thanksgiving. Be informed about Thanksgiving dangers and you'll avoid that unwanted emergency room visit this holiday.
Featured veterinarian known as "Dr. Debbie" on national pet radio program, Animal Radio. Ebook author of "Yorkshire Terriers: How to Be Your Dog's Best Friend"; "Pugs: How to Be Your Dog's Best Friend"; "Mini Schnauzers: How to Be Your Dog's Best Friend"; and "Shih Tzu: How to Be Your Dog's Best Friend." Dr. Debbie's books.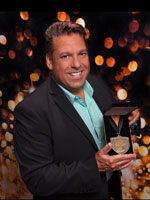 The Dogfather's Grooming Tip with Joey Villani
Check Your Pet's Nails Weekly
Joey recently had a woman bring her dog into his grooming salon. Her dog's nails were so long, they were curled under and were actually growing into the pads of his feet. Other than that, you could tell the dog was in good shape and well taken care of. The women felt that the lameness in her dog was due to age. Her Maltese is 9 years old. But when Joey clipped the nails, the dog immediately started running around and jumping, and was very happy and no longer in pain.
So why do people ignore their dog's nails? People don't realize that they need to check their dog's nails on a regular basis. If you have a lap dog that is carried most of the time, they need to have their nails checked almost weekly. These dogs don't do much walking; therefore the pavement does not naturally file down their nails.
When a dog's nails are left unattended, they will grow under and can grow into the pads of their feet. When that happens, it can become infected, but worse than that, it can cripple your dog.
You know when you can hear your dog's nails clicking across a tile floor, that it is time they were cut. If you walk your dog regularly on sidewalks or pavement, basically any kind of hard surface, it is like a natural nail file and will automatically grind down the nails to exactly the right point.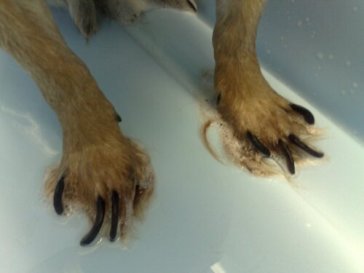 It is not a good idea to cut your own dog's nails at home, unless you know how to do it properly. All dog's nails have a vein which is called a "quick." When you hit this quick, this can hurt your pet and will make a mess when it bleeds.
You should check your dog's nails weekly. Inspect them and make sure that they aren't broken and not starting to curl under. Most groomers charge $5 to $10 clip a dog's nails. If you can't afford a professional grooming, make sure at least their nails get clipped.




Animal Radio News - Stacey Cohen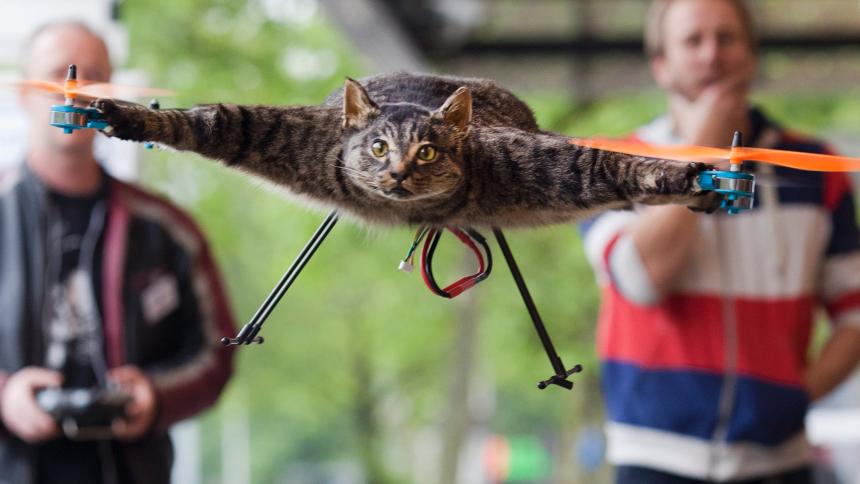 Half Cat - Half Machine!
A Dutch artist is honoring his departed feline friend by creating a "Half Cat, Half Machine." According to The Mirror, Bart Jansen turned the taxidermied remains of his pet Orville into a working radio-controlled helicopter. Jansen explains that Orville was named after iconic aviator Orville Wright, so taking him airborne seemed like a fitting tribute. The so-called "Orvillecopter" is currently being displayed at the Kunstrai Art Festival in Amsterdam, but it will soon be getting an upgrade. Jansen says Orville will be "Flying with the birds" once he gets larger propellers and more powerful engines on his birthday.
First Recalls, Then Lawsuits
Following an ever-increasing list of Salmonella-related recalls, Diamond Pet Foods faces what may be the first lawsuit filed in connection with the illness. Pritzker Olsen, a national law firm specializing in food safety, filed the suit last week against Diamond Pet Food Processors and Costco Wholesale Corp. in U.S. District Court in New Jersey. According to the firm's website, the suit was filed on behalf of the father of an infant who was sickened by a rare strain of salmonella infantis and hospitalized for three days. The attorneys link the case to the recalled pet food because the bacteria cultured in the infant was found to be the same rare subtype discovered in samples of Diamond Pet Food dog food and in other people who have sickened from the outbreak. To see a complete list of specific brands of dry dog and cat food that have been voluntarily recalled by the company, visit the Diamond Pet Foods recall site.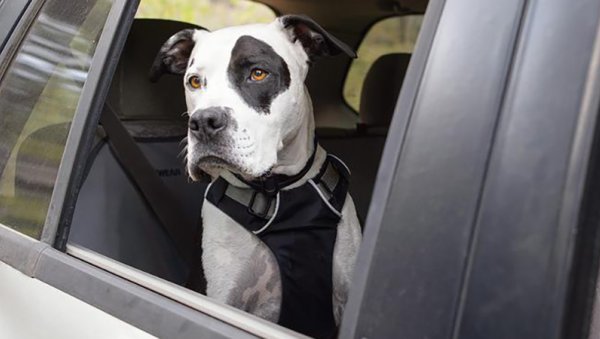 "Click It Or Ticket" Applies To Pets Too
New Jersey is cracking down on pets in transit — and says "click it or ticket" now applies to cats and dogs, too. The SPCA and Motor Vehicle Commission teamed up at a public education event in the Garden State to talk about the dangers of transporting animals without proper restraint. New Jersey is the only state where driving with pets loose in the car is a violation of animal cruelty law. Drivers cited for failing to properly secure their pet, can face a ticket of between $250 and $1,000 and as much as six months in jail. Pets hanging out the window, riding in the back of a truck or curling up on the driver's lap are among ticketable offenses under the law. Only a few other states are cracking down on pets in vehicles. Arizona, Connecticut and Maine can charge a driver for an unrestrained pet under distracted driving laws. Hawaii specifically prohibits driving with a pet in your lap.
"Busy" Cows Hold Up Traffic
A pair of bovines caused problems for Pennsylvania police by getting busy in the middle of a road. According to the "Pittsburgh Post-Gazette," officials said the bull and cow's "relations" happened in a Rayburn construction zone and created a "big mess." Members of the Pennsylvania Farm Bureau were called in to help the animals cool down and get out of the way. Trooper John Corna says he's had to deal with cows being hit by cars before, but this encounter was a first in his career.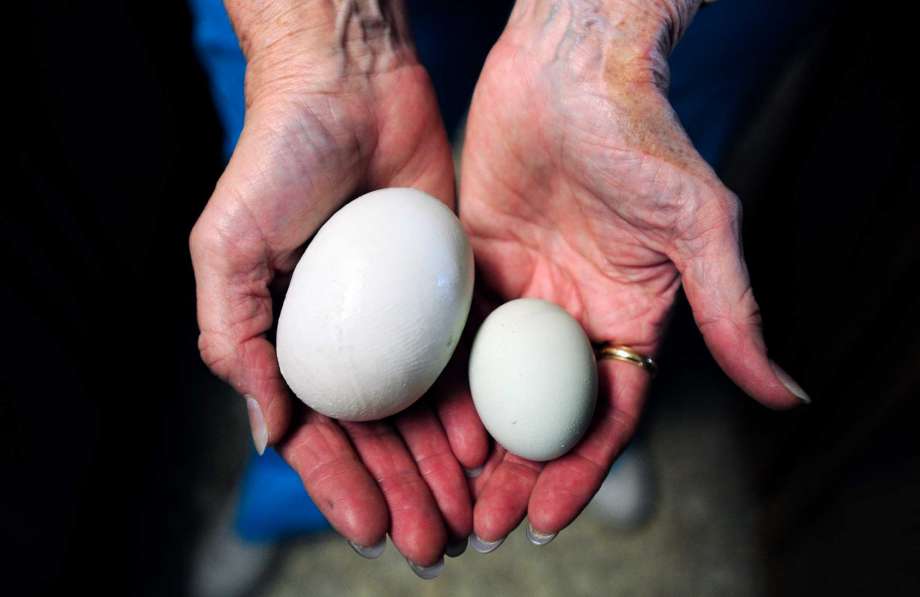 Surprise! Texas Hen Lays "Super Egg"
Imagine walking out to a chicken coop and discovering one of the chickens had laid an egg twice the normal size. That's what happened to Cookie Smith in Abilene, Texas. After showing the egg to the local paper, Smith says things got even crazier. That's because she cracked the "super egg" open and discovered a yolk, along with another whole, regular-sized egg. Smith ended up tossing both eggs away, but not before taking plenty of pictures. The phenomenon is called a "double egg" and doesn't happen very often. The hen that produced the "super egg" is okay, but she spent several days resting after laying the big egg.
It's Raining Sheep
Australian motorists are getting over the shock of seeing hundreds of sheep falling onto a roadway from an overpass. One person was hospitalized after the accident on a highway near Melbourne. A witness says a truck on the overpass carrying the 400 animals flipped onto its side before the sheep began falling onto cars below. Fewer than ten of the sheep are expected to survive.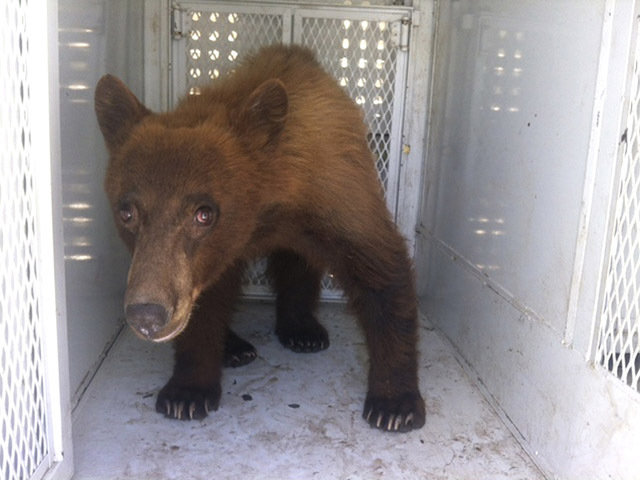 Bear Interrupts Graduation Ceremony
A black bear is back in the wild after interrupting a graduation ceremony at an elementary school in Bakersfield, California. Kern County Animal Control officers were able to subdue the 200-pound bear with a taser gun after it wandered into Ramon Garza Elementary School. Thankfully no one was hurt. California Fish and Game released the bear yesterday afternoon in an undisclosed location. Officials say it's very rare to see a bear in a busy city like Bakersfield, but if you do you should stay calm and slowly walk away.

Listen to the entire Podcast of this show (#1042)