Charlie Daniels Guests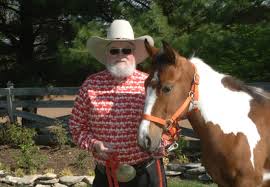 Probably one of the best Country music performers of our time, Charlie Daniels, is our special guest. He raises Quarter Horses and pines for a dog after his tour is over. He's 79 years old and sharp as a fiddle. In fact, he's a self-taught fiddler.
Charlie tells us he never took a music lesson in his life and to this day still can't read music. He states he learned by being stubborn and would hang around anyone who could play better than he could.
When kids ask him about playing the fiddle, he tells them not to look at him, because he does it wrong. He holds the fiddle wrong, he holds the bow wrong and he puts too much pressure on the bow. This is because he was self-taught and it works for him, but it may not work for anyone else. He tells them to do it the right way.
Charlie has been playing the fiddle this way for a long time and has developed it into a sound. However, he claims if you start out his way, there's a good possibility that you're not going to sound too good and you might not have 50 years to work on it like he did.
Charlie returns to the Texas honky tonks for his newest album and DVD, The Charlie Daniels Band - Live At Billy Bob's Texas released by Smith Music Group. It marks an incredible 35 years since the original release of top hits like "In America," "Long-Haired Country Boy," and "The Legend Of Wooley Swamp," - which can all be found on the new project.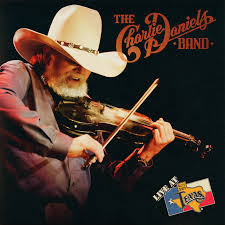 Recorded on February, 20, 2015 at the Lone Star State's largest honky tonk, Billy Bob's Texas, the new album and DVD project joins The Charlie Daniels Band with other legendary country artists like Willie Nelson, Merle Haggard, Stoney LaRue and many more as a member of the Live At Billy Bob's Texas recording family. The CD, which allows listeners to feel like they're a part of the invigorated live audience, and the DVD, puts viewers in the front-row, with access to exclusive backstage interviews with Daniels. Both are now available in stores nationwide and on iTunes, Amazon and everywhere digital music is sold.
Known for his signature bull rider hat and belt, Charlie Daniels is the modern American Cowboy. His cherished homestead, Twin Pines Ranch, reflects his love of all things Western - horses, cowboys and Louis L'Amour novels to name a few. With a lifestyle, interests and attire that keeps Charlie deeply rooted in the cowboy way of life, it is no wonder why so many fans from Texas and beyond can relate.
On January 7, 2011 he suffered a great loss when the primary barn at Twin Pines Ranch burned and was a total loss. In the barn at the time were all of his stallions, his favorite mare and all of his 2010 foals. The barn and all of its contents and 30 years of memories were lost that night.
Once the initial shock wore off, it was time to "Cowboy Up" and regroup. Charlie says you can look at things like this two ways. You can either let it get you down or you can go on. He chose the latter.
He was able to find a little stud horse that was out of the same line as his horses, and named him "New Beginnings," which is his buddy. Charlie doesn't ride as much as he used to, but he still gets in the saddle.
At age 79, Charlie is still touring. He doesn't have dogs at this time, as he feels he is not home enough and doesn't want to do that to a dog. However, he did state when he slows down, he will get a dog and he will let us know!
Check out Charlie on tour at:
December 13, 2015 at 9:00pm - Canyon Club; Agoura Hills, California
February 26, 2016 at 8:00pm - Uptown Theatre Napa; Napa, California
March 11, 2 016 at 7:15pm - Pompano Beach Amphitheatre; Pompano, Florida
April 23, 2016 at 7:30pm - Niswonger Performing Arts Center; Greenville, Tennessee
https://soundcloud.com/charlie-daniels-live-at-billy-bobs-texas




Are You A Cat-A-Holic?
Allia Zobel Nolan, Women Who Still Love Cats Too Much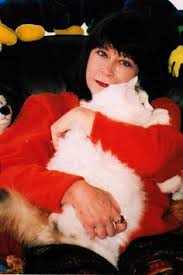 Allia Zobel Nolan is a self-proclaimed "crazy cat lady." She ought to know, she wrote a book on the subject called "Women Who Still Love Cats Too Much." You'll be shocked when you hear the bizarre things she's done in the name of cat-dom.
Allia admits that for years people have been making fun of the Crazy Cat Ladies, while guys were never much involved with cats. You never heard of a guy with a cat being called some kind of a freak. It just seems that women got labeled with this title.
Now cats are hot and the latest thing since the phone, states Allia. People are finally starting to understand the wonderfulness of cats. This is something that the crazy cat ladies have known for years!
So is Allia a crazy cat lady? She believes she is, as she will do anything and everything to make her cats happy.
Some of the bizarre things that Allia has done was when she went to an animal rescue and saw a kitten and brought it home. She already had a senior cat that is afraid of her own shadow, so she had to be a mother to this new kitten. Allia would run her face across the kitten's fur, imitating what the mother cat would do to groom him. The kitten didn't know how to groom himself, because he was taken away from his other at a very young age. The kitten also doesn't understand about "head butting" something all cats have to know! Allia is teaching him that as well.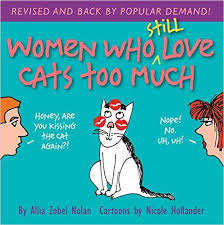 There was a time when Allia lived in an apartment that didn't allow cats. One day the manager knocked on her door and said he had reason to believe that she had a cat. She ended up shoving the cat in the closet, but couldn't figure out how he knew. When she asked him, he said he saw the cat food cans in the trash. Allia then gave her cat temporarily to her parents, changed her locks and always kept two bags of trash. One was regular garbage, while the second one contained just cat garbage, including used litter and cat food cans. To get rid of it, she would give the cat trash to friends when they came over and who lived in cat friendly buildings. She was working as a waitress at the time, and she would sometimes even take the cat trash to work and place it in the bathroom trash. She always hoped that a health inspector never showed up, because they would think that the restaurant was putting cat food in the hamburgers!
Allia feels that a lot of the things we do for our cats aren't really that bizarre, like when you get up to warm your coffee, the cat naturally sits in your chair. So what do you do? You just go and get another chair so you don't disturb the cat. Cats are creatures of habit and usually have their spot on our beds, so we sleep around them.
Is there a line that you can cross in doing too much for your cats? Allia says yes, and tells us of a woman wanted to marry her cat - she says that's going too far!
Allia tells us she is married to wonderful man who doesn't like cats. Her husband is a dog person but puts up with the cats because of her.
Provide Your Pet With The Same Quality Healthcare That You Provide For Yourself
Abe Lerner, Pet Health Coordinator at NutralifePet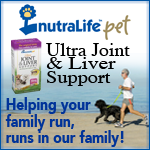 We've learned from our previous interview with Abe Learner, Pet Health Coordinator at NutralifePet, that Ultra Joint & Liver Support is a SAMe based supplement that helps promote health for joints and the liver.
So why should someone purchase Ultra Joint & Liver Support from NutralifePet for their pets? Abe explains that NutralifePet is a division that was created from the Nutralife Health Product Company for humans that has been around for 20 years. This brand has been proven on the human market. They feel that pets certainly deserve no less than their human counterparts and every pet parent wants to provide their pet with the same quality healthcare that they provide for themselves.
Is there research to back up SAMe-based supplements? Abe states absolutely! There has been a lot of research done on both sides, the human and the pet. SAMe has been clinically proven and is well researched to be just as effective as standard prescription medications in improving joint and liver health without negative side effects. Imagine addressing one health need without creating another! They like to say that SAMe supplementation has "beneficial side effects."
Why is SAMe so effective? Understanding what SAMe is will go a long way in appreciating its benefits. As a natural compound found in every living being (human and pet), it is involved in more than 40 biochemical reactions, some of which affect joints, the liver and mood.
SAMe is a basic building block in the body, which helps the body run. When the body ceases to naturally produce adequate levels of SAMe, bolstering it with SAMe is hitting the root cause of the problem, so to speak. Supplementing the body with SAMe actually mimics regular body function, creating an overall healthier pet. Replenishing the body with a natural substance is about as close as you can get to the real thing!
There are many joint health products available in stores. Why should people buy Ultra Joint & Liver Support from NutralifePet? Aside from being a clinically proven product in the joint health arena and improving the overall body health, keep in mind that NutralifePet is the pet division of Nutralife Health Products, which manufactures human supplements. In order to be certified to sell their human supplements, they undergo a series of rigorous audits attesting to the safety of their products. Their pet supplements, Ultra Joint & Liver Support, are manufactured with the same high-quality standards as their human supplements are manufactured. As we all know, the pet industry is less regulated than its human counterpart, leading to many recent safety concerns and product recalls with various pet items.
Imagine a product that actually works and is safe to use. Wouldn't you jump at the opportunity to buy it for yourself? Of course you would, it's a no brainer. You love your pet. Wouldn't you buy them a proven supplement that enhances its quality of life on multiple levels without having to agonize over what you put in their mouth? NutralifePet, where helping families run, runs in our family and where pets receive the same level of care as the rest of the family.
NutralifePet is offering a special for Animal Radio listeners. Just use the coupon code "Animal Radio," at checkout and receive a special introductory offer by buying 1 box of Ultra Joint & Liver Support and getting one free. Just log on to NutralifePet.com or call their toll free number. 1-844-PET-SAMe.

Great Smelling Pets For The Holidays
Lucy Pet Foundation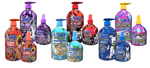 Everyone is busy at this time of year, preparing for the holidays, shopping, etc., and our pets might be a little neglected. This neglect may include brushing and bathing.
It can be embarrassing when company arrives and the family dog doesn't smell so "fresh and clean" as he could.
But there's help! Just try the Lucy Pet Products Shampoos and Leave-In Conditioners. This is a fast, easy, gentle way to condition your dog's coat and make them smell great in a jiffy. Perfect for the Holidays!
If you're in that part of the country where it is now snowing, that cold, dry weather is not good for your dog's coat. It will dry out in no time! You might even see them scratching, chewing or they might have red skin.
The solution is Lucy Pet Products Big Apple Skin Soothing Oatmeal Shampoo and Leave-In Conditioner spray. It has a combination of oatmeal and coconut oil, with a hint of apple. Not only will it make their skin nice and soft and stop the itching, they will smell wonderful!
Part of the proceeds from the Lucy Pet Products Shampoos and Leave-In Conditioners go to help the Lucy Pet Foundation, a 501©(3) registered animal charity whose mission is to reduce pet overpopulation and support causes that benefit animal welfare. Products with a cause!
You can find Lucy Pet Products at Petco and your independent specialty pet retailer. And if they don't have it, ask them to carry it!
The Mission of The Lucy Pet Foundation is to reduce pet overpopulation by having mobile spay/neuter clinics across the country and to support causes that benefit animal welfare. The Lucy Pet Foundation currently has two buses that travel around Southern California focusing on spaying and neutering. These buses are state of the art surgery units. Their next focus is in generating more funds to expand the work of these buses and have more across the country.
The Lucy Pet Foundation not only offers free and reduced spays and neuters, they also do microchipping, vaccines and de-wormings. Spaying and neutering is not only great for pet population control, but it has been proven that an animal will live on an average of 40-percent longer after having this surgery.

Here is a list of upcoming free or reduced fee mobile spay and neuter clinics in California (Please call and reserve space):
December 2, 4, 9 & 16
SPAY/NEUTER CLINIC
Location: Inland Valley, 865 E. Grand Ave., Pomona, CA
Check in 8:00am
Prices Vary
ACCEPT COUNTY AND CITY VOUCHERS
Please call 1-855-499-5829 or Email: Info@lucypetfoundation.org to schedule an appointment.
December 7, 14 & 18
SPAY/NEUTER CLINIC
Location: Baldwin Park, 4100 Baldwin Park Blvd., Baldwin Hills, CA
Check in 7:30am
ACCEPT COUNTY AND CITY VOUCHERS
Please call 1-855-499-5829 or Email: Info@lucypetfoundation.org to schedule an appointment.
December 11
Peter Zippy Cats
CATS ONLY SPAY/NEUTER CLINIC
Location: Zippy Cats Wilmington, 1111 Figueroa Place, Wilmington, CA
Drop Off 7:30am
$10 copay
ACCEPT COUNTY AND CITY VOUCHERS
Please call 1-855-499-5829 or Email: Info@lucypetfoundation.org to schedule an appointment.
Remember, you must get on a list to have your pet seen at these locations. Please call The Lucy Pet Foundation toll free at 1-855-499-5829 or Email: Info@lucypetfoundation.org to schedule an appointment, or register at the events.
See the current list of clinics at http://www.lucypetfoundation.org.
http://www.lucypetproducts.com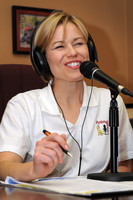 Dizzy Old Dogs - Diagnosing Idiopathic Vestibular Disease -Dr. Debbie
I came running when I heard the crashing paw steps of my 12 year old Labrador, Magnum, as he flopped and tumbled in a nervous frenzy. With head crooked to the right, Magnum's dizzy, wobbly movements resembled a carnival lover's exit from the tilt-a-whirl ride. His eyes darted back in forth in an uncontrollable movement. Many might assume Magnum suffered a stroke, and figured it was time to put the old guy to sleep. But fortunately there was hope - Magnum developed a typical case of Idiopathic Vestibular Disease.
What is Idiopathic Vestibular Disease?
Idiopathic Vestibular Disease, also known as Old Dog Vestibular Disease, is a condition commonly diagnosed in senior dogs, but also seen in cats. The term idiopathic basically means the cause is unknown. This condition affects the vestibular system and the pet's sense of balance, typically with a rapid onset of symptoms. In Magnum's case he literally was fine at the start of a television program, and was wobbly just one hour later.
Symptoms of Old Dog Vestibular Syndrome include a wobbly gait, head tilt, anxiety, panting and an abnormal eye movement called nystagmus, a condition in which the eyes dart rapidly back-and-forth or up-and-down. In addition to mobility problems, the topsy-turvy sensation leads to nausea, vomiting and an inability to eat or drink. Thankfully my sturdy stomached Labrador barely missed a meal during his bout.
The cause of idiopathic vestibular vestibular syndrome isn't completely known, but fortunately most dogs recovery from symptoms within 2 to 4 weeks. In some cases dogs may suffer from future bouts months to years later. Some dogs may retain a slight head tilt or unsteadiness at times.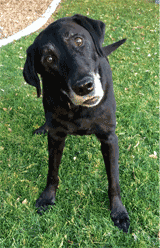 What Can Be Done?
A veterinary examination is important to identify suspected cases of vestibular disease. Other possible causes of these symptoms could include an infectious or inflammatory condition, inner ear infection, cancer, or a brain vascular episode - a stroke-like episode. In order to rule out these potential causes, more detailed testing is needed and may include tests like a CT, MRI and CSF tap.
There isn't a cure for a vestibular episode and some pets recover without any treatment. But other animals require supportive care including anti-nausea medications, intravenous fluid therapy, hand feeding and physical assistance to walk and protect from household hazards.
Caring for a frightened, disoriented, wobbly, nauseated dog can be difficult. My 80-pound Labrador needed physical support to get up, walk outside and required hand feeding at times. He couldn't be left home alone without risk of injury. And because of all the hoisting, blocking collisions with furniture and guiding away from the depths of the pool, I injured my back during his rehab time. The reality is that home care of a small or toy breed with vestibular disease is much easier than the physical demands of a assisting a large or giant breed dog.
Lessons Learned
I have seen many a patient come to my veterinary office for euthanasia after developing similar vestibular symptoms. Some pet owners assume that the severe symptoms and rapid onset mean that there is no hope and euthanasia is the only choice. I'll admit that vestibular symptoms are scary and affected pets are tough to care for at home, but if given the tincture of time, many senior dogs will eventually improve. Perhaps Magnum's story will help other pet owner's opt to pursue treatment or testing and give time a chance to heal.
Four weeks later and Magnum is back to playing with toys and energetically bounding on walks. He still retains a slight head tilt to the right, his badge of courage as I see it. I'm thankful for his recovery and adore his charming, lovable tilted perspective of the world.
Featured veterinarian known as "Dr. Debbie" on national pet radio program, Animal Radio. Ebook author of "Yorkshire Terriers: How to Be Your Dog's Best Friend"; "Pugs: How to Be Your Dog's Best Friend"; "Mini Schnauzers: How to Be Your Dog's Best Friend"; and "Shih Tzu: How to Be Your Dog's Best Friend."

It's a Wacky Wednesday Here at the Animal Radio® Studios
WackyWed Contest IS ON - LIKE your FAVORITE pic and the three pics with the most LIKES & SHARES are this week's winner will receive an Indoor Pet Potty from Piddle Place.
TO ENTER Send us your FUNNY pet pic to WackyWed@AnimalRadio.com - (Please put WACKYWED in the subject line & give us your pet's name, your name & where you hail from) If YOUR pic is chosen then spread the word to your friends & family on Wednesday - the pics w/the most LIKES and SHARES will be the winner!
This week we are giving away an Indoor Pet Potty from Piddle Place. Simple to use, simple to clean, no mess, no odor, the Piddle Place patented valve drain system eliminates contact with pet waste. Perfect for times you can't be home or weather does not allow for a walk. Built in handles and cover make travel with pets so easy. Perfect for dogs, cats and even mini-pigs.


Join Animal Radio® on Facebook for Wacky Wednesday! Win great prizes every week for your wacky pet pictures. Last month we gave out goodies from GoFer, Absorbine Pet, Himalayan Dog Chews, Hachiko and more. Visit us on Facebook now.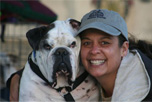 Animal Radio® News - Lori Brooks
Thank Heavens For Microchips
Disco the dog has been returned to her owner and home in Australia because she was chipped. Disco had been missing for 5 long years! The dog was initially found by an elderly couple and given to a younger family who named her "Paris." During her time with the family, Disco was attacked by another dog and was surrendered to an animal hospital because they couldn't afford the vet bills, which were around $3000. Luckily the hospital checked for a microchip, dog and owner were reunited and disco even recognized her mom after all those years. Disco has now returned to her original home with her new canine buddies, but a permit from the local council is required keep three dogs - those would be her siblings that arrived while disco was missing.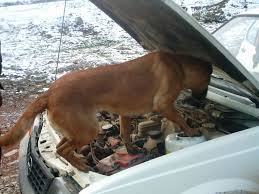 Adopt A Retired Explosive-Detection Dog
November is Adopt a Senior Pet Month and the Transportation Security Administration (TSA) has announced that it's looking for some good forever homes for some of its retired explosives-detection dogs as well as some younger dogs that didn't pass all of the requirements of their intensive training program. The dogs are up to 10-years-old and include German Shorthaired Pointers, Labrador Retrievers, German Shepherds and Belgian Malinois. They have all been spayed or neutered. There is no adoption fee, but you do have to travel to San Antonio, Texas, at your own expense to pick up your new dog. Before you even think about it, consider that these dogs were selected for their elevated level of 'drive,' and so they are very active. Since the older dogs have spent most of their lives living in kennels, it may take some adjustment for them to get used to living in a home environment. The TSA says right now there are more than 800 explosives-detection dogs deployed across the U.S.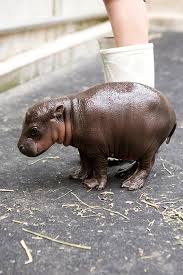 Rare Pygmy Hippo
A rare pygmy hippo calf has been born at the San Diego Zoo. It's the first surviving hippo birth at the zoo in over a decade. The little hippo weighs about 12 pounds and was born to its mother, Francesca. The significant birth adds to the world's smallest species of hippo, which is currently on the endangered species list. There are only about 2,000 pygmy hippos left in the world.
>Keep Your Dog Away From Laundry "Pods"
The Animal Poison Control Center has put out the alert that those laundry detergents little jelly like things they call pods, can pose serious dangers to pets if they're swallowed. Because they're small, soft and usually come in bright colors, they may be tempting to pets. However, they contain detergents that can cause major stomach upset and irritation to an animal's upper airway if ingested. Also if your pet vomits after eating a detergent pod, he or she could inhale the detergent into their lungs, causing severe pneumonia. If your pet eats laundry detergent, please contact your veterinarian immediately, even if the animal is not exhibiting any symptoms.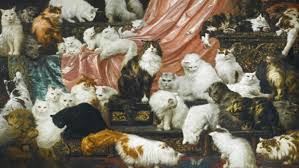 Most Famous Cat Painting Sells for $826,000
The world's most famous cat painting, which is titled "My Wife's Lovers," has sold at a Sotheby's auction for $826,000 dollars. The woman's husband commissioned it and it's huge - six feet wide and eight-and-a-half feet tall. It features 42 Turkish Angora cats as they pose inside a luxurious mansion home. The "Wife" the title refers to is Kate Birdsall Johnson, a San Francisco philanthropist and one of history's greatest cat ladies whose cats had their own full-time staff.
Stars Stand Up For Endangered Animals
Hollywood stands up for all kinds of causes and earlier this month the stars came out to call attention to some of the world's most endangered animals. The event was the annual fundraiser for Wild-Aid which raised nearly 2 million dollars. Based in San Francisco, WildAid is dedicated to eliminating the global trade of rhino horn, elephant ivory, shark fin, tiger bone and other illicit wildlife products. Among Wild Aid ambassadors are Bo Derek, Paula Abdul, Chevy Chase, the singer Fergie and the author Amy Tan.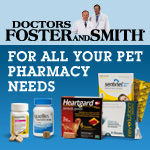 NEWS UPDATE brought to you by Drs. Foster & Smith, affordable pet supplies. Low prices every day, so you save on every order.

Listen to the entire Podcast of this show (#834)