America's Most Beautiful (and Misunderstood) Pet
Ken Foster - I'm A Good Dog
Forget what you think you know about pit bulls. Contrary to popular belief, they are some of the most loyal, playful and loving dogs around.
In I'm A Good Dog; Ken Foster is on a mission to show the world that this very misunderstood breed is not full of menacing, cruel dogs. In fact, they are some of the best household pets and adored family members in America - loved and adored by children and adults alike.
The bad reputation against Pit Bulls seems to have started with a Sports Illustrated article, back in 1987, when it ran a snarling Pit Bull on the cover. It seems that people suddenly looked at these dogs as a fearful thing. The people who wanted a fearful dog then started acquiring Pit Bulls to show people how tough they were. This seems to have fed the myth that all Pit Bulls are this way, rather than people making them this way.
The whole thing about fearful dogs seems to be cyclical. Years ago it was the German Shepherd, Rottweiler and the Doberman Pinscher. It seems like there has always been one dog targeted at a time. Once it was even the Bloodhound, after newspaper articles in every city stated that they would come charging down the streets after everyone. Of course this never happened.
Ken states that there is no true breed called a Pit Bull, although some people will argue with him. There are unfortunately many breeds of terriers that get lumped into this one category, such as the Bull Terrier and even the English Bull Terrier. So when people say they have a Put Bull, it is really an American mixed breed dog, with a mixed ancestry.
I'm A Good Dog covers a number of engrossing interview topics including: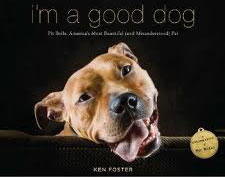 - The history of the put bull breed and the various breed combinations that it includes
- How panic and misinformation has led this wonderful breed to inspire almost universal fear and loathing and debunking these myths
- The question of pit bull DNA and whether or not it is a predictor for behavior (hint: it is not!)
- How the worst of times - including Katrina and the Vick case - helped to turn around the pit bull breed's bad fortunes
- Myths - both positive and negative - regarding the breed's history and uses
- Why it matters what society thinks about pit bulls
- And much more!
Ken has a lot of surprises about Pit Bulls, include historic figures who have owned and loved Pit Bulls, including Helen Keller and Dr. Seuss.
The photographs in this book prove that pit bulls, just like any other dog, want to be man's best friend. Ken is the perfect person to write this book; as founder of SULA Foundation, he is dedicated to advocating or and educating others about responsible pit bull ownership.
http://www.us.penguingroup.com
Eliminate Dreaded Cat Chores
Mike Sick, Automated Pet Products, Litter-Robot
Litter-Robot is the only automated, self-cleaning litter box made in the USA. It includes a patented sifting systems; no rake that can jam or clog; and uses less litter.
But some of the best features are that you can use your favorite litter; there are no special litters to buy; and you can use your own plastic bags to contain the waste.
Seven minutes after your cat uses it, it automatically rotates very gently, assuring that all of the smelly particles are removed. These particles are then moved into the enclosed drawer that comes with a carbon filter, leaving behind a clean bed of litter for your cat. This enables you to use the clean, dry litter over and over again. With the Litter-Robot, cleaning the litter box is as simple as changing a kitchen garbage bag every few days.
Because its efficient with litter, over the course of a year, you can save up to 50% on litter, because you're not dumping the whole thing every week.
You can now finally get rid of one of the dirtiest and unwanted jobs - cleaning the litter box!
Pooches For Parkinson's
Roy and Lynn's Rodins' Parkinson's Ride Across America! "PD Challenge 2012"
We are checking in weekly with Roy & Lynn Rodin who are traveling by bicycle from Seattle, Washington to Miami, Florida to raise awareness for Parkinson's Disease. They are taking on this 4,500-mile journey with their two dogs, Oliver (a 65 pound Springer Spaniel) and Samantha (a 90 pound Labradoodle).
They have been biking for about 10 days and say the soreness is wearing off and they are getting stronger. They are currently in Oregon, battling the cold, sleeting rain. While Lynn doesn't seem to mind the weather, Roy is not a fan! The dogs love the trip and get to stop frequently at parks. Roy says they love the water and if there is one puddle in a park, they will find it!
Roy's Story: Cat's out of the bag.... so here's my Story. It all started several years ago with a thumb twitch on my right hand, not always...just when I positioned my palm face up. It was a nurse practitioner that mentioned the possibility of Essential tremors or possibly even Parkinson's Disease. The findings were conclusive to a 99% probability of accuracy. My twitch now had a name. Parkinson's Disease (PD).
I became an active advocate for Parkinson's Disease. I've organized fundraisers for the National Parkinson's Foundation as well as the University of Miami /Miller School of Medicine at Olympia Gym in Aventura.
I'm making it my charge to educate people living with PD and their caregivers about the opportunity to participate in clinical studies that will hopefully better treat or better yet, cure Parkinson's.
On July 18 2012, I underwent Deep Brain Stimulation (DBS) in an effort to reduce my physical motor symptoms caused by Parkinson's' and hopefully to cut down on the dozens of medications I was taking every day. Embarking on this journey, I hope to prove to myself and others that I may have Parkinson's, but Parkinson's does not have me. Together we can make a difference and find a cure.
Lynn's Story: Having been married for a little over 4 years and struggling with Roy's Parkinson's diagnosis as our 1st year anniversary present, we have decided, with our dogs, Oliver and Samantha, to take a 4,000 mile cross-country journey via bicycle to help put in perspective our personal struggles, both individually and as a couple
This journey, through the grueling physical trial of biking cross-country, will mold our confidence of ourselves and each other and strengthen our bond that together we can overcome our obstacles. In the hopes that by being selfless, we may find ourselves and find our way through this new and wonderful world of Parkinson's.
The Cause: The more our message gets out there, the more help, awareness and education we can provide to facilitate people living with PD and their caregivers about the opportunity to participate in clinical studies that will hopefully better treat or better yet, cure Parkinson's.
Have a clean T-shirt? A place to stay? A warm meal? All efforts are welcome. The more contributions we receive the more donations go directly toward Parkinson's foundations for research. The ultimate goal is to give the maximum amount to charity to support this great cause.
In addition, we absolutely welcome the opportunity to have others ride with us for this great cause. View our journey route and if we are coming through, or near your town, please contact us for details on where we can share this journey together.
PD FACTS
- It is estimated that about 1.5 million Americans have Parkinson Disease.
- Approximately 60,000 people are diagnosed each year.
- About 10%-20% of those diagnosed with PD are under the age of 50, and about half of those are diagnosed before age 40. Some are even diagnosed as early as the age of 21.
- Someone is diagnosed with Parkinson Disease every 9 minutes.
To donate or sponsor the PD Challenge 2012, please visit http://www.pdchallenge.com.




The Dogfather's Grooming Tip with Joey Villani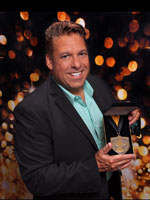 Get Rid Of That "Doggy" Smell
Have you ever been to someone's house and their dog "smells like a dog?" You just want to push the dog away when he comes near you.
If you've taken your dog to the vet because your dog starts smelling a day or so after a professional grooming, and your dog is healthy, what can you do? It's unfortunate that some dogs just smell like dogs. But, there are some things you can do to help.
Gather two tablespoons of baking soda and a pinch of ground, dried lavender. You can find dried lavender at most health food stores, and maybe even craft stores. If you can't find dried lavender, find some essential lavender oil and use a few drops. Next, get a sifter (like a flour sifter), a pet brush, some baby wipes and a glass jar.
Start by mixing the lavender and baking soda together, by sifting them into the jar. This will keep it "fine." Sprinkle this mixture over your pet, letting it sit on them for about five minutes. This will absorb any dirt and oil on your pet. Next, brush it through and work it into the coat.
The brush will actually work most of this mixture out, while grabbing the dirt and oil and everything else that gives your dog that smell, lifting it away. This will leave your dog with a fresh lavender smell. Then take the baby wipes and wipe down the coat to remove any remaining residue. Be careful because some dogs are allergic to baby wipes. You might want to find some hypoallergenic wipes or even use a wet paper towel in its place.
You can then store the remaining mixture for future use, because it will last for a long time.
If you do this every few weeks, your dog will not only remain good smelling, they will shed less and have less knots and tangles. They will also remain cleaner for a longer period of time.
Just remember some dogs will always have the "doggy smell" because of many reasons, such as dietary or medical problems. If the smell is real strong, please see your veterinarian first and have them check out your dog.
Animal Radio® News with Stacey Cohen
Safeguard Your Four-Legged Friend With Emergency & Estate Plans
Superstorm Sandy packed a strong punch along the East Coast in late October, and many people who count a furry friend as part of their family had an added burden placed on their shoulders. As was the case with Gulf Coast residents seven years ago during Hurricane Katrina, many peoples had to scramble to find shelter and faced some tough decisions about whether they could take their cat or dog along with them. Once again, the importance of having an emergency plan for a pet became a stark reality. Kim Bressant-Kibwe, the trusts and estates counsel for the ASPCA, said she believes that every pet owner should have both a disaster plan and an estate plan to safeguard a four-legged family member. That way, all your bases are covered, she explained, whether there's an unforeseen event in your area or your pet outlives you and needs to be cared for by somebody else after your death. The ASPCA estimates that upward of 100,000 pets may be entering shelters annually due to their guardian dying or becoming unable to care for them.
Love Motel For Dogs
Heart-shaped ceiling mirror: check. Curtains drawn against the bright day: check. Red mattress: check. Sounds like a hot night in Vegas, but Brazil, after all, is a world leader in these short-stay pleasure palaces, which beckon couples for trysts away from prying eyes with names like Swing, and Alibi, and design motifs like medieval castles or of the American Wild West. But Belo Horizonte's newest love motel stands apart from the crowd in one crucial aspect. It is for dogs. Animalle Mundo Pet, an eight-story enterprise in an upscale district in this city of 2.4 million people, introduced its dog motel alongside aisles featuring items like beef-flavored Dog Beer (nonalcoholic), a dog spa with a Japanese Ofuro soaking tub, and canine apparel emblazoned with the symbols of the local soccer clubs. Some dog owners simply like the concept of a love motel for their amorous pets and are willing to pay about $50 for each session, which Animalle will happily arrange. If it does not work out as planned, some are prepared to pay even more for artificial insemination, another of Animalle's services. Similar stores thrive in other large Brazilian cities. In Sao Paulo, a public hospital for dogs and cats has been opened, and some plastic surgeons provide Botox injections for dogs. Since an economic stabilization program was put into effect in the 1990s, per capita income has risen sharply in Brazil, to about $10,700 a year, according to the World Bank, allowing people to spend more on pets.
Goats Prevent Fires
A California company has found a way to keep people safe from wildfires and keep the local goats happy. USA Today reports Brush Goats 4 Hire, based in Santa Barbara County, is making a name for itself by bringing more than 60 goats to various locations so they can eat chemise, ceanothus, thistle and other types of grasses that pose fire hazards. Owner Lorraine Argo says the animals seem to enjoy the job, explaining that they eat for about 20 minutes and then "lie down like they're pregnant." Her husband, Ian Newsam, adds that the goats are "amazingly agile," which gives them the ability to clean up hillsides and other locations that are inaccessible with machines or just too dangerous for people to access.
Rachael Ray Donates Pet Food To Sandy's Animals
Rachael Ray is donating $500,000 to the American Society for the Prevention of Cruelty to Animals to help pets and families who are struggling to rebound from the superstorm that ravaged the U.S. northeast. The Emmy-winning talk show host said that her pet food brand, Nutrish, is also shipping 4 tons of wet and dry dog food for superstorm Sandy animals, and her Yum-o! Organization is donating $100,000 to City Harvest and the Food Bank for New York City.
Leave No Four-Legged Family Member Behind
When it comes to vacation time, let no four-legged family member be left behind. According to the U.S. Travel Association, 18 percent of U.S. adult leisure travelers usually take their pets with them when they travel. "Newlyweds are delaying starting families, but are less hesitant to start with fur children," says Melissa Halliburton, founder of www.bringfido.com, a pet-friendly hotel and dog directory that reports traffic to the site has quadrupled in the past two years. As hotels and airlines hone in on this special relationship, they're inventing so many lavish pet-friendly deals and amenities that you may even want to rent a pet to take advantage of them. You can do exactly that at any of the Kimpton Hotels' Guppy Love programs where guests can request a live goldfish the hotel staff cares for so you can enjoy stress-free bonding throughout your stay. Servicing four-legged travelers is a new breed of hotel staff - doggy concierges -- elevating critters to celebrity like-status.
Majority Of Dog Bites From Un-Neutered Males
The story on the two loose dogs killing a horse in the Foothills of Arizona has generated much conversation about animals, safety and laws. The breed of the dogs themselves, Pit Bulls, has also been hotly debated, with both supporters and defenders jumping into the fray. The issue is an emotional one for many, as a pet, be it a horse or a dog, is oftentimes a member of the owner's family. Each year in the U.S., an estimated 4.7 million dog bites occur, according to the American Humane Society. Of those, 800,000 dog bites require medical care. But the most interesting statistic notes that at least 25 different dog breeds were involved in 238 dog-bite-related fatalities in the U.S. The Humane Society also notes that nearly 92 percent of fatal dog attacks involved male dogs, 94 percent of which were not neutered. The organization recommends that dog owners always spay or neuter their pets, which r educes aggression. They also recommend that dogs be supervised, trained and socialized, exposed to a variety of situations, to help them become well-adjusted adult animals.



NEWS UPDATE Brought To You By ScoopFree.com. Free Shipping on trays plus up to $20 off your first subscription.

Listen to the entire Podcast of this show (#678)