Tales of a Pet Nanny at the End of Her Leash
Lindsey Grant, Sleeps With Dogs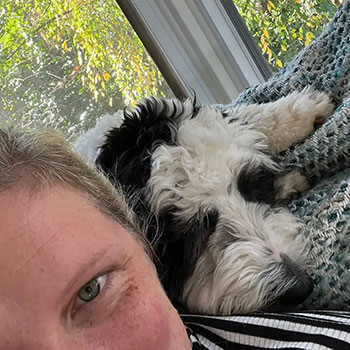 After selling her successful Pet-sitting business, Lindsey Grant wrote a book about the strange and curious relationships we have with our pets. Some of her client's requests made for a noteworthy book. She'll also be talking about how Switzerland, her new home, treats animals.
After graduating from college and moving to San Francisco, Lindsey Grant decided to start her own pet sitting business. Two years later she sold it for a profit. It surprised Lindsey that someone else would come along and simply buy her client list, which seemed to be of value to other pet sitters. Lindsey currently lives in Switzerland after her husband's job transfer.
Because of visa issues, Lindsey knew it would be difficult to find work, so she decided to write a book. The result was, "Sleeps With Dogs, Tales of a Pet Nanny at the End of Her Leash." Lindsey changed the names of streets, owners and pets in her book to protect their identities.
Pet sitting is not always the most glamorous job. It involves scooping poop, dealing with urine and the occasional vomit.During her pet-sitting career, Lindsey said it was as much about learning about the humans as it was about the animals in her care. She said she received a tremendous amount of education working with the clients as well as from other pet sitters. At the beginning of her career, Lindsey did not have any pets of her own. She said it was eye opening to step into these homes and take on the role of the animal owner and do the things they did for their own pets, while she was in charge.
One dog in Lindsey's care was Charlie, a gaseous greyhound, which Lindsey didn't get along with. She said just like with people, you don't always see eye-to-eye with them, and this also happens with animals. In addition to their personality differences, Charlie was stunningly gaseous, with a diet full of dairy. Lindsey said he would come into the room where she was, emit the gas, and then leave. She said he knew what he was doing and did it on purpose, leaving her there alone with the smell! Other stories in the book are of Echo, an electric-green, biting parakeet; and Larry, an ailing tomcat at the end of his ninth life.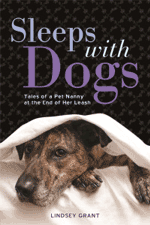 Lindsey says that some of the pet owners were a little crazy about their pets and her instructions. She was asked one time to sing to a dog to make her go to the bathroom, because they claimed that that was the only way she would poop!
Now, Lindsey feels that she has turned into the crazy animal clients she used to work for! After acquiring her cats, she started doing exactly the same types of things she mentioned in her book about her clients. Spoiling her own cats, Lindsey made them custom meals; conducted hours on internet research if one had the sniffles; basically just going above and beyond what she thought was normal.
Lindsey also told us about living in Switzerland as a pet owner. She told us that if you want a cat, you must adopt two, because the country has a law dictating an animal must lay eyes on another animal or human one time per day. This means there is no going away for a long weekend and leaving a big bowl of food for your cats. She also states that so far, they have not been policed and that no one has come to her house to check up on them. She also tells us that her cats have passports, because they came from Germany. And if you want to adopt a dog there, they have made it very clear that you have to take a course and pass a test.
They don't have animal shelters in Switzerland. They have foster homes that usually have one or two cats throughout the country, which are registered in a database. In order for Lindsey to adopt a cat, she had to go online, find a cat she liked, see where it was located and then travel to the home of the foster parent to meet the cat. Because of the law, Lindsey ended up adopting two cats, to meet the two-cat household. This required her to drive to a second home to find another cat.
Visit Website
"HERO PEOPLE OF THE WEEK" - Dolly Jefferson - Saves Dog From Coyotes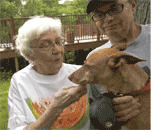 This week's Hero Person was an 84-year-old woman who had no qualms about intercepting angry coyotes to save a neighbor's dog, making news nationwide.

Delores 'Dolly' Jefferson says she was getting her morning coffee when she heard noises coming from behind her home. When she looked out, she saw her neighbor's dog, Roxie, running around. She then saw that a coyote was chasing the dog.

Dolly dropped her coffee and ran outside and started screaming, yelling and waving her arms. This was enough that the coyote was momentarily distracted, which allowed Roxie to get away.

It was then that Dolly saw that there was a whole pack, consisting of about 5 coyotes. One coyote was trying to push Roxie towards the waiting remaining pack.

A coyote was able to get Roxie, a 26-pound Egyptian Pharaoh Hound, by her head. This left Roxie with two puncture wounds under her eyes. Dolly said that this is a practice of coyotes where they clamp down on a dog's nose so they can't breath.

Dolly said she didn't have time to be afraid. She just saw Roxie in trouble and didn't want her to be harmed.

Dolly told us that a nephew of hers had their dog taken by a coyote. Her nephew and her son then got together and researched what to do in case of an attack. They had warned Dolly that if she witnessed a coyote attacking a dog, to yell. So, that is just what she did!

Since the attack, the dog's owner feels indebted to his neighbor and bought Dolly a bullhorn in case she sees more coyotes in the future. She said you can oftentimes in the afternoons see one or two walking down the street.

In addition to making loud noises, which intimidate coyotes, wildlife experts say you should also keep your dog on a leash.





Sit Stay Ride: The Story Of America's Sidecar Dogs
Eric Ristau, Director & Producer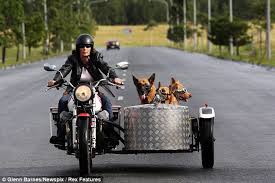 Directors and Producers, Eric and Geneva Ristau, created a masterpiece about the many dogs that travel alongside their owner in a motorcycle sidecar. Sit Stay Ride: The Story of America's Sidecar Dogs is the full-length movie that benefitted animal welfare.
The film features 15 sidecar dogs and 18 motorcyclists from all over the United States; from a veteran riding with his Boxer named Hercules, visiting memorials on the Tour of Honor, to recent European immigrants living their dream of riding with their Beagles on the highways of America.
It all started by chance when Eric and Geneva ran into a guy in Seattle on an unrelated project they were working on. This guy was just a character and such a fun guy, and his dog was terrific. They made such a fun image going down the road in their sidecar, that Eric and Geneva decided to do some research to see what they could find on dogs riding in sidecars.
At first it was difficult, but soon they started to discover some of these people across the country by going on social media. They then decided to put up a website, and people started coming out of the woodwork. Eric says they literally received hundreds of emails, somewhere between 500 to 800 from people who ride sidecars with their dogs.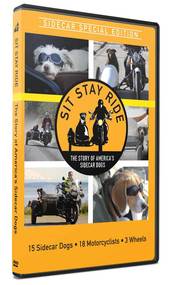 Many people enjoyed taking their dogs along in sidecars, but do the dogs enjoy it? This is a question that Eric wanted to answer. He is a dog person and has several rescue dogs himself. He said he would never force his dogs to do anything he felt they wouldn't enjoy.
He wanted to know if this was something that people were doing for their own pleasure and to have this cute dog in a sidecar wearing goggles, or is it something that these dogs actually enjoy. Eric is happy to state that in every single case, the dog went berserk to get into the sidecar. They absolutely loved it!
Eric said that there is no one specific type of dog that loves doing this. He said there were dogs from 2-pounds up to a 135-pound Bull Mastiff and everything in between. But one thing they did have in common is that most of the dogs were rescues.
But are these dogs safe? Yes! Almost everyone that Eric interviewed had a safety harness that they designed themselves. Unfortunately, there isn't anything on the market like a sidecar harness, but by using other harnesses and leads, they were able to concoct a device that worked. And, they also had a clip that would break in case of an accident.
Eric said you very rarely hear about sidecar wrecks. These people are extremely cautious; they are not out on the freeways; typically they are on slower side roads. Sidecars also don't go very fast.
100% of filmmaker proceeds from local screenings and 25% of DVD and On-Demand sales were donated to animal rescue organizations nationwide.


Coyotes Stalking our Neighborhoods - Dr. Debbie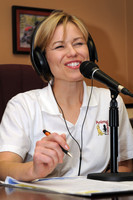 I saw a scraggly coyote in front of my house one morning - the second coyote sighting in my neighborhood in a week. I feared what could have happened if my 15 pound terrier was outdoors alone. Wildlife is beautiful, but when my little terrier, Boss, is in harm's way - my doggie momma protective instincts kick in. While not a threat to be exaggerated, the coyote nonetheless poses a risk to our pet's safety.
Coyotes are increasingly becoming a concern in urban areas - some are displaced by the urban sprawl that consumes their potential habitat. But other coyotes become urbanized savvy to living, feeding and thriving within city environments. Coyotes are born opportunists and dine on what they find available. They eat small animals like rabbits and rodents, but also consume ample vegetable matter with up to 40-percent of their diet consisting of seeds, grasses, fruits and flowers.
The most serious coyote concern for pets is injury and predation. As a veterinarian, I can recall many a client whose pet was brought in injured by unknown wildlife or whose cat just one day reportedly just vanished. While many might believe their cat was stolen, in reality these cats most likely fell victim to coyote predation. Likewise, small to medium sized dogs can be injured or lost to the same fate as their feline counterparts.

Steps to Keep Your Pet Safe
Whether you have pets or not, it's important not to feed coyotes. Intentional feeding of coyotes makes them dependent on humans and less fearful, which increases the chance of an unwanted, dangerous interaction with people or pets. Just leaving unsecured garbage is invitation enough for these opportunists. Secure all garbage in closing containers and avoid leaving bagged garbage at the curb overnight. Pick up uneaten pet food as soon as your pet has finished eating.
Pet owners should take precautions to keep their household pets protected as well. Keep cats indoors and maintain all pets on leash control when outdoors. Ensure your dogs and cats are up to date on their rabies vaccines. Even indoor cats that do not venture outdoors should be current on this vaccine for both pet and human safety.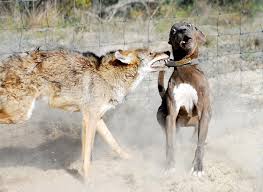 Besides rabies, keep your pets current on other vaccinations, deworming and preventatives as recommended by your veterinarian. Coyotes are known to harbor carry skin mites, canine distemper virus, canine parvovirus, adenovirus and heart worm disease. So even if your dog never leaves your yard, there is potential for infectious disease crossover between wildlife and your pet.
These wild canids are masters at adapting to their changing world, and it's unrealistic they are going away on their own. As humans we are the ones that need to change to make urban areas less appealing, removing easy feeding sites, and by raising awareness to the potential crossover between wildlife and pets.
Featured veterinarian known as "Dr. Debbie" on national pet radio program, Animal Radio. Ebook author of "Yorkshire Terriers: How to Be Your Dog's Best Friend"; "Pugs: How to Be Your Dog's Best Friend"; "Mini Schnauzers: How to Be Your Dog's Best Friend"; and "Shih Tzu: How to Be Your Dog's Best Friend." Dr. Debbie's books.
Visit Website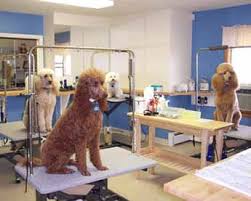 The Dogfather's Grooming Tip with Joey Villani

Asking Your Dog's Groomers The Right Questions
Because there is no regulation, Joey advises anyone taking their pet to a professional grooming salon should ask certain questions.

First of all, you should ask for a tour of their facility. You want to see where your pet will be standing while being groomed. You want to see where your pet will be kept during the holding time. You want to see where it will be bathed. You want to see if drying kennels will be used.

If they don't come right out and tell you how your pet will be handled, where it will be kenneled and that everything is safe and sanitary, you will need to ask. If you don't like the answers that you are getting, take your dog to another groomer. If you like what you hear and see and are comfortable with their answers, you are probably making a good decision to use their services.

If it is your first time at a new groomer's, ask to stay with your pet so you can see what goes on. This will also allow you to see how your pet reacts and if they are enjoying it.

Joey tells us that there is a process going on to get groomers licensed so it is a safer experience for your pet.





Animal Radio® News with Tammy Trujillo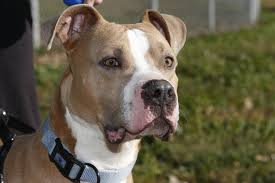 Zeus (and other Bully Dogs) Can Stay!
The battle to save Zeus was won. Authorities in the Louisiana village of Moreauville backed off on its demand that Zeus be gotten rid of or be destroyed. The city originally passed a law banning Pit Bulls or Rottweilers. When they targeted Zeus, the whole thing blew up on national television and on the Internet. Zeus helped the Owen's daughter O'Hara who used a wheelchair and had spasms, which Zeus monitored and got her help when she needed it. An online petition to Save Zeus garnered nearly 80,000 signatures. Now, the city board says no pets of any breed will be seized and that they will work to properly enforce the village's leash law rather than banning certain breeds of dogs. But what happened to Zeus? Unfortunately, it appears that the family moved away and abandoned him, along with other dogs and cats.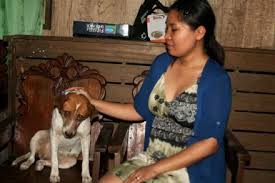 Dog Missing After Typhoon Found Year Later
Another story to remind us all to never give up on a missing dog. A woman in the Philippines got her dog back a year after Super Typhoon Haiyan. The family left their three dogs when they evacuated their home ahead of the typhoon. Two of them drowned, but Bunny was there when they returned a few days later. The house was nearly destroyed, so they left Bunny with relatives. Somehow, she went missing again in the chaos after the storm. A year later, they saw a dirty stray dog rooting through a trash bin. They called her name and yes, it was Bunny.
Amnesty Pond For Homeless Fish
Adopting any pet should be a commitment for life, but we know that isn't always the case. But what options are there for an unwanted fish? In San Francisco, federal park officials built an 'amnesty pond' for pet fish that were homeless. The idea came after people started dumping their fish into Mountain Lake on the outskirts of Presidio Park and that began causing problems with the native species and the restoration of the lake.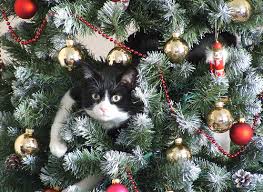 Christmas Trees and Cats Don't Mix!
Got your Christmas tree up yet? Got a cat? Those two things don't mix so well. Cats love anything shiny, so tinsel really gets their attention, but if they eat some, it can block their intestines and cause lots of trouble. They also will likely want to climb the tree, so make sure it's really anchored so it doesn't fall over. And chocolate is a favorite in Christmas stockings, but dogs and cats can smell it even through the wrappers. So if you have pets, it's better not to put any in. Chocolate can make pets sick and can also be lethal.

Listen to the entire Podcast of this show (#1252)