Top 2014 Pet Products For Cats And Dogs
Dr. Marty Becker

Whether you're looking for good gift ideas or you just want to know the latest cutting-edge pet product, you'll want to catch this week's show. Animal Radio® Chief Veterinary Correspondent Dr. Marty Becker is back with his picks. In fact, our entire team will share their top picks for 2014. Grab a pen.
Every year Dr. Becker gathers the Top New Pet Products and this year is no different. He fills us in on both the top dog and cat products of 2014. But first, he explains how he arrives at his Top Ten. He has about 150 people on a list. They are his eyes and ears and are looking out for these products over the year. His list contains both a mix of veterinary products and pet products.
For Dogs:
The Ultra Duramune Vaccine by Boehringer Ingelheim. This vaccine is revolutionizing vaccinations because it is only a half dose. So if you think of what your pet is currently getting, this is just half of that. Plus you can use a smaller needle, which is less painful and makes it a better experience.
Boehringer also has a Bronchi-Shield oral. The traditional bordatella vaccine is actually a vaccine that is squirted in their nose. No animal likes this. It usually takes two people to hold them down. They sneeze, and half of it flies out, but this new vaccine is given much easier by mouth.
Apoquel is a new drug from Zoetis. This is a miracle drug. For years, dogs have licked, scratched and bitten their own skin because of allergies. Treatment for this was antibiotics and anti-fungals, which would take care of it, but in no time the allergies would be back. It is just a vicious cycle. Apoquel is a unique drug that breaks the itch cycle. The problem is that it became so popular, they ran out of stock. Unfortunately only the pets that were on it can continue receiving it. However, by early next year it should be back in supply.
Muffins Halo or better described as a 'halo,' protects blind dogs from bumping into furniture and other obstacles. Muffin's Halo is a 3-piece item. First you put on the harness, which makes them feel cuddled, because blind dogs have a lot of anxiety and feel very insecure. Next are the angel wings and the attached halo, which sits on their neck. The halo guides them and when the halo taps a hard surface, it alerts the wings that sit on the neck and they are automatically redirected. Think of it is a white cane for a blind person.
Chuck It Fetch Games introduces - LIGHTPLAY, which facilitates outdoor fetch any time of day, in any season! Extend fetch time to late nights or early mornings with high-visibility fabric with glow in the dark 3D print and Max Glow rubber. This fast charging rubber charges quickly and provides up to 30 minutes of Glow.
Orbee-Tuff Mazee by Planet Dog. Planet Dog makes great toys that are all non-toxic, made in the USA, 100% recyclable and all lots and lots of fun! One of their best toys is the Orbee-Tuff Mazee, an interactive dog toy that features a maze for treats inside of an Orbee-Tuff ball. It allows your dog to see and smell the treats while they solve the puzzle.
For Cats:
Ultra Fel-OVax from Boehringer Ingelheim. This is another half-dose vaccine. Surprisingly, volume matters. The more you have in a needle, the more it is going to be uncomfortable.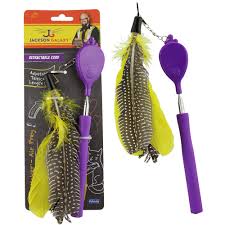 The Galaxy Wand by Jackson Galaxy with a retractable handle. The telescoping feature allows cat families to direct interactive play. It also has a retractable cord with swivel connection that prevents tangles. It is best used for cats with air pursuit interests. Interchangeable toys are available.
The Zen Nail Clip is a must if you trim your cat's nails at home. The clipper for cats has a conical blade. Think of two half circles that come together. You just place the tip of your cats nail in the middle, and it only allows the tip of the nail to be cut. A traditional clipper, which looks like a guillotine, usually crushes the nail. But The Zen Clipper cuts 360 degrees around the nail at the same time.
So keep these great products in mind whether your buying a gift for the pet lover or something for yourself!
Dr. Becker has been practicing veterinary medicine for more than 30 years and is a best-selling author, syndicated columnist and a frequent guest on national shows. You can also find Dr. Becker on Vetstreet.com, a new animal health and lifestyle website dedicated to giving pet owners the most accurate information possible to keep their pets healthy and happy. Follow Dr. Becker on Facebook and Twitter.

Inspiring Stories From The Animal Kingdom
Jennifer Holland, Unlikely Heroes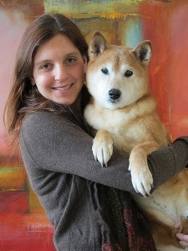 Fresh off the success of her best seller, Unlikely Friendships, Jennifer Holland released Unlikely Heroes, a celebration of those animals that have done something noble for humans or other animals. You will be surprised and amazed at these valiant acts of heroism.
Jennifer tells us that there are plenty of dog heroes out there, and there are certainly some wonderful dog stories in her latest book, but she wanted to challenge herself and broaden out into the animal kingdom and see where else you might see heroics in unexpected places.
There is a story in her book about an elephant seal that protected a zookeeper from a bunch of aggressive seals who wanted to attack him. Then there is the parrot that called out to the babysitter to save a little girl who was choking. There are also many animals that sniff out disease and rats that sniff out land mines.
Some of the animal heroes in the book helped other animals, while some helped humans. There is a story in Jennifer's book about a drowning dog that was saved by seals that pushed it to shore. There was also a similar situation where a dolphin saved a dog. Then there is the cat that went into a burning building, time and time again, to save her kittens and injuring herself in the process.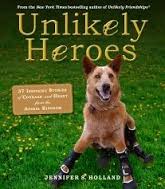 The most amazing and touching story that Jennifer mentions in her book is about a veteran who was in Afghanistan and was going through a terrible time. He had lost some of his men and he felt he was at the lowest point in his life. Then a stray cat showed up on the base. This man didn't think much of the cat. He thought it was cute and he would pet him, but ultimately the cat befriended him and seemed to know what he needed and seemed to know when he needed affection. The man credits this cat for saving his life and gave him the push he needed to keep going. Ultimately he was able to get the cat back home to the United States where it currently lives with his parents.
Jennifer gathered her stories for her book by word of mouth. She would then try to find the source of the story to get the true backstory and more information. For the most part, she hasn't met these animals in person. But as time goes by, she has had the opportunity to go and meet some of these people and the animals in her book.
Jennifer lives with her husband, three dogs and dozens of snakes and geckos. She divides her time between Silver Spring, Maryland and a cabin in the woods near Charlottesville, Virginia.
"HERO PEOPLE OF THE WEEK" - Shannon Johnston Photography - Point, Shoot, Adopt!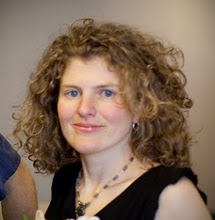 This week's Zeuterin Hero Person is photographer Shannon Johnstone. She saves the lives of unwanted dogs with her camera.
Shannon turns the sad photos of dogs waiting to be adopted into happy photos. She specifically photographs dogs that have been waiting in the shelter the longest, consisting mainly of large dogs, pit bull mixes and dogs with black fur. The shelters say that dogs with black coats are harder to place in homes. Shannon then posts these pictures on Facebook.
Currently a Photography Professor at a small women's college in Raleigh, North Carolina, Shannon also volunteers at her local county shelter. She wanted to develop a project to help the long-term animals find homes and raise awareness about animal overpopulation and the affects on the environment.
Selecting the dogs that have been at the shelter the longest, Shannon takes them to an unlikely place called Landfill Park to photograph them. This is a former landfill that has been converted into a public park. The reason she chose this location is that most people don't know that the same people manage both the waste management and the animal shelter. Shannon says this sends a very powerful message about how we few homeless animals, that they are just another waste stream that will actually end up in a landfill.
When you take these animals out of the shelter for the day, Shannon states it makes a big difference. You can almost see their spirits lift. Anyone who has ever been in a shelter knows that when you go in there it is noisy with lots of smells. It is a stressful environment for the animals, so when they get away from that and are on their own, their personalities start to come out, and that is the best time to photograph them.
Shannon tells us about one dog in particular that she photographed, named Jumping Bean. He was a 10-month-old puppy who was out of control in the shelter. Even when they took him outside, he still couldn't concentrate and was all over the place. It was at Halloween time, so Shannon had dog costumes on her mind. She then took a picture of Jumping Bean flying through the air and Photoshopped a red cape on him. After someone saw the picture, they came in and adopted him, and he is now in a loving forever home.
The Wake County Animal Shelter outside Raleigh, North Carolina, calls Shannon an angel. So far, her pictures have found homes for 67 of its dogs. Most of them were running out of time.
http://www.shannonjohnstone.com
Thinking Globally. Acting Locally. Do you know someone that should be nominated for our Hero Person of the Week? Send us an email to: YourVoice@AnimalRadio.com.

Animal Radio's HERO PEOPLE is brought to you by Zeuterin a safe, permanent and virtually painless alternative to surgical castration.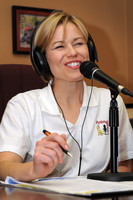 Pancreatitis in Dogs - When Sharing the Holiday Feast Can Be Fatal - Dr. Debbie
Thinking of sharing that Holiday meal with your dog? Many people do, and in many cases the dog happily slurps up the holiday fixings, never to suffer a consequence. But should pancreatitis set in-you've got one very sick doggie. That well-intentioned holiday meal could send him to the ER… or even result in a fatal outcome.
What is pancreatitis?
Pancreatitis is a painful, potentially life-threatening inflammation of the pancreas - the organ producing both digestive enzymes and insulin. Pancreatitis occurs when the pancreas is produces excessive digestive enzymes and these enzymes digest the dog's own pancreas and leak into the abdominal cavity.
Dogs with pancreatitis display loss of appetite, abdominal pain, vomiting, diarrhea, fever or lethargy. Pancreatitis can progress, affecting other systems with gall bladder blockage and liver dysfunction.
What causes pancreatitis?
A risk factor in developing pancreatitis is ingesting a rich or high-fat meal commonly shared with dogs during the holidays. Pancreatitis may also occur at other times without an apparent cause and unrelated to eating people food.
The Schnauzer is a breed at-risk for developing pancreatitis, although other common breeds include the Yorkshire terrier, Miniature poodle and Labrador retriever.
How is pancreatitis treated?
Treatment for a dog with pancreatitis includes hospitalization, withholding food for at least 12 hours, intravenous fluid therapy, pain medications and anti-vomiting medications. Plasma transfusions may be needed if low blood protein levels or clotting issues arise. Antibiotics may be given if the pet is in shock or has systemic symptoms.
How to avoid pancreatitis during the holidays?
Recognize that you don't HAVE to share your Holiday feast with your dogs. Giving your pet a special dog treat is a safer alternative.
If you must give your dog something from the holiday table, choose wisely. Try lean turkey breast. Avoid meat skins or fat. Skip the ham, which is high in salt. And forget those rich side dishes.
When should you worry about pancreatitis?
Your dog is vomiting longer than a 12 hour period
Your dog has vomiting accompanied with abdominal pain
Your dog has gastrointestinal symptoms after a known ingestion of rich foods or getting into the garbage
Your dog is a Schnauzer and is vomiting

If your pet becomes sick with vomiting, loss of appetite and abdominal pain, call your veterinarian. It should be recognized that there are many causes of vomiting in dogs and not all cases are attributed to pancreatitis. Additionally every dog with pancreatitis doesn't display all the mentioned symptoms.
Featured veterinarian known as "Dr. Debbie" on national pet radio program, Animal Radio. Ebook author of "Yorkshire Terriers: How to Be Your Dog's Best Friend"; "Pugs: How to Be Your Dog's Best Friend"; "Mini Schnauzers: How to Be Your Dog's Best Friend"; and "Shih Tzu: How to Be Your Dog's Best Friend."
It's a Wacky Wednesday Here at the Animal Radio® Studios
WackyWed Contest IS ON - LIKE your FAVORITE pic and the pic with the most LIKES & shares is the week's winner and will receive a FANTASTIC winter grooming package for your dog from Espree.
TO ENTER Send us your FUNNY pet pic to WackyWed@AnimalRadio.com - (Please put WACKYWED in the subject line & give us your pet's name, your name & where you hail from) If YOUR pic is chosen then spread the word to your friends & family on Wednesday - the pics w/the most LIKES and SHARES will be the winner!
This week's Wacky Wednesday prize is a great winter grooming package for your dog from Espree.
Winter Grooming Set includes: Rainforest Shampoo, Rainforest Conditioner, Rainforest Cologne, Aloe Hydrating Spray and Paw Balm. Espree launched in 1989 with 5 products primarily formulated for pet professionals. Espree products quickly became groomer favorites! As Espree's popularity grew, groomers began to request more solutions. Over time, Espree has responded to those groomer requests by developing over 75 products for dogs, cats and horses. Over the past 10 years, Espree's popularity has grown with pet owners seeking natural and organic products that solve their pet's issues safely and effectively.


Join Animal Radio® on Facebook for Wacky Wednesday! Win great prizes every week for your wacky pet pictures. Last month we gave out goodies from EverPup, Swipets, Kyjen, Merrick, Wahl, PetzLife, Petsafe and more. Visit us on Facebook now.
Animal Radio® News with Tammy Trujillo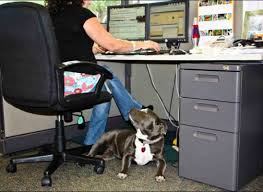 Pets At Work Reduce Stress
Here at Animal Radio, bringing a pet to work is no problem and now a study backs up the idea. Central Michigan University Researchers found that the benefits of allowing animals in the workplace far outweighed the cons. Pets decrease stress, but just having a dog around the office has been shows to increase collaboration. The study found other benefits, such as not having to worry about your pet being alone at home and allowing pets is a great recruiting perk. It helps get employees moving; taking the dog for a walk promotes exercise and better morale. Of course there is a downside too. The animals may not get along, some people may have allergies and some may just not like animals.
Have You Included Your Pet In Your Natural Disaster Plan?
Doctor Yvette Walker at the UI College of Veterinary Medicine in Urbana in Illinois says you should. The 2006 PETS act stands for Pet Evacuation and Transportation Standards. It required FEMA to make sure the needs of pets and service animals are met during and following a major disaster or emergency. But if you can't prove that your dog, cat or ferret is current on vaccines, a shelter may refuse to take them in. So keep those papers where you can get them when you need them. And of course, microchipping is a must in case you and your pet become separated.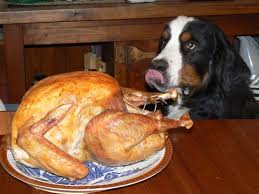 This Time Of Year Pets Should NOT Be "Family"
This time of year there are lots of treats around the house and some of those could force you to afford a costly visit to the vet. Pet food company Forthglade took a look at some numbers and they are scary. This is one time that pets should not be considered 'one of the family.' However, 61-percent of people surveyed say they'll let their dogs join them for Christmas Dinner and 56-percent say they will make a special plate for their pooch. It adds up to 15-percent of pet guardians having to take their pet to the vet and sometimes the problems can be fatal. Holiday foods are too rich and often contain things that make animals sick, like the raisins in Mincemeat pie. An alarming one-in-five people feel it's ok to feed pets human food because 'Christmas is a special occasion.'
Alzheimer's and Our Pets
Does your cat or dog seem confused? If your animal is older, it may have a condition called cognitive dysfunction syndrome. It's a disease similar to Alzheimer's. Recent studies estimate that 50-percent of dogs over 10 years and 53-percent of cats over 11 years show symptoms of CDS. Disorientation is a main symptom where the animal may get lost in their own yard, stuck in corners or under furniture, or stop recognizing people or responding to its name. Most eventually forget their housetraining and some lose interest in food. There's no test for CDS, but intervention can slow it down with supplements and enrichment activities.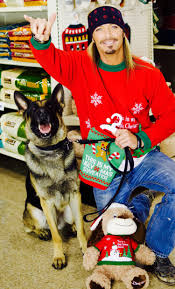 This Season's Hottest Gifts For Pets
I know your pet is on your holiday shopping list, so what are the hottest gifts this season? One of the coolest is the Fetch Dog harness that holds a little camera that you can operate remotely. Ugly sweaters are all the rage; thanks to rocker Bret Michael's clothing line (they're meant to be ugly!). They go great with the new pet leg warmers. Star Wars is back on everything from pet hats to treat dispensers and tug-o-war toys and on the more practical side, products to help senior dogs get around and have fun are topping the list.
Two Large Retailers Join Forces
One of the largest pet supply stores and one of the largest online pet retailers are joining forces. Petco is buying Drs. Foster and Smith. The acquisition includes Drs. Foster & Smith's prescription services as well as its own branded products, including joint care supplements, dog and cat foods, dog beds, cat furniture, horse supplies, equine equipment and other pet care essentials. The deal is expected to be done by early next year.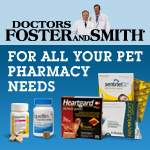 NEWS UPDATE brought to you by Drs. Foster & Smith, affordable pet supplies. Low prices every day, so you save on every order.

Listen to the entire Podcast of this show (#783)