Quotes About Dogs From People Who Love Them
Boze Haleigh, Life's A Pooch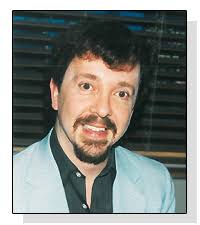 Pet pontificator Boze Hadleigh is back on Animal Radio to celebrate the connection with our dogs. He's queried hundreds of celebrities and well-known people for quotes about "man's best friend" in his new book, "Life's A Pooch, (rather than 'Life's A B**ch')."
"Life's A Pooch" contains quotes about dogs by people who love them. In fact, Boze tells us about Betty White who gave him a wonderful blurb that's on the front cover, which states, "Read this with your dog, you'll both love it." Another animal lover who's been around for a long time helping the animals is Doris Day, who also contributed to this book. The book contains quotes not just from celebrities, but also animal experts and dog trainers, such as experts Barbara Woodhouse and Dr. Roger Mugford, who trained the Corgis of Queen Elizabeth.
Boze tells us he started around the year 2000 collecting the quotes. Some he got from magazines, books, news and interviews. He also found a few on the Internet, but tells us that you have to double-check those to make sure that they're real! He also obtained some from doing interviews himself. At one time he approached Mary Tyler Moore, who then she said why don't you contact so-and-so and they'll give you some more quotes. Then one thing led to another. Because of all of the wonderful quotes he obtained, Boze thought this would make a terrific book.
The book contains many quotes but some of them that stick out in Boze's mind are, for example, Charles Schulz who was the creator of the comic strip Peanuts, who said, "Happiness is a warm puppy." Then there is Cindy Williams, who played Shirley on 'Laverne and Shirley,' who pointed out one that's very relevant to all women by saying, "This reminds me why dogs are so wonderful - they love women without their makeup!" There are also several quotes from people like Marilyn Monroe and Brigitte Bardot saying, "Men disappointed them eventually - the dog of course is faithful to the end." Jon Hamm of "Mad Men" also gave Boze a blurb that said, "A good dog and a good book - what better combination!"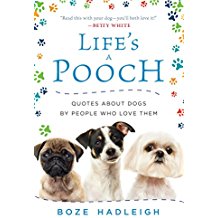 Boze has also come up with his own quotes. He tells us that the reasons that a dog gets out the water, like a swimming pool, and comes to its master to shake off the water is because the urge to get back to its master, with whom has the bond, is stronger than the urge to shake off the water. That's pretty endearing, even though it may be annoying to the person getting wet.
The quotes in the book aren't as long as Boze, but there are some that convey information that is pretty important. For example, playing Frisbee with an older dog is not always the best thing, because dogs jump up to catch the Frisbee and they'll twist their spine, but with a younger dog there is no problem. But if the joints in an older dog are weak or if he has arthritis, one has to be more careful.
"Life's A Pooch" would be a perfect stocking stuffer, so pick a copy up right now for the holidays. The book is meant to be entertaining and fun, but there are also a lot of facts. You can just start in at any page and every morning you can begin your day with a new quote.
Boze Hadleigh is the author of 23 books. He speaks 5 languages, has visited 62 countries, holds a Master's Degree in journalism and has won on Jeopardy. Boze tells us didn't keep any of the winnings from Jeopardy and donated most of it to a fire-damaged library near Sydney Australia and what wasn't donated to the library went to a relative. Boze lives in Beverly Hills and Sydney.




Pet Flipping - Seven Tips to Safeguard Your Pet - Dr. Debbie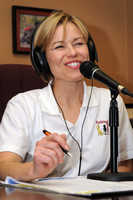 Pet lovers beware of the disturbing criminal trend called "pet flipping." This is when a person steals a pet or takes ownership of a lost pet, and then sells the animal. Pets are typically sold on the Internet to make a quick profit. The American Kennel Club (AKC) reports a rise in pet thefts.
Pet flippers most commonly target purebred dogs because they can fetch a high price, but even mixed breed dogs are at risk. Dogs are swiped from porches, fenced in back yards, dog parks, and cars. Some pet scams involve a person advertising as a pet sitter or trainer, who then disappears with your pet. Other scams involve someone who steals a pet and then responds to the lost pet ad, making money on rewards.
Top 7 Tips to Prevent Pet Flipping:
1. Don't Leave Your Pet Unattended
Avoid leaving your pet unattended, even in your own backyard. Don't leave your pet outside of stores or coffee shops. Tying your dog's leash up while you run that quick errand can give a thief the few minutes he needs to snatch your pet while you step away. Keep a watchful eye on your dog when visiting dog parks.
2. Get Your Pet Microchipped
A microchip is one of the best tools to reunite lost pets and serves as legal proof of ownership. Be sure to keep your contact information up to date with the microchip company.

3. Use GPS Collars
A GPS collar allows you to track your dog's movement minute by minute. These units can help you find your pet quickly if lost, but are of little use if a pet flipper removes the collar. I use the Tagg Pet Tracker for my dog and like that I can locate him to a precise location with my smart phone.
4. Get Your Pet Spayed or Neutered
Dogs that aren't spayed or neutered are especially prized targets to thieves since they are perceived as a money-making opportunity. Spaying and neutering also decreases the desire to stray and is good for your pet's health.
5. Research Pet Services Carefully
Before signing on for pet sitting or dog trainer services, research the business person's reputation with the Better Business Bureau. Ask your veterinarian for a referral to a reputable pet professional. Request references before using a new pet service.
6. Buyer Beware
Be cautious when buying a pet online and only use reputable breeders. Check out a breeders standing with the AKC and breed clubs. Be wary of individuals that lack documentation of breeding or veterinary health care records.
7. Sign Up For Doggie Facial Recognition Apps
High-tech facial recognition technology is now available to identify and track down lost pets with services like Finding Rover. Use your IPhone to download the app at http://findingrover.com. Upload your pet's photo in their database, and promptly notify Finding Rover if your pet is ever lost.
Pet flipping is so heinous because it exploits the cherished relationship between family and a beloved pet. Share this information with fellow pet lovers to spread awareness and halt this criminal trend.
Featured veterinarian known as "Dr. Debbie" on national pet radio program, Animal Radio. Ebook author of "Yorkshire Terriers: How to Be Your Dog's Best Friend"; "Pugs: How to Be Your Dog's Best Friend"; "Mini Schnauzers: How to Be Your Dog's Best Friend"; and "Shih Tzu: How to Be Your Dog's Best Friend."




5 Ways To Give Back To Pet World During Holidays
Robert Semrow, Listomania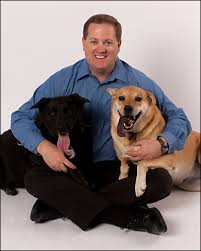 For many the holidays are traditions, for some it's about food and still others it's about family. In these busy times, it's important to remember that the season is really about giving. And if you're someone who wants to do more, or maybe you're someone like me who lost a pet this year and wants to spread the love around to other pets in need, I thought I'd share five ways that you can give back to the pet world.
My first way is one that may seem obvious (Scrooge here's a perfect way to avoid three ghosts visiting you on Christmas Eve) and makes a huge difference. That's right cash or a gift card. A cash donation, especially to a local organization that operates on a small budget, makes a huge difference. It gives them the much-needed funds and flexibility to continue their efforts.
Cash certainly isn't the only thing that makes a difference, especially at this time of year. One of the best things that you give at this, or anytime of the year, is your time. Like all organizations, rescue groups find themselves short handed at this time of year because of holiday travel, events and commitments. Volunteering your time helps fill in holes that are desperately needed and greatly appreciated. From walking and playing with pets, to cleaning cages, to office assistance, to just spending time with the animals to help with socialization skills, every minute you spend volunteering can have a profound effect for the rescue group.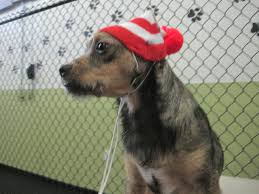 Wish list items. Every organization out there has a wish list of much needed and appreciated items that help care for the pets. From toys, to treats, to reams of paper and office equipment, the lists are usually posted on their website and easy to find and are also easy to fill. You can even place an order at your favorite online shopping site and have it delivered directly to them.
Donate your company's expertise. Whether it's construction skills, photography skills, accounting skills or any other business, it's likely to be something that can help the group out. Even something as simple as sharing their story and efforts with your customers can make a huge difference and create connections that lead to lives changed and lives saved.
Become an evangelist for a cause or group. That's right, you can be a loud voice for those without a voice or the time to express their voice. All of these groups need help with their efforts on social media, regular media and local events. It is overwhelming to try to find the time to promote, share and reach people on all of these different media platforms. You can do this quickly, and with a little extra effort you can really help them get their messaging and stories out to a wider audience than they may have time or expertise to do themselves.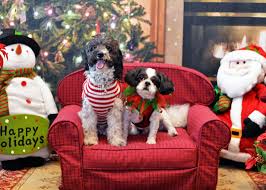 One bonus way I want to share with everyone is to also consider "fostering a pet for the holidays." Many organizations have a unique program that specifically places pets in homes during the holiday season. This gives the pets a warm home, even if it's just for the holidays. It's a great way for the pets to socialize and work on their interaction skills as well.
There are many more wonderful ways to give back to the pet world.
Share your holiday pet rescue giving suggestions on our Animal Radio Facebook Page.




Animal Radio News - Lori Brooks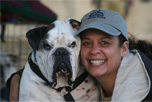 First Responders Can Treat Animals In Emergency
Wisconsin lawmakers are pushing to change state law and allow first responders to treat pets when responding to an emergency. Wisconsin's Veterinarian Practice Act allows for only veterinarians to give animals treatment, but that could change. Two bills are in committee in the state legislature that would give first responders immunity for treating animals during an emergency call. It would also protect those emergency workers who choose not to help animals, even though many fire departments already have specialized equipment to aid animals. As one firefighter put it, "It's in our nature to try to help people and I think a lot of us are animal lovers," so the bill makes sense. However, the departments do not receive special training for handling pets and they do prioritize saving human lives first. In one case where firemen were successful saving animals was at a Wisconsin home just after a fire broke out. The owner was able to get most of his dogs out of the house before the fire department arrived, but it took emergency responders to rescue a 9-year-old miniature-pinscher-mix and four cats, who were then treated with a simple oxygen mask and survived. Twenty-two other states in the U.S. already allow first responders to provide animals with emergency care.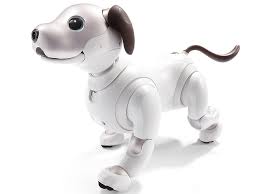 AIBO, The Robotic Dog, Is Reborn
Sony Corp is going to try again with its robotic dog AIBO after more than a decade. AIBO is billed as a pet that behaves like a real dog using artificial intelligence to learn and interact with its handler and surroundings. The new plans for the robot have it equipped with new sensing and movement technologies, as well as far more advanced artificial Intel backed by cloud computing to develop the dog's personality. The reborn AIBO features new actuator technology that will make it move more like a real dog. With sensing and AI technologies, AIBO can run toward its owner, detect smiles, words of praise and remember what actions please the owner. Its eyes are made of organic light emitting diode (OLED) displays making it capable of diverse expressions. Numerous studies have been done with robotic dogs and nursing home patients with fantastic results.
Here's Why You Should Pay Attention To Your Dog
New research suggests dogs make a wider variety of facial expressions when their owners or companions are paying attention to them. So, while you are sitting at a computer holding on to a toy while your dog basically plays tug of war with itself, that's not nearly as beneficial to them as when you invest your attention in that play time. Researchers at the University of Portsmouth found dogs were more expressive when their human companion was looking at them, suggesting Fido's facial expressions are more than just the simple by product of his mood, but an attempt to communicate with his human. In the study, dogs produced far more expressions when someone was watching, and seeing food treats did not have the same effect.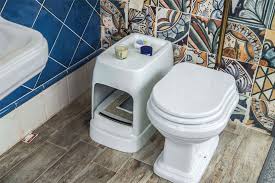 Human-Like Toilet for Cats - Too Good To Be True?
There's a new human-like toilet on the market for cats. It is called Catolet. It's basically a conveyor belt-equipped, automatically flushing toilet that's made for cats. It works by motion sensors that detect whenever a cat steps onto the unit and does its business. The urine will then pass through the porous conveyor belt and into a water-filled collection basin below, while solid waste is left on top of the conveyor belt. After a preset amount of time has passed, the belt then moves forward, carrying the feces into the basin below. They're then chopped up by a shredder, after which they, the urine and the water are pumped out into the sewer. The belt also gets cleaned after it's dropped off the feces, so that it will have a clean surface when it gets back to the top for the next time. Ideally, the Catolet is installed in a bathroom where it is permanently connected to the water supply and sewage system with hoses that are included. But if that's more handyman than you care to deal with, it can also be hooked up to a nearby sink faucet, with the output hose running into the toilet bowl. Catolet runs on a battery that only needs to be charged about every three months. And if this sounds too good to be true, it might be. Catolet is a Kickstarter Project, so we will see if cat lovers think it sounds good enough to fund. Right now you can sign up to get one of the first ones for $299. For a cat lover who hates litter boxes, it might be the best Christmas present ever!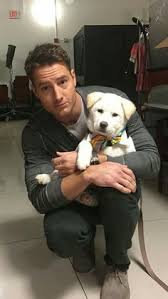 Royal Canin Teams Up With Justin Hartley
Royal Canin has teamed up with actor Justin Hartley for their holiday campaign encouraging pet owners to take precautions to ensure all pets remain safe and healthy through the New Year. Hartley plays Kevin on the TV series 'This is Us' and has two dogs, Memphis and Gracie.
Oxytocin Influences What A Dog Sees
Researchers with the Canine Mind Project have found that the feel-good hormone oxytocin made dogs interested in smiling human faces. It also made them see angry faces as less threatening. Associated with affection and trust, they say oxytocin is probably a key factor in the interaction between dogs and humans because it influences what a dog sees and how it experiences what it sees. Researchers in the Canine Mind group showed 43 dogs images of smiling and angry faces on a computer screen. Each dog was tested twice; once under the influence of oxytocin, which was administered as part of the test and once without oxytocin. The dog's gaze on the images and pupil size were measured with an eye-tracking device. Emotions and attentiveness guide the gaze and regulate pupil size, making eye tracking a window into the dogs' minds. Without oxytocin, the dogs' pupils were at their largest when they looked at angry faces. This indicated that the angry faces caused the most powerful emotional reaction in the dogs.


Listen to the entire Podcast of this show (#940)