"The Daily Squeal" Tracey Stewart Guests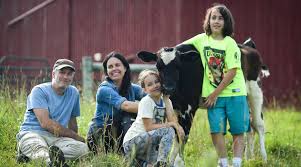 Wife of Jon Stewart (former Daily Show host), Tracey Stewart is our guest. She reveals that Jon was behind her decision to leave the corporate world for animal welfare. She even says Jon has a special bond with their pigs. She's just released a brand new book exploring compassion towards all animals, "Do Unto Animals."
The more we know about the animals in our world and the better we care for them, the better our lives will be. Former veterinary technician and animal advocate Tracey Stewart understands this better than most - and she's on a mission to change how we interact with animals.
Tracey explains that she wasn't a veterinary technician when she first met Jon and was actually working in design, something she had gone to school for. Jon noticed that she kept moving from job to job, because she thought she just wasn't getting the right design gig. Jon told her that she was such a passionate person, but everyday she would go to work and live such a passionless life. He could see that she really didn't care about what she was doing. He then asked her what she would like to do? This was a set-up, as Jon knew where he was leading her, as he already recognized she was a big animal lover and had always dreamed about being a veterinarian when she was younger.
Over the years, Tracey had talked herself out of ever becoming a vet because she was so empathetic about animals. She thought it would destroy her to work closely with them and have to experience things she could only imagine. Jon convinced her that she probably really did need to cry in order to be fulfilled and be happier. So, Tracey went back and became a veterinary technician.
Tracey is glad that both Jon and their children share her passion and love for the animals. She says their rooms are full of them. They have 3 horses, 4 pigs, 4 dogs, 3 rabbits, 2 guinea pigs, 1 hamster, 2 fish and 1 parrot. She states that four of the animals are allowed in bed at night, along with two children, so there isn't a lot of sleeping that goes on.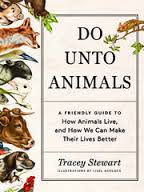 Do you know that pigs have "Super Powers?" Tracey states that most people don't realize just how incredibly intelligent they are. She recently adopted two pigs from the Farm Sanctuary, and who now have their own FaceBook page, "The Daily Squeal." She claims that most people are just not presented with experiences in life where they can actually meet a pig, so when people actually do meet them, they realize just how smart they are and how dog-like they are. In fact, some of them walk away vowing never to eat pork again!
The first two of their pigs came from hard times and are named, "Christopher Robin" and "Pugsley." They were afraid of men, so when Jon would go out into the pasture with them, all he wanted to do was to love them. However, they wanted nothing to do with him. So when they adopted two other two pigs from the Farm Sanctuary, Jon finally got the love he wanted from the pigs and they in turn love him.
Jon, who is a funny guy, pretends to be upset by all of the animas in the house. So every time that Tracey brings home a new animal, he recognizes that there is comedy in that to protest. But Tracey wouldn't add any more new family members if she didn't know deep down that he was a complete sucker just like her! In fact, they argue over who their dogs love more, but Tracey doesn't hesitate to state that it is her, but Jon won't accept that!
Tracey states that the nice thing about writing her book and all of the things that she has been trying to teach her kids is that they really do understand the idea that animals need individual care and that there is a limit. Through hundreds of charming illustrations, a few homemade projects, and her humorous, knowledgeable voice, Stewart provides insight into the secret lives of animals and the kindest ways to live with and alongside them.





Wildlife Docs
Rachel Reenstra, Comedian & Actress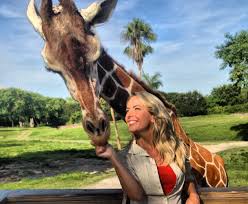 Host of ABC's Wildlife Docs, Rachel Reenstra guests. She'll tell us about her unscripted TV show following the antics and rescues at Busch Gardens.
Times have changed. Years ago you could only find cartoons on Saturday mornings, but now you have a great assortment of animal related programming to watch.
One such show is "The Wildlife Docs," a half-hour series, which takes viewers inside the work of zoological professionals, including veterinarians, technicians and trainers, at Busch Gardens Tampa, Florida, as they care for thousands of exotic animals whose home is the popular tourist destination. The series showcases everything from preventive care to ground-breaking medical procedures, giving viewers the opportunity to observe what the millions of people who visit Bush Gardens each year rarely get to see.
The show is not scripted, as you can never predict what is going to happen, and you never know if an otter is going to need a root canal, and you can't make this stuff up!
Rachel tells us that all kids love animals but she doesn't know what happens to us as we get older. Adults may still love animals, but kids are so much more fascinated with animals. She states it is great to get them at a young age to inspire and educate them about animals that they might not have a chance to see.
Rachel has always been an animal lover and can't remember a time when she wasn't! She tells us of a time when her dog had to be put outside because he was peeing in the house. One morning her parents couldn't find her anywhere in the house and ended up calling the police. It was then that her brother figured it out. If the dog was in the doghouse, then Rachel was probably with him! That is where they found her, curled up with the dog and about 8 blankets to keep him warm.
To put it simply, Reenstra is a maverick, a relentlessly creative spirit who can't help but share her passions and take us with her on her adventures. She wants to connect her audience with the rest of the world, whether it's teaching viewers about animals, making them laugh on a television show, or doing both at the same time.





Consider These Things Before Giving A Pet As Gift - Animal Radio List
Robert Semrow, Pet World Insider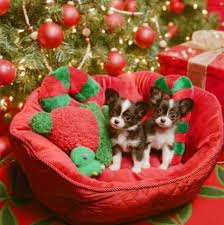 It's the Holidays and that means finding that awesome gift that everyone will go crazy for. For some people, thoughts turn to the gift of a pet. This is a big decision for anyone to give or get a pet as a gift and we thought we'd be Santa's Little Helpers here at Animal Radio by giving you a list of some of the things everyone should consider before turning to a pet as a gift.
The thought of a cute puppy, kitten, bird fish, or reptile has been dancing through your head like sugarplums. Well, consider some of these things before you decide if Santa should come down that chimney and deliver that holiday pet.
This is a lifelong commitment for a pet and its adoptive family. Look at the situation and ask yourself how much time is available to devote to that new pet. If it's a new puppy or kitten, you're going to have training requirements that are going to cut into any schedule, if not you're favorite furniture or fuzzy slippers. All pets require a time commitment for care, exercise and bonding, and in many cases, behavior.
You also need to consider that pets, like birds, can live from 10 to 80 years or more and dogs and cats can live for decades. Keep this in mind. Your pet is counting on you to be there for the duration. If something happens, what is your plan for their well-being?
Costs are another consideration. Does your budget have room for additional expenses that come along with this new pet? Are you able to provide, food, shelter, toys medical expenses and more. These are on-going costs that will continue throughout the lifespan of your new pet. These costs can be far outweighed by the love of a dog, cat or other wonderful pet, but they're costs nonetheless.
Lifestyle. What is the pet's lifestyle and does it match up with yours? Just because you love to participate in triathlons does not mean that your new pet is going to want to be a part of them as well. Consider your lifestyle in multiple ways. Is your place big enough for the pet you are considering? Will you be home enough to provide care and companionship? Does your landlord or significant other allow pets like the one you're considering? Will your pet wear an Ugly Christmas Sweater in next year's Christmas Card?
Okay, some considerations are more important than others, but the point remains, give proper consideration to this important decision to add a family member,
Giving the gift of a pet can make you feel like Santa only to turn you into the Grinch if you don't put roper time and consideration into your choice for the perfect pet. Examine the circumstance that exist not only today but as best you can predict for the future. One last thought for all of you with a pet on your holiday gift list, adopt don't shop. And if you're looking for that perfect pet addition to your family, consider an adult pet. They've often already been trained, are well adapted and they're just looking for someone's heartfelt love this Holiday Season.
http://www.petworldinsider.com

Getting A New Puppy? Then You'll Need This!
Lucy Pet Foundation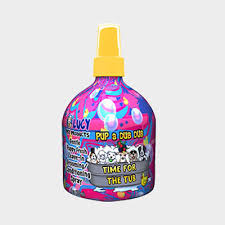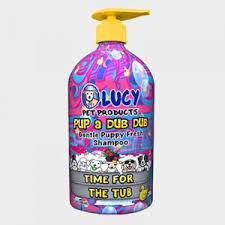 If you end up with a brand new puppy this Christmas, you need Lucy Pet Products Pub A Dub Dub Time For The Tub Gentle Puppy Fresh Shampoo and Leave-in Conditioning Spray. This is a fun way to teach your puppy how to take a bath like a grown up. You and your pup will be grinning ear to ear when it's time for the tub. This gentle formula can also be used on adult dogs to make them smell like a pup again. Gentle enough for puppies 8 weeks and older.
The Mission of The Lucy Pet Foundation is to reduce pet overpopulation by having mobile spay/neuter clinics across the country and to support causes that benefit animal welfare. The Lucy Pet Foundation currently has two buses that travel around Southern California focusing on spaying and neutering. These buses are state of the art surgery units. Their next focus is in generating more funds to expand the work of these buses and have more across the country.

The Lucy Pet Foundation not only offers free and reduced spays and neuters, they also do microchipping, vaccines and de-wormings. Spaying and neutering is not only great for pet population control, but it has been proven that an animal will live on an average of 40-percent longer after having this surgery.
http://www.lucypetproducts.com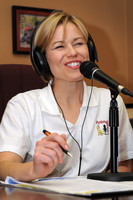 Top Holiday Pet Gifts - Dr. Debbie
As Americans, we love our pets and include them on all household fun, including holiday gift giving. In fact over 50-percent of American pet owners will be shopping for their favorite dog, cat, ferret or other critter this holiday season. Wondering what to give the pet that special pet? Here are some cool gift ideas for that pet that deserves spoiling to the max.
As a veterinarian, I suggest pet gifts that provide more than short term enjoyment and which prove useful in the prevention or treatment of a health or behavioral issue. Think beyond food or treat gifts this year and consider a pet gift with a purpose. You'll keep your furry friend happy and healthy in the coming years.
Gifts to Keep Them Busy
Interactive toys and puzzles are designed to provide an outlet for mental and physical energy - an ideal gift for dogs that are prone to destructive chewing or separation anxiety. Check out food dispensing toys like the Kong Wobbler Dispensing Dog Toy. Also the Canine Genius line of toys challenges your dog's problem solving ability. As dogs play with interactive toys it focuses attention, decrease boredom and makes the dog work for his food.
With any chew toys , remember your dog's size, jaw strength and chewing history before shopping. Plush toys, soft latex rubber toys and small edible bones are not suited for large dogs with powerful chew force. For large dogs, check out the Bionic product line, which includes balls and toys made of a durable rubber that withstands tough chewers.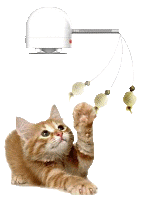 Indoor felines will thank you for entertaining interactive toys by FroliCat. Check out the Pounce, a furry critter that runs on a track, or the Twitch, a teasing toy that bounces and swings about, providing kitty an outlet for that hunting drive.
The Gift of Good Behavior
Both kitties and cat owners will enjoy the gift of a clean litter box through use of the Scoop Free self-cleaning litter box. Keep the litter box clean to the most fastidious cat's standards. A tidy litter box environment helps prevent litter box aversion and unpleasant house soiling. Check out the Scoop Free features including motion activated cleaning cycles and a disposable waste tray.
Other useful gift ideas for nervous pets are items that help them cope with anxiety. The Thundershirt is a firmly fitting body wrap which calms dogs fearful of storms, fireworks or car travel. Pair the Thundershirt up with a doggie pheromone collar such as the Adaptil collar, and you empower your pooch to cope with his fears in a natural way.
Technology Goes to the Pets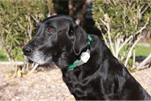 If you are more a high-tech gifter, then consider Tagg - The Pet Tracker a GPS outfitted dog collar. Using your cell phone, you can track and locate your pet via GPS technology. And the added feature of Activity Tracking allows you to monitor your dog's daily activity and adjust exercise needs accordingly. Tagg - The Pet Tracker is more than another form of identification. It looks after your best friend to track his well-being.
Want to take pet fitness to a new level? Look at the Dog Pacer Treadmill an indoor dog treadmill that comes in a standard size for dogs up to 179 pounds, and now a small dog size up to 55 pound dogs, great for apartment dwellers. No more excuses about extreme weather - you can exercise your dog regardless of weather conditions. Daily physical exercise keeps your pet in healthy weight, but also is an outlet for your dog's abounding energy, decreasing boredom and naughty destructive behaviors.
The Best Gift of All
While these are all excellent gift options, just remember that the greatest gift you can give your pet is your love and attention. Appreciate your pet every day by cuddling on the couch or taking walks to the park. The close bond with your pet is the most cherished gift you both get to enjoy.
Featured veterinarian known as "Dr. Debbie" on national pet radio program, Animal Radio. Ebook author of "Yorkshire Terriers: How to Be Your Dog's Best Friend"; "Pugs: How to Be Your Dog's Best Friend"; "Mini Schnauzers: How to Be Your Dog's Best Friend"; and "Shih Tzu: How to Be Your Dog's Best Friend."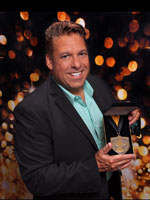 The Dogfather's Grooming Tip with Joey Villani
How to Get Paint Off Your Dog
You never know what you're going to need to know. For example, Joey's neighbors were painting their house and their dog walked through the paint tray. They asked him if they could remove paint from their dog's coat or if they had to cut the dog's hair.
Joey explains that there is a real easy way to remove paint from a dog's coat, and it doesn't matter what type of paint it is. It can be water-based or even oil-based paint.
The most important thing is NOT to wash your dog (or cat) first. If you wash them, the water will actually set the paint into their coat. Paint is a thickener, whether it is water or oil based, and will sit on top of the coat. But when you start mixing it with water you thin it down, even if it's just a little bit, which will then allow it to get into the coat. When this happens, you may then be required to cut the coat.
The first thing you want to do is let it dry, which is very important. Next, you want to use oil on the coat. Don't use motor oil or even olive oil. Olive oil is too light and motor oil would be toxic. Mineral oil is perfect, because of its consistency. You can even use baby oil, which is another form of mineral oil.
You want to apply the mineral oil directly to the paint spot and let it sit for about 10-15 minutes. Next, use a good brush, like a slicker brush, which is a wire brush with short pins. However, be careful when you brush a shorthaired dog with this type of brush.
When you brush through the paint, the paint will then get between the oil and the coat and will almost slide off.
When you are done, you will then need to take the mineral oil off the coat. Use a good shampoo. Apply the shampoo first, without adding water. Work the shampoo in and then rinse everything off with water.
This is not always a quick fix and it may take some time. But of you do it right, you can save your dog's coat from having to be cut.

It's a Wacky Wednesday Here at the Animal Radio® Studios
WackyWed Contest IS ON - LIKE your FAVORITE pic and the three pics with the most LIKES & SHARES are this week's winner will hand-made treats from Canine Carnivore Crunchies.
TO ENTER Send us your FUNNY pet pic to WackyWed@AnimalRadio.com - (Please put WACKYWED in the subject line & give us your pet's name, your name & where you hail from) If YOUR pic is chosen then spread the word to your friends & family on Wednesday - the pics w/the most LIKES and SHARES will be the winner!
This week we are giving away all natural, single ingredient treats, handmade from U.S. sourced beef and poultry from Canine Carnivore Crunchies. Canine Carnivore Crunchies contain no grains, no sugars, no additives, no flavorings, no preservatives. Simple is better, pure is preferred!


Join Animal Radio® on Facebook for Wacky Wednesday! Win great prizes every week for your wacky pet pictures. Last month we gave out goodies from Kong, GingerLead, Paw Wash, Evangers and more. Visit us on Facebook now.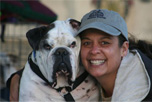 Animal Radio® News - Lori Brooks
Do We Share Psychiatric And Neurological Diseases With Our Dogs?
Dogs were the first animals people domesticated. Sadly, they also suffer from many of the same difficult-to-treat psychiatric and neurological diseases that we do. To work on this, a new citizen science research project called Darwin's Dogs has been formed. Together with animal behavior experts, they've put together a series of short surveys about everything from diet (does your dog eat grass?) to behavior (is your dog a foot sitter?) to personality (is your dog aloof or friendly?). Any dog can participate and it's free. Once an owner has filled out the survey, they send you a kit to collect a small saliva sample from your dog for DNA analysis and they share any information they find! By figuring out how a genetic change purposefully or accidentally bred in by breeders leads to a change in behavior, they hope to decipher the pathways in the brain involved in psychiatric and neurological diseases shared between people and dogs. We already know these include not just anxiety, but PTSD, OCD, phobias, narcolepsy, epilepsy, and dementia.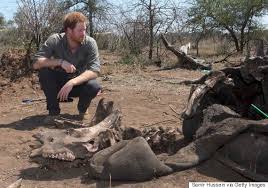 Prince Harry Vows To Protect Endangered Animals
Prince Harry has ended his tour of South Africa recently by reinforcing his commitment to helping vulnerable young people and supporting his brother's crusade to protect endangered animals. The standout moment of the trip was during his visit to Kruger National Park when he was flown into the center of the park to see the carcass of a white rhino killed along with her calf by poachers. Prince William has already put himself at the center of efforts to raise awareness of the growing threat to endangered animals from the illegal wildlife.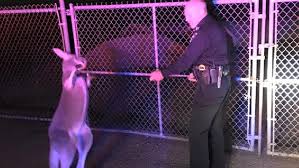 Kangaroo on the Loose in Ohio
The owners of a kangaroo found hopping down a street in Ohio say they still can't figure out how it got away from its home at a retreat for rescued animals. The 3-year-old male kangaroo, named Foster, was quietly standing with police when his owner arrived to retrieve him last week. Luckily, the officer knew Foster's caretakers would be very worried about him so he called them and they quickly arrived to pick him up. Of course, kangaroos can jump, but the caretakers are certain Foster couldn't make it over the 8-foot-high fence around the heated barn he lives in.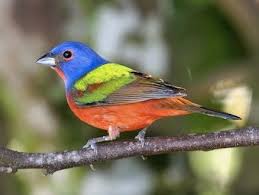 Rare Songbird Draws Crowds in NY
A stunning, colorful little male songbird is drawing big crowds in New York to Brooklyn's Prospect Park where the painted bunting, a member of the cardinal family, has never been seen before. Park visitors have seen a female painted bunting (the less colorful of the two sexes) as recently as 2011. The male bunting has a bright blue head, yellow-to-green shoulders and scarlet-orange belly. It's believed the bird was likely en route to its winter home. They migrate to Florida or Central America in the winter. But that trek usually happens in September, so why this male was in New York in December is still a puzzle. The Painted Bunting is labeled as near threatened by the International Union for the Conservation of Nature and is protected by the U.S. Migratory Bird Act.
Colored Cat Collars Saves Birds
A brightly colored cat collar that could reduce the amount of prey caught by cats is the object of a study. They're really collar covers, just a tube of brightly colored fabric, which slips over a cat's collar, designed to make hunting cats more visible to birds. Researchers say many birds have advanced color vision and should see bright colors really well, even in low light. In a similar study in Australia, the collar covers were found to reduce the amount of birds captured by cats by up to 54-percent.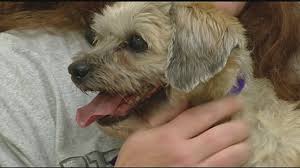 Dog Returned After 7 Years
Once again you can thank a microchip for reuniting a lost pet with its owner, only in this case the dog had been missing for 7 years. Little mixed breed Mishka was only 3 when she got out of her yard. She was found late last month and turned in to a shelter in Ohio where the owner used to live, but who now lives in Tennessee. The shelter says it was difficult to find the dog's microchip because it is normally located between the shoulder blades, but over the years, somehow Mishka's chip had moved and was finally located on her side.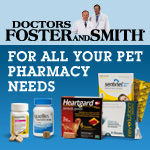 NEWS UPDATE brought to you by Drs. Foster & Smith, affordable pet supplies. Low prices every day, so you save on every order.

Listen to the entire Podcast of this show (#837)