"Boomer The Dog" Guests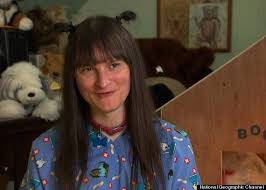 Delivered from obscurity by NatGeo's Taboo, Boomer is a dog in a man's body. Some have issues with a grown man dressing up as a dog, eating dog food and barking out commands. Boomer was inspired by Disney's Shaggy DA movie and hasn't been the same since. Boomer explains his world in this special Animal Radio® interview.
Boomer says he wants to be a dog, and that maybe he was a Dog in a past life and have some memories of it, or maybe he was meant to come into this world as a Dog, but was born in the wrong body. Lots of "maybe" in there, and it does seem odd at times, even to him when he thinks about it, not in a bad way, but sometimes he feels like a storybook character. It's just that somehow the Dog is him, and he is the Dog.
That's how he lives enjoys it. Would he want to change it? Never! He had trouble with his school and parents over it, (some really trying times at one point), which made him wonder what direction he should go, but he's always thought it's a good thing that he's wanted to share with others.
It all started in 1976 when he saw a movie at age 11 called The Shaggy DA, a Disney movie about a lawyer who gets changed into a large Sheepdog. He loved that movie, and thought how great it would be to transform into a Dog just like that. He states some kids were into horses and things like that, but he was a dog nut.
He started using the name of Boomer The Dog in his senior year of high school, switching over from Pongo (star of the 101 Dalmatians book and the animated Disney movie of the same name. He first saw the movie when he was about 6).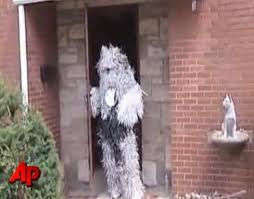 Boomer's day is a little different than most. He has a collar that he wears everyday; he does his hair so it appears he has ears, sometimes he wears doggy scrubs and when he goes out he carries a squeaky toy. Occasionally when he goes out, he will wear a sheep dog costume made of shredded paper, when he wants to feel closer to being a canine. Sometimes Boomer will even eat canned dog food from his bowl, alongside his water dish, both on the floor.
Since 2010, Boomer The Dog has petitioned the court to change this name legally to Boomer The Dog. His petition was denied. He then filed an appeal to the court's denial, which he lost in the summer of 2011. It's not the end though, like any smart Dog, he has some new tricks to try, thanks to those he's met through this case as it's gone along.
Boomer claims his name-change request has been denied, because he was told that if he ever needed to call 911, he would bark that his name was Boomer the dog, and they wouldn't believe him. But Boomer believe that they would be able to see a screen, see his address, and know he was legit.
Boomer mentions in November 2010 a guy in Eugene Oregon got his name changed to Captain Awesome, being inspired by a character with that name on the TV show "Chuck." A man who took his band's name, his name has been changed, and he's now known as "The Dan Miller Experience." There's a Virginia Beach man, Wiserman Always Fifty. Those are just two of the dozen or more that can be found easily with a search on unusual name changes.
Boomer currently doesn't have any dogs, but he has had three dogs in his past. He had a Collie Mix, a Beagle and an American Eskimo, that passed away in 2004.
When asked if there was a machine that could turn him into an actual dog, would he do it? Surprisingly Boomer says no. He says he would like to be able to switch back and forth. He would like to be a dog for short periods of time and do dog things, but he would also want to still be human so he would be able to retain his personality and intelligence, because these are things he has now and wouldn't want to lose them. He would like to be a bridge to bring some canine things to the human world, because Boomer likes the ways and virtue that dogs have.
Pet Friendly House
David Beart, Professor's House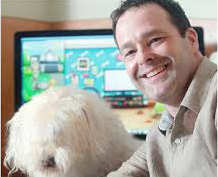 David Beart is building his house especially for his dog. He's teamed up with many manufacturers to stock his pet-friendly dwelling. While this may not seem like a big deal, David may be onto something. The pet industry is the second-fastest growing sector at 58 BILLION dollars this year. It only makes sense that our homes will become more homier for our furry-friends.
The goal is to create a mid-price range home, which is uncommonly beautiful yet, unusually durable and easy to maintain not only for pet-owning families but for the broad public as well. Each step of the project will be documented by posting new articles, blog entries, and announcements on this website. The entire project, from start to finish, will be interactive, entertaining, and educational.
The house will be for a mom and a dad, a boy and a girl, a dog and a cat, as well as a bird and several hundred fish.
The house will be an approximately 2,200 square foot home in Calgary. David is hoping to start the construction in March of 2014 and the open it to the public and media in September or October 2014.
David and his family will live in the house, and he wants the media to film them putting the house through the paces. If you have pets, you really want products in a home that can stand up to them.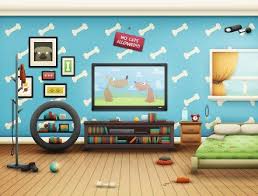 What makes a pet friendly house? There are lots of things, but flooring has to be the most important. In this case, Shaw has donated the flooring. David and his family plan on taking some dogs to the river and let them get muddy. They will then bring the dogs back to the new house and let them loose. Tennis balls will be thrown, and the dogs will be jumping on the couches, the beds and running all over the floors. The flooring is supposed to be scratch resistant, so David wants to see if that's true. David plans on having a walk-in shower for dogs in the garage, as well as their own bedroom in the house.
So far, 105 companies from 7 different countries have donated products. After the initials house opening, David plans on giving away many pet items that have been donated. This includes some of the artwork that was donated for the walls.
Want to contribute? David is looking for products as well as for artists to do abstract artwork for the walls, along with authors, to display the books in the bookcase located in the dog's room.
While this home is being built in Calgary, Canada, he plans on building a second pet friendly home in the United States.
You can follow along with the progress.



Eco Friendly Litter
Mark Hughes, National Sales & Marketing Manager for Pet Care Systems


In 1994, Pet Care Systems, the makers of Swheat Scoop Cat Litter, set out to create a litter that would be safer for pets, people and the environment without sacrificing performance. But why wheat?
The wheat kernel has two unique properties that make it a good cat litter. The kernel is ground down. This exposes the starch inside the kernel, which makes it clump. Then the enzymes inside the kernel react and neutralize the odor in cat waste. Swheat Scoop is the only product that contains 100% of a single product, without any chemicals. Swheat Scoop also works great in automatic litter systems.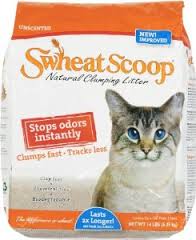 The wheat is completely biodegradable and you can even compost it. It is also flushable in your sewer or septic systems. This gives the owner choices on how to dispose of it.
They also manufacture a wheat-based litter and bedding for horses and a small animal litter for domestic pets such as rabbits, ferrets and birds. Click here for a $3 Off Coupon.
On-Line Pet Scams
Miranda Perry, Scambook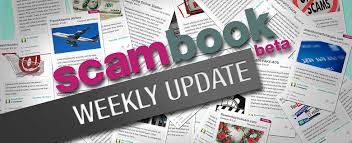 Scambook's Miranda Perry lists off the top scams directed at the very-delicate and vulnerable pet-lover. These include Craigslist scams for pure-breed puppies to Western Union fraud. She even tells us about a guy who impersonated an animal control officer to bilk money out of noisy neighbors. Be listening so you won't be a victim.
As with any transaction, consumers need be aware that any deal that seems too good to be true is possibly be a scam. Scambook, the Internet's leading consumer advocacy platform, is warning consumers against buying pets online after multiple reports of online pet fraud. Consumers need to be extra vigilant if they are shopping for a new pet on sites like Craigslist as well, because there are bargain prices listed for even the most expensive pets. This should be an automatic red flag! These people prey on our good side. They know we are looking to bring an animal in our lives to comfort us and for us to take care of. They may even say they like you so much; they are going to give you the puppy for free. All you have to do is pay "fees" for the vaccinations, travel, insurance and authorization, and they will send you the dog. This is where people get scammed! The money is usually sent in a money order or through a wire transfer, and then they are ripped off without ever receiving a dog.
One way to weed out scammers from legitimate breeders and true rescue centers is that these people will invite you to come out to the place where the dog is with its parents and littermates, so you can meet the puppy first. If someone wants to ship you a dog from another state, this is another red flag!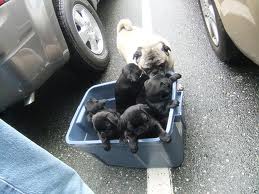 Consumers have reported showing up to the airport to retrieve their dog and they find out that the dog is still in another state, because there was some kind of "issue" with fees. They then contacted the seller, who said there were problems and they need to have more money sent to them.
Even if you do acquire one of these dogs, it may not be in the best health. Dogs from puppy mills may look fine when they are puppies, but as they grow, they may show signs of serious medical conditions such as heart problems, in as little as 6 months. Or, the dog may have even been stolen and then sold.
Miranda tells us about one scam that even shocked her. A few months ago in a gated community in Florida, someone came in dressed as an Animal Control Officer. They told an elderly couple that their dog was barking too much. They said neighbors had complained, and that if they didn't pay $500 on the spot, they were going to take the dog away.
Scambook lists the following warning signs and tips that demonstrate when an online pet deal is fraudulent:
1. Request for additional payment to cover licensing fees: This extra "licensing fee" that is usually mentioned at the last minute or after the transaction has already begun, is a huge red flag.
2. All costs listed upfront with transparency: Conversely, a reputable breeder or importer will let the buyer know all costs upfront, including any licensing fees or costs for cages, shots, etc. Any additional "surprise" costs that follow the initial price are signs that this pet transaction may be a scam.
3. Research the legality of the pet: A pet may not even be legal in your state, county, or country. Before you trust the word of an online seller, make sure to do research yourself.
4. Bargain prices for pets: Scammers prey on consumers looking for a bargain or a deal to lure in consumers who want to capitalize on the opportunity rather than think through the transaction.
5. Insisting on wire transfers or other suspicious payment methods: Legitimate breeders or pet importers will not insist that the money is paid through a wire transfer service such as Western Union or other alternative methods such as a suspicious escrow site. Also be on guard against any business that requests payment be sent to a separate address, particularly if that address is overseas.
6. Research breeders online: It is essential to research breeders online and to make sure they are a verifiable business. Scambook.com can list any complaints regarding the company. Individuals should be able to call and contact the company to visit the animal prior to the transaction.
7. Questions should be answered: A legitimate breeder and importer will answer all questions that consumers may have, including the costs of the transaction and the health of the animal. If they refuse to respond or behave suspiciously in any way, this person is likely a scammer.
It is amazing how low people will stoop to for money. The best way to prevent falling victim to a scam is to become educated about it ahead of time.
Miranda Perry is a professional writer and media consultant from Los Angeles, California. On the Scambook blog, she takes on consumer advocacy issues such as false advertising, Internet fraud, identity theft, product reviews, and financial security.



Vaccinations
Swheat Scoop Minute With Doc Halligan



Dr. Halligan can't overestimate the importance of vaccines. Too many kittens succumb to infectious diseases that are entirely preventable by routine vaccinations.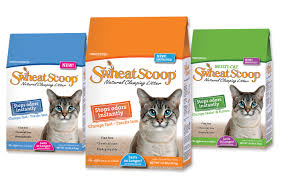 A vaccine stimulates the immune system to produce antibodies, which are protein molecules that neutralize disease. Your kitten receives antibodies from its mother's milk. After weaning, however, it needs to receive a series of vaccines in order to develop proper immunity on its own.
Kittens are vaccinated more than once because the antibodies they receive from their mothers at birth and in their milk, which wane over time, interfere with the puppy or kitten's ability to produce its own antibody response to a vaccine. The time at which these maternal antibodies lose their effectiveness is different for each puppy or kitten, so it's important to start the vaccination series at 7 to 8 weeks of age. Kittens and puppies then receive a series of vaccines three to four weeks apart until they are 16 weeks old. After that, boosters are needed yearly for some vaccines and every two to three years for others. Your vet will tailor your pet's vaccines according to their lifestyle and age!
Brought to you by Swheat Scoop. Click for $3.00 off Coupon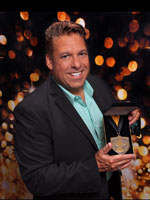 The Dogfather's Grooming Tip with Joey Villani
Beware of Rancid Shampoo
Joey tells us about a veterinarian in California who saw a pattern when he started seeing patients who had frequented the same groomer. This was not noticed at first, until one of the dogs had to go to a specialist because they couldn't clear the problem. It was then determined that the groomer had been using rancid shampoo.
Most people don't believe that this can happen. But it can! It can also happen with the pet shampoo you use at home.
Most professional grade shampoo products are meant to be diluted with water, so you get more volume out of them. If you don't use this within a certain amount of time, about 5 days or so, it will start to spoil. It's like leaving water just sitting there. Water will eventually spoil if it is just sitting there without moving. The product will then start to build bacteria.
If you have a dog with pre-existing skin conditions or cuts, when you use this product, which you think will clean them, you are actually putting bacteria back on the dog's skin, which is getting into the cuts. So if your dog already has a skin condition, this will make it worse.
Concentrated shampoos are fine and will last as long as is stated on the label. However, shampoos that are to be diluted with water unfortunately aren't labeled with the length they are good after they have been diluted.
When the product starts to spoil, you should be able to smell it. It will take on a different smell, and will not smell right. If left long enough, it will start to have a sulphur-like smell.
Whether you are a professional or a novice and you have diluted your product, smell it first. If it doesn't smell right, like the original concentrated shampoo, throw it away. Can you refrigerate it? If you do, it will last a little bit longer, but will still eventually spoil.



Animal Radio® News with Stacey Cohen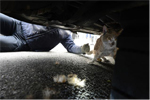 Cat Survives Ride Under Car
A lucky cat is on the mend after it survived a 15-minute ride wedged next to the muffler of a car in New York City. According to the New York Daily News, driver Quran Johnson said he and his family smelled something burning and decided to pull over to check it out. The odor turned out to be the cat's singed hair, which Johnson discovered after he looked under his car and saw the animal's tail hanging down. He immediately called the police, who helped free the cat from the car. The understandably startled feline was taken to a local shelter to be examined.
No More "Pick Up Your Pooch's Mess" Signs
You know those signs on New York City streets warning dog walkers to clean up their pooches' messes? The Department of Transportation is removing them. Department officials say New Yorkers already know about the $250 fine for not scooping the poop. The city plans to replace the worn, faded signs with shiny new signs explaining parking rules.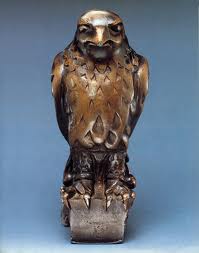 Famous Bird Statuette Sells For $4 Million Dollars
The famous bird statuette from the classic Humphrey Bogart film "The Maltese Falcon" is worth more than $4-million-dollars. That's how much the 45-pound, 12-inch tall lead movie prop sold for at auction in New York. Bonham's Auction House announced the sale, noting "the spectacular price" reflects its significance in the history of cinema. The jewel encrusted statuette was the central prop in the 1941 thriller starring Humphrey Bogart as detective Sam Spade.
More Vets Offering At-Home Euthanasia
Christi Winter always tried to give her dog Josie the very best in life, so when it was time to say goodbye, Winter didn't want to do anything less. "She was the best dog in the world," Winter said. "It's still hard to talk about it." Winter opted to have Josie euthanized at her St. Charles County home, a practice that isn't new, but is becoming a specialized area of veterinary medicine. Bernard Rollin, animal sciences and philosophy professor at Colorado State University, said he believes the trend goes along with today's treatment of pets as members of the family. "I think it's tremendous, a real huge advancement for the sake of the animals, no question," he said. At least two companies have cropped up in recent years that recruit veterinarians who deal solely with end-of-life care for pets. In the St. Louis area, Dr. Dawnetta Woodruff of Waterloo, Ill., works for Lap of Love, a company based in Florida that in the past three years has grown to about 70 veterinarians in nearly 20 states. Woodruff is its only veterinarian in the St. Louis area. Another company, Pet Loss at Home, currently does not cover the St. Louis region. "A lot of veterinarians might have two or three exam rooms they're seeing at the same time, so it's hard to give somebody who's grieving an extra 20 minutes to sit and talk," she said. "I realized that being able to help people through that very difficult time is a big honor."
Votes Tallied - Panda Cub Has Name
The Smithsonian's National Zoo is naming this absolutely adorable female giant panda cub Bao Bao after receiving more than 123,000 votes online from the public. Bao Bao, means "treasure" or "precious," and this cub is only the second surviving cub born at the National Zoo since the first pandas arrived in 1972 to commemorate President Richard Nixon's historic visit to China.
Ugliest Dog Passes Away
A New Jersey canine that was crowned the World's Ugliest Dog in 2007 and later became the topic of a children's book preaching acceptance, has died. Elwood was eight. His owner, Karen Quigley, says the Chinese crested and Chihuahua mix died unexpectedly Thanksgiving morning. The Sewell resident said Elwood had been dealing with some heath issues in recent months but appeared to be doing well. Elwood won his crown at the annual ugly dog contest at the Sonoma-Marin County Fair in California a year after he had finished second.
Holiday Wishes Campaign Will Award $250,000 To A Rescue Group
Dog and cat welfare groups with a great success story can win up to $100,000 in a contest sponsored by Petco Foundation and food manufacturer Halo, Purely for Pets, co-owned by Ellen Degeneres. The Holiday Wishes campaign will award $250,000 in grants. The sponsors are looking for a story about one animal saved by a rescue group since July 1, 2011. "We recommend that your submission be short, concise and explain as much of the following information as possible: the condition of the animal on intake, any known information about why the animal was in a situation of need, the work that your organization did to save the animal, and any information about the new home and family," according to the contest rules. Story narratives are limited to 500 words, but photographs and videos will be accepted as well. More details about the contest are available at PetcoFoundation.org.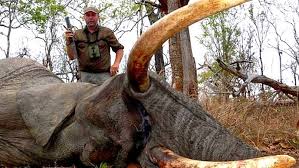 Rich Tourists Slaughter African Animals
There's disgust from animal welfare groups, as a New Zealand millionaire becomes the latest to pose beside slaughtered African animals. A US TV presenter was internationally criticized after posting a photo of herself with a shot and bloodied lion. Now photos have also surfaced of property developer Mark Gunton standing over the corpse of an elephant and a crocodile. SAFE executive director Hans Kriek says African hunting trips have been available to rich tourists for several years now. "It's a power thing. The same sort of people who like to dominate in their business, they like to dominate the animals and show that they can shoot and kill an elephant." "There's nothing to it - anyone can shoot an elephant when they have a gun, the elephant hasn't got a chance."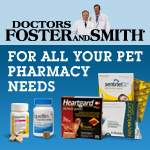 NEWS UPDATE brought to you by Drs. Foster & Smith, affordable pet supplies. Low prices every day, so you save on every order.

Listen to the entire Podcast of this show (#733)