Alligators At The Airport
Erin Burns, Louis Armstrong New Orleans International Airport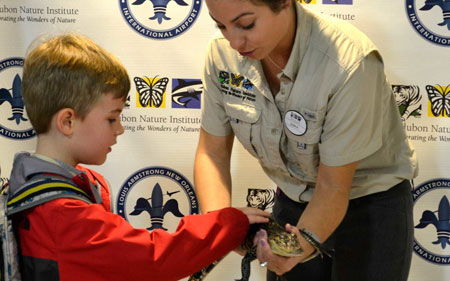 Flying can be a stressful time for many people. As a result, airports have brought out emotional support animals, usually dogs, to help people de-stress. Some of these dogs are then available for adoption, which is a good a way to find homes for these animals. However, at the Louis Armstrong New Orleans International Airport, they have something very different going on. Erin Burns is the Director of Communications at the Louis Armstrong New Orleans International Airport. She tells us that instead of dogs at their airport, they actually have alligators.
The Louis Armstrong New Orleans International Airport has a partnership with their local Audubon Nature Institute. The institute does a great job around their community with a zoo and an aquarium. They also provide an educational program where they go around giving people an up close and hands on experiences with different types of animals.
Of course one of the most recognizable animals that is representative of the Louisiana wetlands is the alligator. So the airport thought it would be a nice passenger experience to allow people, when they land into New Orleans, to interact with a juvenile alligator at the baggage claim area.
While it might not necessarily calm you, Erin explains that they've seen some people who were a little standoffish at first didn't necessarily want to touch the alligator, but yet they were intrigued. They then say they will get close enough to take a picture with the alligator and then when they take a picture, they just can't help but to touch the alligator.
Erin says they think it's been a very successful program and they're happy with all the attention it's been getting. As a result, information about their airport and the issue with animals in their wetlands is being shared, and that's what it's all about.
So when you visit the airport, are you able to hold the alligator? Erin explains that the Audubon Nature Institute provides very knowledgeable outreach staffers who hold the alligator. Passengers are not allowed to hold the alligators, but the staffers do guide them to use two fingers and touch the alligator all along it's back and spine. This allows a person to feel the alligator skin.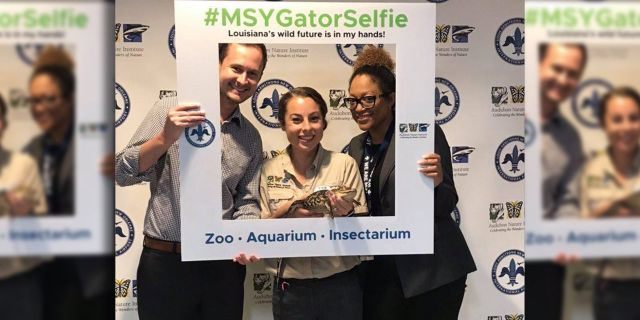 They also have a little backdrop and encourage people to take selfies or snap a couple pictures with the alligators. They can then share the pictures on social media or send them to their family and friends and tell them what they met at the New Orleans Airport. This is probably the first time these people have ever been near an alligator and they love getting their picture taken with them.
These alligators pose no harm. They are juvenile alligators and are usually between one and three years old and about three feet long. The handlers are very experienced and they hold the alligators in a very specific way so that there's no real threat to the passengers. As a result, they don't have the mouths of the alligators closed off in any way.
Dr. Debbie states that in her practice when they handle reptiles, they have certain hygiene that they have to follow. How can the airport ensure that people are using proper protocol when touching the alligators? Erin states that there is a sanitizer available and their outreach workers are very, very persistent about making sure that everyone uses the hand sanitizer after they touch the alligators.
When these alligators become adults, are they going to be held in captivity? Or, since they're so young, will they be ever be released? Erin says that Audubon Nature Institute has partnerships with local alligator farms, so when they reach a certain age, they will be retired.
Official WebsiteUnofficial Website




E-Cigarette Toxicity in Pets -Dr. Debbie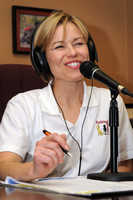 Think that vapor cigarettes (a.k.a. electric cigarettes or e-cigarettes) are a healthier alternative to traditional cigarettes? The vapor habit might be better for you and decrease your pet's exposure to second hand smoke, but can increase the chance of a pet's toxic ingestion of nicotine. A story from England told of the tragic death of a puppy that died after chewing on an e-liquid container.
Ivy was a 14 week on Staffordshire Bull Terrier that chewed on her owner's bottle of e-liquid used to refill the electric cigarettes. Within 30 seconds of nibbling on the container, she fell sick with vomiting and disorientation and was rushed to a veterinary office. Sadly Ivy died within 24 hours due to heart and respiratory failure.
What's in e-liquid?
The ingredients in e-liquid vary but include carriers such as propylene glycol, polyethylene Glycol 400 and vegetable glycerin, as well as flavoring agents and nicotine. The amount of nicotine in e-liquid varies with some products not containing any nicotine, to others ranging from 18 mg/ml to 100mg/ml.
How toxic is nicotine?
The toxic dose of nicotine for pets is 0.5 to 1mg per pound of body weight. The fatal dose is 4mg per pound. So if you consider a 20 pound dog, toxicity would occur if 10mg were ingested, and the pet would die if 80mg were ingested. Therefore with the high nicotine levels in e-liquid, it wont take much to reach those fatal levels. That hypothetical 20 pound dog could die from less than 1ml of the highest potency liquid nicotine.
Pets likewise can develop toxicity if other sources of nicotine are ingested such as cigarettes, chewing tobacco, nicotine gum, or nicotine nasal sprays. The typical amounts of nicotine in these products are: Cigarette 9-30 mg; Nicotine gum 2 - 4 mg per pieces; and Nicotine patches 8.3 - 114 mg.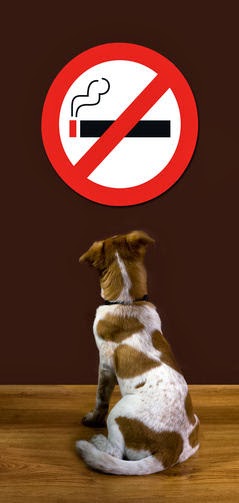 Even cigarette butts can be toxic if enough are ingested - cigarette butts retain 25-percent of the nicotine in the original cigarette.
What are symptoms of nicotine poisoning?
Symptoms usually develop within one hour of ingestion. Pets may display excitability, rapid heart rate, drooling, vomiting, diarrhea, weakness, seizures, and coma.
How are pets treated for nicotine toxicity?
The first step is to decontaminate by inducing vomiting. Nicotine typically causes vomiting when ingested, but further decontamination is advised at the veterinary office. Other emergency care includes intravenous fluids, medications to manage elevated blood pressure and heart rate, and anti-seizure medications. Nicotine is metabolized by the liver and excreted within 16 hours after ingestion. Pets that survive the initial four hours after ingestion have a favorable chance of survival.
The vapor cigarette trend is becoming more popular world wide. It's important to recognize that nicotine is a toxin and poisonous to animals and children. Consider the e-liquid a hazardous material and store it safely in a locking cabinet, away from children and pets.
To read more about Ivy's toxicity after ingesting E-fluid go to "Dog dies after chewing e-fluid container."
Featured veterinarian known as "Dr. Debbie" on national pet radio program, Animal Radio. Ebook author of "Yorkshire Terriers: How to Be Your Dog's Best Friend"; "Pugs: How to Be Your Dog's Best Friend"; "Mini Schnauzers: How to Be Your Dog's Best Friend"; and "Shih Tzu: How to Be Your Dog's Best Friend." Dr. Debbie's books.
Visit Website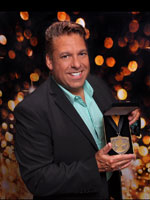 The Dogfather's Grooming Tip with Joey Villani
Are Kennel Dryers Safe?
With everything that is going on in the Grooming Industry because of social media about injuries to pets, the general public is looking to ban certain equipment. One piece of equipment in question is the kennel dryer. If you are not familiar with kennel dryers, they are used to finish your pet's coat after a grooming. These usually include a high velocity dryer. A good velocity of air comes out, which dries the pet quicker, leaving their coat straight and removing a lot of the undercoat. After several tragic accidents, many have become frightened of putting their animal inside the dryer. Dogfather Joey Villani addresses this problem head-on, saying there is nothing inherently wrong with these machines and instead of banning this equipment, which could cause more damage, blame the bad groomers.
One thing Joey has noticed is that when dogs get older, and for some reason and he thinks it's just the sound of the noise level, it affects them. He's even seen dogs seizure because of the noise level. To help, a groomer might even put a hoodie over their heads and around their ears to keep it quiet and to keep the dogs comfortable and then monitor them.
However, brachiocephalic dogs should never be put in a kennel dryer. These are dogs with flat faces, like Bulldogs, Boston Terriers and Shih Tzus. The best way Joey can explain it, is to drive at 60 miles an hour down the highway. Stick your head out the window and you will have a hard time breathing. That is what a kennel dryer feels to these dogs when they're in these kennels. An experienced groomer should know which dogs can and can't go in a kennel dryer.
Think of a human who is working on the docks and they're driving a forklift. If that person is experienced and has the proper credentials to run the machinery, you're going to get something that's expedited, careless free and done well. If they're not, people can get injured and it can also just make the whole day horrible.
Same thing with pet grooming. If a groomer is not qualified to use the equipment, then don't have them use it. But if they're qualified and you trust your groomer and ask questions, that Kennel dryer could be a really good experience for your pet.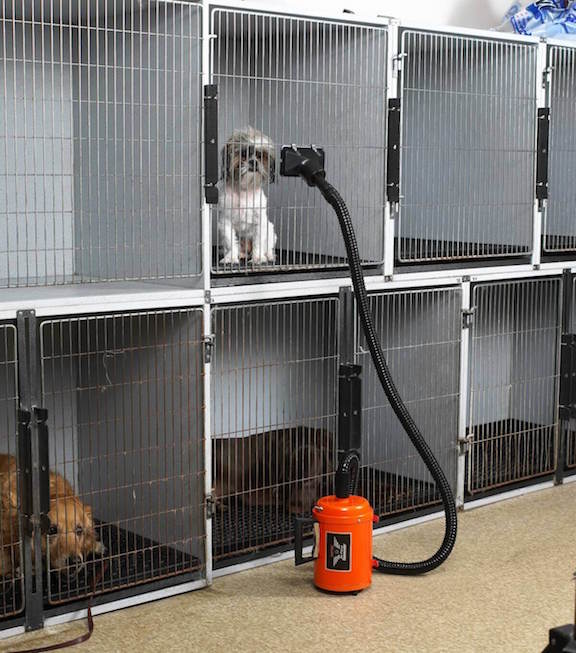 Many kennel dryers have timers on them so a dog is not forgotten that will automatically shut off after a period of time. However, some groomers buy the less expensive kennel dryers that don't have this feature and they will actually make their own. Making your owned kennel dryer is something that Joey definitely does not recommend. However, if a groomer is going to do it, there's still a way to monitor it. You need to put a temperature gauge up in the dryer kennel so you can monitor the temperature inside the kennel. You also want to check the pet every 20 minutes.
Even if a groomer has a kennel dryer with a timer, they sometimes fail. Because of this, Joey uses a backup cooking timer as well. However, because the grooming industry is not regulated, a groomer doesn't necessarily have to know the proper way to use the equipment.
Joey explains this by telling you to think about a forklift driver. The only thing that they need is an OSHA class. Joey also works with stagehands and he says he has forklift drivers that are not OSHA certified because they don't have to be. Some of them have even been driving forklifts safely for 20 plus years. But then you have someone that's never been on a forklift in their life and they take the class, they then say that they can now drive a forklift. Joey explains that they can't, because they've actually never driven a forklift, all they have is a piece of paper.
You should always ask questions of your groomer. Ask what you need to know if your pet's going into a kennel dryer. Ask them to tell you about the procedure. If they just say that they put them in, adjust the temperature and walk away, ask them if they monitor them and if so, how do they monitor them? Ask what the temperature should be. They should be able to answer all of your questions, no matter what the questions are, because no question is stupid. Don't worry if you ask too many questions, as you just want your pet safe. Your groomer should be able to answer them where you feel comfortable.
So don't automatically say you don't want to use a kennel dryer, because you might have the dog or cat that actually would benefit by these dryers.




Animal Radio News - Lori Brooks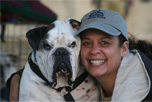 CBD For Pets
No doubt you've seen all the ads for CBD pet products. But why doesn't your vet tell you to use any of those products? Probably because there are not enough scientific studies yet; CBD products are not regulated so it's hard to be certain of its ingredients or the potency of the CBD in it; and your veterinarian is probably not allowed to mention CBD. Why? As of July of 2018, 47 states have legalized marijuana for humans in some form. However, vets have been left out of most state laws concerning cannabis, so they can only talk about CBD if their clients bring up the subject first. California is the only state that has passed legislation that specifically authorizes veterinarians to discuss cannabis with their clients. If you are going to go ahead and buy CBD on your own, you should know what you're buying. Experts say for any CBD product for you or your pet, your best bet is to find a company that has commissioned independent third party testing and can provide a Certificate of Analysis, or COA. The lab results should show how much CBD (and THC) the product contains, as well as how the product did in tests checking for contaminants such as heavy metals and fungicides. If you can't find a COA on the company's website or the company refuses to share it, that's a red flag. Also, look for products that have a seal from the National Animal Supplement Council, which increases the chance that a product has been made with safe ingredients in a clean, highly controlled environment. A couple things to remember is that a study from Cornell University found that 2 mg of CBD per kilogram of your dogs weight twice daily "can help increase comfort and activity" in dogs with osteoarthritis. That is kilograms not pounds. One kilogram equals 2.2 pounds. Finally, the quality of CBD degrades the longer you have it. It has a shelf life. Remember, CBD oils and treats should be kept at room temperature away from bright lights or sunlight. Also, heat and extreme cold can dramatically change the chemical composition of CBD. So, if you have oil that has changed colors, it's probably damaged and should be thrown away.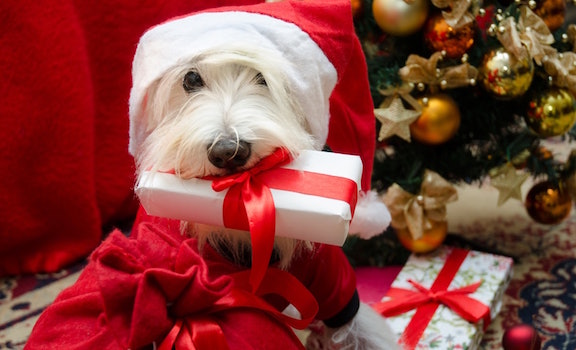 Pets Aren't Left Out at Christmas
Just as clothing and electronics retailers eagerly anticipate that the holiday shopping season will help bolster sales, pet care companies expect the same. According to a new survey from the Saint Leo University Polling Institute, pet parents will spend an average of about $237 on their pets during the holidays this year. In 2015, that figure came in at only $99. It only included their own pet and did not take into account people who also enjoy buying for their friends' pets too.
Pet Trends Follow Human Trends
If you're looking at the year ahead, some of the biggest trends in pet care are in line with trends that have recently emerged for humans. According to a survey of 1,000 dog and cat owners, 2019 will be the year of smart technology, alternative therapies and diets that mimic human choices. Trend 1: From fitness watches that track activity to on-demand food delivery services, apps and smart technology dictate the way we live. According to survey respondents, pet owners are motivated to give pet tech a try, especially if it means it will provide them with a better grasp of their pet's health and wellness. One in 4 pet parents admits they spend more on technology for their pets than for themselves. Of those who currently use health-related pet tech for cats and dogs, about 45-percent use nutrition apps and veterinary telemedicine, with 31-percent using fitness trackers. Trend 2: The survey found that of pet owners who have tried alternative therapies for themselves, 74-percent have used them on their pets as well. Most likely it was CBD and hemp-based products. Nearly 40-percent said they used CBD products on their pet for a specific behavioral condition, for pain relief after surgery or on a flight. Another trend is alternative therapies with about 80-percent of pet parents trying aromatherapy or reflexology. More than a quarter of pets have had alternative therapies like massage, physical rehab, chiropractic and acupuncture. Trend 3: People want higher quality pet foods and diets. Pet parents are much more cognizant of the types of foods they feed their furry family members. Of those surveyed, 70-percent of people who follow a diet for themselves admitted to putting their pet on a special diet too. For example, almost half of pet parents who eat organic foods feed their pets organic diets. And those pet owners on a protein-rich diet feed their pets protein-rich diets as well.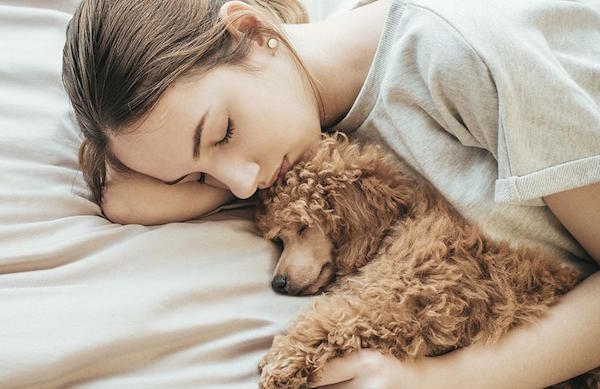 Women Sleep Better With Dogs Than Human Partners
There's a new study out that shows women sleep better next to dogs than their human partners. The study published by researchers at Canisius College in Buffalo, New York, interviewed nearly a thousand women. Fifty-five percent of them shared the bed with at least one dog and 31-percent shared their bed with at least one cat. Fifty-seven percent of the women shared the bed with a human partner. Researchers found dogs were less likely to wake their owners in the middle of the night than cats and humans, who were equally disruptive to women's sleep and didn't provide the feelings of comfort and security that dogs do. By the way, dog owners also reported earlier sleep and wake times than cat owners and those who have no pets.
Student Invents Biodegradable Potty Pads
In Ohio, a Kent State student is trying to reinvent the way people think about potty training their pets. He recently came in second in a competition with his idea for a biodegradable potty training pad. Dylan Roney has actually been working on the idea since he was in high school. He says, "Whether pets are being potty trained or it's too cold outside and they don't want to go to the bathroom outside so instead they can pee on a mat inside the house and then you can throw it outside in your garden and it will degrade and help your plants." He's on his fourth prototype and plans to launch the new potty pads next month.

Listen to the entire Podcast of this show (#994)