Bringing in the New Year
What better way to bring in 2013 than to look back at what made 2012 so special at Animal Radio®. With over 8 months of great celebrities animal lovers, we're re-broadcasting some of the best interviews that aired this year. Joining us is comedian Paula Poundstone, television host Bob Barker, actress Kristen Chenoweth, the voice of Bart Simpson Nancy Cartwright, actress Glenn Close, actress Betty White, the late musician in his last interview Davy Jones, rocker Bret Michaels, and actress Jenna Fischer. Make it a resolution to join us for this history-making program.


Tribute to Davy Jones, The Monkees 12/30/45 - 2/29/12
It is with the deepest sadness that Davy Jones' family announced that he passed away on February 29th. It is our understanding that Davy spent his final moments in his stable surrounded by his beloved horses at the time of his death. We are running this pre-recorded interview with him as a tribute.
Maintaining his allure as a sexy icon through generations of fans, Davy Jones first invaded teen hearts as the international idol of millions in the 1960s Emmy Award winning television classic The Monkees. Since the show hit the small screen, Davy has triumphed as both a serious actor and a comedian on the theatrical stage; as a rock musician, composer and artist; and, true to his first love, as an extremely able horseman. In fact, if it weren't for the success of the Monkees, Davy would have been a horse jockey.
Davy maintained a stable in Florida with a number of horses. He was well known around Indian Town, Florida and felt quite at home, while still being pretty famous in the suburbs. He mentioned he was much more comfortable riding his horses around a racetrack than he was on the red carpet and dealing with the Hollywood baloney!
Davy states that he got a bigger buzz from going into his local market where someone would stop him in the cheese department and say, "What are you doing here? Do you know who you are?" To which he would reply, "Yes, I do know who I am!" They would then ask him why he was in there, to which he would say to them, "It's called food!" It's as if they expected him to moonwalk into the bread department and then jump into his Rolls Royce driven by his chauffeur!
Davy has had a number of dogs over the years, with the Labrador Retriever being his favorite. He also had several cats. He called himself an animal lover and someone who truly cared about the animals. He mentions one barn cat that he had that was never very affectionate. Davy then realized it was because of him, in that he didn't give her that affection. But as she got older, she wanted to be hugged. He then started to pick her up every morning and give her a big hug! He said all cats and dogs just want to be a part of a community.
When it is all said and done, Davy was just a pretty down to earth guy! Combining all facets of his diverse talents, Davy saw himself as both a Daydream Believer and a Cowboy. He will be missed!
Comedian Paula Poundstone
Paula Poundstone grew up in Sudbury, Massachusetts and by the time she was nineteen was traveling on a Greyhound bus across the country, stopping in at open mic nights at comedy clubs as she went. She credits her kindergarten teacher, Mrs. Bump, with being the first one to spot her comedic talents. Mrs. Bump wrote in a letter to Paula's parents: "I have enjoyed many of Paula's humorous comments about our activities." Now, Paula is on a perpetual tour - she does it everyday!
Paula has three kids, but states that, "Two of them are really hard - so it's like having sixteen." However, she does have sixteen cats. She says is tired of getting that judgmental "gasp" when she mentions the amount of cats she has. People always ask her how she got sixteen cats, and she says, "I had fifteen and I got one more! This really concerns me about America's relationship to math – it's not that hard to figure out!"
Taking care of sixteen cats is not easy and Paula claims to have calloused hands from cleaning the litter. She says she is, "Always kind of vibrating ever so slightly from the sifting motion. My hand is always kind of rocking a little bit and people sometimes think it's some sort of neurological problem!" She also worries about her kid's college funds, because she spends it all on kitty litter. She goes on to say that, "Once you have sixteen, by the way, a lot of the love goes out of it. You're more of a cat haver after that!" Paula even has a live webcam on her cat's food and water bowls. http://www.paulapoundstone.com
Paula also has a lop-eared bunny and a bearded dragon lizard, who had a bout of constipation but is doing much better now. Paula says kitty waste is nothing like bearded dragon waste. She says you can take bearded dragon waste, and "Oh my heavens, forget nuclear weapons, forget a large arsenal, take a plane, fill it with that and any nation would bow to our world."
And let's not forget the ants. Paula also has one ant left on her ant farm. She says, "I can't keep them alive on the farm, can't kill them in the kitchen!" So one lone ant hangs out by himself in Uncle Milton's Ant Farm. Paula is so fascinated by ants because they have such a good work ethic. They couldn't have but a tiny bean for a brain and can't be the brightest creatures on the earth because their heads just aren't big enough, and yet they know exactly what to do. When you buy an ant farm, the ants don't come with it. You have to buy the ants separately. First, you add the sand and then you put the ants in. The ants get to work right away making tunnels, and within the first day, they pretty much have everything under control. Some types of ants will even make separate rooms for different things. For example, she states her ants "Have a burial ground, which I know because its full right now – I only have one ant left. They even have a period of mourning, although my ant hasn't been able to have that, because he's doing all the farming on his own right now!" She says, "He pretty much cries and plows, cries and plows!"
Paula is currently on tour, so check out her website to see if she will be coming to your town.
http://www.paulapoundstone.com

Kristin Chenoweth
Even though Kristin is a big actress, she is an even bigger animal lover! She wonders if it's wrong to love her dog, Maddie, too much! Maddie is a Maltese named after her idol, actress Madeline Kahn. Maddie is the love of her life, and has seen her through boyfriends, deaths in the family and success. Maddie is always with her and is like an extension of her.
When asked if Maddie sleeps with her, Kristin says there have been times when she woke up sore because she didn't want to move and disturb Maddie. So, she stayed in one position for hours. Later, she wondered why she was the one uncomfortable for her dog. However, after thinking about it further, she didn't care, because she would do anything or Maddie!
Kristin loves to spoil Maddie, and knows that Cesar Milan (the Dog whisperer) would have a fit, but when she takes Maddie on a walk, she lets Maddie walk her! She lets Maddie do whatever she wants to do, such as sniffing and smelling everything. Kristin believes that since Maddie spends most of her time inside, if she wants to take a stroll and sniff every blade of grass, it's fine with her. Kristin also lets Maddie lick her. Maddie loves to lick, so she licks her on her hands and face.
Kristin grew up with a ton of animals. She had dogs and cats. One time, she had two dogs named Lady Diana and Prince Charles. She also had a Canary named Johann, after Bach her favorite composers. A lot of Kristin's relatives were farmers, so she had horses, cows and chickens. While she grew up being surrounded by animals, Maddie is her first pet she's had as an adult.
Maddie is also the name of "Maddie's Corner," the organization Kristin founded to celebrate the bond between people and their pets, and also lend a helping hand when needed. Her Vision for Maddie's Corner is to inspire a more humane, thoughtful and tolerant society that will benefit the quality of life of both people and animals.
They try to match homeless pets with people who need them. They also help out with vaccinations and spaying and neutering.
Her slogan is Animals Helping People Helping Animals. To find out how you can help, please visit http://www.maddiescorner.org



Glenn Close
Glenn Close has had a lengthy career as a versatile actress and performer. She is remembered for her chilling roles as the scheming aristocrat Madame de Merteuil in Dangerous Liaisons; terrorizing puppies as Cruella di Vil in 101 Dalmatians; and as the psychotic book editor Alex Forrest in Fatal Attraction. In her TV series, Damages, Glenn brings force and power as Patty Hewes, a fierce litigator who has a dog killed. But, Glenn is nothing like the characters she plays, and in fact is a big animal lover! Glenn doesn't believe there was a time in her life growing up when she didn't have animals
Glenn currently has two dogs, Bill and Jake, whom she takes to work with her everyday. They have even become the mascots of the Steiner Studios. She has a nice room for them to stay in while she is working, and she sometimes even brings them down to the set. If she does bring them to the set, she has to remember to "tape" their jingly collars so the sound won't be picked up on the show.
Glenn has been surrounded by animals her entire life, and doesn't know what life without an animal is like. As a child, Glenn lived in rural Connecticut and had many Collies. She remembers her first Collie, who unfortunately met his fate on the rural roads where people travelled very fast. She was so small when it happened; she actually wore his collar as a belt.

Glenn's father was in medical school and would rescue dogs from the lab. So they not only had Collies, but a great assortment of dogs. While Glenn considers herself very much a dog person, she also has two cats.




Pooches For Parkinson's
Roy and Lynn's Rodens' Parkinson's Ride Across America! "PD Challenge 2012"
We are checking in weekly with Roy & Lynn Roden who are traveling by bicycle from Seattle, Washington to Miami, Florida to raise awareness for Parkinson's Disease. They are taking on this 4,500-mile journey with their two dogs, Oliver (a 65 pound Springer Spaniel) and Samantha (a 90 pound Labradoodle).
Roy's Story: Cat's out of the bag.... so here's my Story. It all started several years ago with a thumb twitch on my right hand, not always...just when I positioned my palm face up. It was a nurse practitioner that mentioned the possibility of Essential tremors or possibly even Parkinson's Disease. The findings were conclusive to a 99% probability of accuracy. My twitch now had a name. Parkinson's Disease (PD).
I became an active advocate for Parkinson's Disease. I've organized fundraisers for the National Parkinson's Foundation as well as the University of Miami /Miller School of Medicine at Olympia Gym in Aventura.
I'm making it my charge to educate people living with PD and their caregivers about the opportunity to participate in clinical studies that will hopefully better treat or better yet, cure Parkinson's.
On July 18 2012, I underwent Deep Brain Stimulation (DBS) in an effort to reduce my physical motor symptoms caused by Parkinson's and hopefully to cut down on the dozens of medications I was taking every day. Embarking on this journey, I hope to prove to myself and others that I may have Parkinson's, but Parkinson's does not have me. Together we can make a difference and find a cure.
Lynn's Story: Having been married for a little over 4 years and struggling with Roy's Parkinson's diagnosis as our 1st year anniversary present, we have decided, with our dogs, Oliver and Samantha, to take a 4,000 mile cross-country journey via bicycle to help put in perspective our personal struggles, both individually and as a couple
This journey, through the grueling physical trial of biking cross-country, will mold our confidence of ourselves and each other and strengthen our bond that together we can overcome our obstacles. In the hopes that by being selfless, we may find ourselves and find our way through this new and wonderful world of Parkinson's.
The Cause: The more our message gets out there, the more help, awareness and education we can provide to facilitate people living with PD and their caregivers about the opportunity to participate in clinical studies that will hopefully better treat or better yet, cure Parkinson's.
Have a clean T-shirt? A place to stay? A warm meal? All efforts are welcome. The more contributions we receive the more donations go directly toward Parkinson's foundations for research. The ultimate goal is to give the maximum amount to charity to support this great cause.
In addition, we absolutely welcome the opportunity to have others ride with us for this great cause. View our journey route and if we are coming through, or near your town, please contact us for details on where we can share this journey together.
PD FACTS
- It is estimated that about 1.5 million Americans have Parkinson Disease.
- Approximately 60,000 people are diagnosed each year.
- About 10%-20% of those diagnosed with PD are under the age of 50, and about half of those are diagnosed before age 40. Some are even diagnosed as early as the age of 21.
- Someone is diagnosed with Parkinson Disease every 9 minutes.
To donate or sponsor the PD Challenge 2012, please visit http://www.pdchallenge.com.






Laurel Canyon Animal Company
Squeaky Christmas



The Dogfather's Grooming Tip with Joey Villani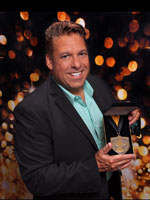 Bar Soap Dog Shampoo
Dog shampoo makers are now trying to put the shampoo in a bar soap form. But how does this work on your pet? While it might be easier and more convenient to grab a bar of soap when bathing your pet, it is more of a sales pitch than anything else.
Joey warns people to stay away from shampoo in bar soap form! The best example Joey can give is if you don't clean your shower regularly, you can get a soap buildup. That buildup is from what is contained in the bar soap. It's not the soap itself, but the scum. If you use a liquid body wash, there will not be any soap scum. But in bar soap, what holds it together is actually what causes that scum.
If you use bar shampoo in your pets coat, you cannot rinse it clean. There is a reason why people don't use bar soap in their hair. Bar soap will leave a tremendous amount of residue. This residue will buildup over time, dull the coat and cause knots and tangles. This may even cause itching for dogs with sensitive skin.
Bar soap dog shampoo is a great concept and neat idea, but they do not make bar soaps for pets (and Joey knows them all) that will not leave a residue. Instead, use a good quality liquid shampoo.
Animal Radio® News with Stacey Cohen

Dogs Shot By Police on The Rise
In response to an alleged increase of dog shootings by police officers, several people, including owners of murdered pets, are using Facebook as a tool to increase awareness of the problem and seek change to police policies toward dogs. Videos of dog shootings are all over the Internet and it seems like there's a new one every week. Unfortunately, the number of videos online is not a misrepresentation of the high number of dog shootings. It's impossible to determine the exact number of dog shootings by police officers because every police department in the country doesn't keep records. However, in Milwaukee, the 28th largest city in the country, a recent lawsuit claimed that more than 400 dogs were shot to death by police officers over a nine-year period between 1999 and 2008, according to the Milwaukee Journal-Sentinel. If those numbers are similar for cities around the U.S., a low estimate for the annual number of dogs killed per year by police in the 30 largest cities alone is 1,100. In addition, a dog-training manual for police published by the Department of Justice showed that most police shooting incidents involve dogs. In Los Angeles, at least one-half of all "intentional discharges of a forearm by an officer from 2000-2005 involved an animal," the study said.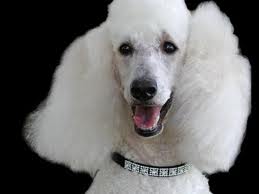 Millionaires Have Gone To The Dogs
Dogs And Millionaires Have A Lot In Common. They are relentless opportunists (especially when it comes to rewards). They come in all shapes, sizes and colors. They defend their turf. And in general, they don't like cats. Perhaps that explains a new survey that shows that millionaires are far more dog friendly than the rest of Americans. According to a study by Spectrem Group, 58% of millionaire pet owners have a dog. 37% own a cat. Only 3% keep fish, 2% birds and 2% have a horse. Why have millionaires gone to the dogs? Jennifer Cona, a trust and estates attorney said dogs provide one thing especially important to the wealthy: "unconditional love." "You don't get that from a cat," Dogs are like children for some families, except they don't mess up in college or run off with money. Sometimes it's easy to see why dogs are the favorite child." Plus, she says, millionaires know that dogs don't love them for their money. "Its unbiased love and money doesn't enter into the equation," she said. "That's important." Millionaires show their love for their dogs in part by their spending. One quarter of millionaire pet owners spend more than $1,000 a year on their pets every year, the Spectrem study said, while more than half spend more than $500 a year.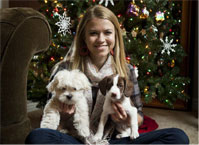 Rent-A-Puppy - Good or Bad Idea?
Business is booming for a Brigham Young University student who recently started a puppy rental service. Jenna Miller says she's had more than 100 rentals since August. The business has stirred some controversy, with the Utah Humane Society concerned about the health of the dogs.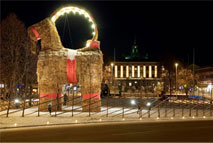 Private Security Guards Goat
The city of Gavle, Sweden, is going to great lengths to protect a goat, because this is no ordinary goat. According to TheLocal.se, the horned animal in question is a 42-and-a-half-foot tall straw goat that the city erects every year as part of a Christmas tradition that started in 1966. And while the goat has become very popular in the Swedish city, it has also become a target for vandals and arsonists. One resident says it appears another attempt was made on the goat this year, noting at the structure's official inauguration on Sunday that the front hoof smelled strongly of gasoline. But this time the city is taking no chances, and has hired private security guards to keep the Gavle Christmas goat safe.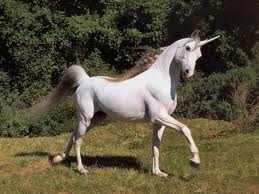 North Korean Report Says Unicorns Existed
Those who thought unicorns were relegated only to annals of fairy tales and storybooks need look no further than North Korea for confirmation the mythical beasts once existed. Professor Sung-Yoon Lee with Tufts University analyzes the revelation about a unicorn lair. According to the Korean Central News Agency, archaeologists from the History Institute of North Korea have "reconfirmed" a unicorn lair that was present around the year 277 B.C. It was purportedly located right in the capital city of Pyongyang. The lair was discovered nearby a rectangular rock with the words "Unicorn Lair" carved into it. Some media reports indicate the KCNA article may be a "tongue-in-cheek" response to humor newspaper "The Onion's" fictional article that North Korean leader Kim Jong-un was named the "sexiest man alive."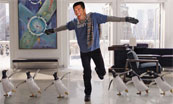 Simon Cowell Wants A Penguin
Simon Cowell is a big fan of flippers, and we're not talking about beach gear.
"The X Factor" judge, who is known for being a bit of a curmudgeon, apparently likes penguins so much that he said he would love to have one of the flightless birds to call his own. "Watching Mr. Poppers Penguins again," the 52-year-old tweeted this week. "I love this film. I really do want a pet penguin." The 2011 film, based on a children's book of the same name, stars Jim Carrey as a divorced real estate entrepreneur who is bequeathed a gentoo penguin named Captain in his late father's will. But when he tries to send back the penguin, due to a mix up, five more arrive. Suddenly he's sharing his New York City apartment, which doesn't allow pets, with a bunch of birds! Of course, if Cowell really wanted a penguin, and we're sure he has the cash to afford one. He'd have to purchase an entire zoo, as it's not legal to keep a penguin as a domesticated pet in the United States.



NEWS UPDATE Brought To You By ScoopFree.com. Free Shipping on trays plus up to $20 off your first subscription.

Listen to the entire Podcast of this show (#682)