What Dogs See, Smell and Know

Alexandra Horowitz is back to share more interesting truths about how our dogs think. More often than not, we associate human traits on our pets. But, most of the time we're wrong. Take that sloppy kiss for example. We think it means our dog is kissing us - a sign of affection. Not necessarily. Listen to find out what it really means.
Determining The Cause of Sickness
Several concerned listeners noticed problems with their pets after eating recalled pet-food. Is the food to blame, or is it something else? In this case, it has nothing to do with the recall. But others may not be so lucky. Dr. Debbie shares the factors and symptoms of the recalled products.
Post Grooming Furunculosis

The name may be funky, but the illness is very serious. Your pet may get this infection after a visit to the groomer, especially if the groomer hasn't practiced good hygiene. Dr. Debbie saw two cases in her office this week alone. Dogfather Joey Villani has tips to avoid Furunculosis!
Dog Daze To Daylight Savings
Believe it or not, even our pets are affected by Daylight Savings Time. So, when you set the clock back this weekend, be sure to keep Fido and Fluffy in mind.
Listen to this Animal Radio® episode



Bart Simpson Has A Cow!

The voice of Bart Simpson, Nancy Cartwright is our special guest this week. Nancy lives on an acre 'ranch-style' country house with "tons" of animals. Her menagerie includes, 2 dogs, 3 cats, sea-horses and a fiberglass cow named "Milk-Dud." "I don't know if other kids make this mistake, but when I was growing up, I always thought that dogs were the males and cats were the females," Cartwright exclaims, "I don't know how long I went before figuring that one out."
Man Has Dog Euthanized. Dog Wakes Up Next Day

Matt Olivarez made the decision to euthanize his 10 yr. old Rottweiler 'Mia' after the vet told him she was in pain. Afterward, he took the dog's remains back home and put them in his garage as he planned to bury Mia on Sunday. But the next morning he discovered Mia wide awake. Olivarez said he was shocked, "It's like a scene from the horror film 'Pet Sematary.'"
What Vaccinations Your New Pup Really Needs
With a lot of concern surrounding over-vaccinating, Dr. Debbie has the low-down on what you must do to keep your new-family member safe from disease. There is a reason Rabies vaccinations are mandatory in most every state.
Listen to this Animal Radio® episode


Get 25% off by entering "radiospp" in promo code box
Myth: A Small Amount of Chocolate is Deadly
ABC Good Morning America's Dr. Marty Becker is back and he's busting-myths. Is Swiffer and Febreze dangerous to your pet? Will Poinsettias kill my puss? What if my dog eats my Halloween candy?
Bats Sing and Mice Giggle
Did you know that chimps have out-scored college students on memory tests? Birds can see the magnetic lines of the earth. Ants 'tag' their enemies so others know they're dangerous. Elephants hear with their toes. All fun facts from Dr. Karen Shanor's best-seller Bats Sing, Mice Giggle.

Pet Food Recall - Too Much Vitamin D
The Blue Buffalo Company has recalled some dog-foods. A report indicates that these recipes may contain high levels of Vitamin D, which can be fatal. Blue Buffalo founder Bill Bishop says an ingredient supplier had made a scheduling error and produced a Vitamin D supplement immediately prior to preparing the ingredients for the BLUE products in question. To date there have been 36 illnesses.
Figuring Your Pets DNA

When a listener is convinced that his dog is part Dingo, Dr. Debbie doubts his word and challenges it with a DNA test!
Listen to this Animal Radio® episode


Get a Stella & Chewy's Sample - Lowest prices Online!!
Get Your Licks On Route 66

We're live for the finale of the Fido Friendly / North Shore Animal League's nationwide adoption tour. Over 250 animals found homes along America's favorite highway.
Is The Dog Allowed In Bed?

Many trainers believe that you should NOT allow your pets in bed. We all love cuddling up with them. So why is it so bad? Vladae explains the dynamics that could lead your dog down the wrong path.
FDA Alert - Online Buyer: Beware
The US Food and Drug Administration has issued an alert about buying discounted pet medications online. This comes on the heels of a 'Frontline' re-labeling scam.
Fighting Rabies From the Air
The state of Tennessee is combating wild animal rabies from the air. In an effort to control the disease in raccoons, cracker encrusted fish bait will be dropped over 3400 square miles - and supposedly cannot hurt pets or people.


Blessing The Animals
St. Francis of Assisi started the tradition and we carry it on with our yearly blessings. Bring your furry-friends to the radio and join us as the very charismatic Reverend Dr. James Capers leads this ceremony.
Listen to this Animal Radio® episode


997 Pet Food Recalls Since 2007


(Animal Radio® Newsroom Oct. 18, 2010) Since the well-known Melamine pet-food recall of 2007, the FDA (Food and Drug Administration) has compiled a list totalling 997 separate incidents of pet food being recalled.
Most of the food pulled from shelves was considered a "Category I" hazard, meaning there is reasonable probability that the use of or exposure to a violative product will cause serious adverse health consequences or death.
While chances are more likely that your pet food is ON the list, many recalls where instigated by the manufacturer and considered voluntary. Most every popular food was affected at one time or another.
A high percentage of pet-foods recalled in the last few months were pulled because of potential salmonella poisoning. However, the most-recent recall of Blue Buffalo dog food was caused by excessive Vitamin D exposure. The pet food maker says they share the same manufacturing facilities with the vitamin makers. Vitamin D can be fatal to dogs. 36 illnesses have been reported.
"All in all, many millions of dollars of food has been recalled in an attempt to protect our animals from hazards that seemed innocuous before the Menu Foods recall," says Animal Radio® host Hal Abrams. "Ultimately, it is reflected in higher prices. Many of these high-profile companies spend millions to revamp, relabel and regain the trust of the pet guardian."
The FDA list can be downloaded from : http://AnimalRadio.com/FDA-list.pdf


Follow Your Dog on Twitter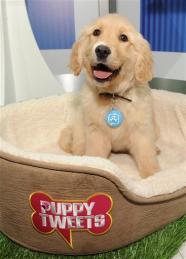 (Animal Radio® Newsroom October 4th, 2010) Who are you following on Twitter? Perhaps your favorite organization, your local weatherman, or even Howie Mandel. Don't forget to add your pup. If your dog can have e-mail and a 'Dogspace' page, simple history shows that Twitter was soon to follow.
Thanks to the fine folks that brought you 'Battleship,' Mattel Inc. is proud to introduce 'Puppy Tweets,' an electronic dog tag and sensor that attaches to your dog's collar. The sensor detects your dog's movement and sound and sends a tweet viewable by whomever signs up to follow him/her. You can invite all your friends, and even Conan O'Brien to be a follower.
Mattel spokeswoman Rachel Cooper says the new novelty toy is aimed at the 'pet-loving social networking crowd.' "There are 500 tweets programmed into the software that comes with the half-ounce devices, available in blue and pink. The frequency of messages is directly related to the activity level of your dog," she said.
If a dog is active, a pre-programmed tweet my be: "Chasing everything that moves is definitely a full time job!" If he's inactive, the tweet could be: "Your comforter does just what its name says it does." And you can re-tweet messages although you can't reply. Mattel is adding about 200 downloadable tweets a week to the message library to guard against repetition.
Like all new technology, a few pet-guardians have uncovered software glitches. Mattel is working on the issues at press-time.
Unfortunately, the tags won't work on smaller dogs or cats yet. "But that's okay," according to Animal Radio® dog-trainer Vladae Roytapel. "Who needs their Twitter filled with the lunatic ravings of yappy chihuahua or snobby cat."
You can learn more and even order at: http://www.puppytweet.com



Get Animal Radio® Headlines emailed to you, or catch them on

Twitter and

Facebook.
Top Ten Pet-Friendly Cities Named
National Report €" Portland, Oregon tops the list of Best Places to Live with Pets, according to a new report from Livability.com.
The cities on this list have pet-friendly parks and trails, quality veterinary care, active animal-welfare groups, as well as an abundance of pet boutiques and retail shops.
€śBut to make the list, these cities also had to offer an incredible quality of life for pet owners as well,€ť Livability reports in a prepared statement.
€śAccording to the American Pet Products Association (APPA), pet owners will spend over $47 billion on their pets in 2010,€ť says Livability.com spokesperson John Hood. €śObviously Americans take their pets seriously, and we€™ve noticed a tremendous amount of interest in pet-related content. So our editors researched cities around the country and looked for cities that were both pet and people friendly. From quality healthcare and higher education to diverse job opportunities and active artistic and cultural scenes, these cities are some of the best places to work, live, play and own a pet in America.€ť
The top 10 cities include:
1. Portland, Ore.
2. Colorado Springs, Colo.
3. Rocky Mount, N.C.
4. Boulder, Colo.
5. Santa Cruz, Calif.
6. Eugene, Ore.
7. Asheville, N.C.
8. Albuquerque, N.M.
9. Nashville, Tenn.
10. Louisville, Ky.
See Animal Radio® News Headlines



Ask the Animal Radio® Dream Team



Listen to Animal Radio® LIVE every Saturday at noon eastern and Sundays at 5pm eastern on XM ch. 158 (America's Talk) or on any of the 100 AM-FM radio stations. Call with your questions toll-free 1-866-405-8405 or email yourvoice@AnimalRadio.com

Jeanie: Dear Dr. Debbie, This is going to sound weird, but here goes. I have a friend who is undergoing radiation treatment for cancer. She showed me how her cat's hair is thinning in patches. Is it possible that her kitty is getting radiation poisoning from being close to her?
He is just about a year old, looks good, bright and alert. There are no sores in the thin areas. She said he doesn't do more grooming in those areas. In the past week she switched him to Blue Buffalo for indoor cats. As a trucking cat, he goes out on his leash, so he doesn't sample the great outdoors without supervision. Any ideas?
Dr. Debbie: Dear Jeanie, You raise a very interesting question- our pets reside so close to us that medications and treatments we receive may pose some risk to them as well. We know some cancer treatment medications are excreted in our urine, feces and sweat. Usually if these are used then the patient is advised to avoid contamination of people/pets in the home.
As to whether radiation can cause affects towards pets in our home...it depends on what type of radiation is being used. If external beam radiation is used, then there is little reported risk to pets or people sharing the home. However if radioactive isotopes or brachytherapy are used, then there certainly could be some risk. I would advise your frined to speak with her oncologist to clarify what type is being used and if she needs to take precautions for people/pets in her home.
In any case, it would be wise to have the kitty examined by a veterinarian to evaluate if any other cause of hairloss is apparent.
Best wishes to you and your friend!

Listen to Dr. Debbie on Animal Radio®


Myth Busters with Dr. Marty Becker, "America's Veterinarian"
ABC Good Morning America's Dr. Marty Becker is back and he's busting-myths. Are Swiffer and Febreze dangerous to your pet? Will Poinsettias kill my puss? What if my dog eats my Halloween candy?
Luckily, "America's Veterinarian" Marty Becker is doing a little myth-busting.
Small Amounts of Chocolate Are Deadly to Dogs: Myth
Many pet owners think that just one bite of chocolate can kill your dog. But the truth is, a large dog would have to eat a lot of milk chocolate to get sick -- more than a couple of pounds. But even though chocolate is not necessarily deadly, that doesn't mean you should give it out as treats. "The rule of thumb is, the darker the chocolate, and the smaller the dog, the more dangerous it is," Becker said.
Swiffer Wet Jet and Febreze Can Harm My Dog: Myth
This rumor, which was spread mostly by email, said the chemicals in Swiffer Wet Jet and Febreze could get on the paws of your pet and then become ingested when they lick their paws. The rumor also said that the products contained anti-freeze. But the truth is neither product is harmful for your furry friend. The emails circulated so widely that the Animal Poison Control Center of the American Society for the Prevention of Cruelty to Animals looked into the claim and found them perfectly safe.
Chomping on Poinsettias Can Be Deadly: Myth
Especially around the holidays, pet owners are concerned that animals that decide to make a snack out of the festive poinsettias could be eating a deadly plant. But Becker said that the plant is far from deadly, but could give your pet an upset stomach.
Pet Food Isn't Safe: Myth
A few years ago some massive recalls of dog and cat food gave pet owners reason to be suspicious of some pet foods. The recurrent outbreak of salmonella in human food recently certainly hasn't helped to ease fears. But according to Becker, pet food is safe for pets as long as normal precautions are used. Just be sure to keep the area around the food clean and wash your hands thoroughly after feeding your pets.
Non-Stick Cookware is Deadly for Birds: Truth
The cookware is safe at lower temperatures. But Becker said that when they are overheated, the coating can emit fumes that can kill pet birds. When exactly the pans become lethal is difficult to tell, but veterinarians suggest not keeping birds in the kitchen and not using non-stick cookware around them.
Lillies are Dangerous: Truth
Becker said that you don't want to have any of these flowers in your garden -- they can be toxic and can even kill if your pets get into them.
Candy and Gum Are Harmful: Truth, But Only If It Contains Xylitol
Xylitol is a popular sugar substitute that is used in many products from gum to candy and can be harmful. "It doesn't take much to kill a pet, so be sure not to leave gum and candies anywhere your pet can get at it," Becker said.
You Can Use Dog Tick and Flea Products on Cats: Myth
Becker said that pet owners tend to be casual about the use of tick and flea products, but often forget that something that kills small animals can hurt big ones too. The biggest danger is not following labeled directions exactly -- especially when it comes to not using dog products on cats. Before using a flea or tick product, you may want to ask your veterinarian what works best for your animal.
Topical Hormone Cream
A lot of women use hormone cream for menopause and hot flashes, but the ingredients in them can be transmitted transdermally to pets and children. So if you put it on with your hands, or it is put on areas of the skin that is exposed, your pet may lick your hands or skin. This can result in extremely large genitalia in female animals and extremely diminished genitalia in male animals, along with hair loss.
Which Safety Issue is Critical? Which One Can You Worry Less Over?
Here are a few extra tips from Dr. Marty Becker:
You Can Worry a Bit Less About...
Puppy Diseases
Yes, your puppy can pick up diseases from other dogs who are sick. But your puppy also needs to be socialized to grow up relaxed and comfortable. Don't take your puppy anywhere other dogs are (unless they're dogs you KNOW to be healthy and current on vaccinations, such as a friend's dog in a friend's backyard for a playmate) until your vet gives you the go-ahead after the last shot. But DO take your puppy where people are. One great way to meet-and-greet: The patio of a coffee shop. Bring healthy treats for your puppy (water, too!).
Chicken Bones
While cooked poultry bones are not safe for pets to eat, they're not instantly deadly, either. Once they're in the system, they'll probably be digested just fine. But do talk to your veterinarian if your pet eats any and take your pet in if you see any sign of illness.
Raw Meat and Eggs
Dogs aren't as susceptible to salmonella as people are. A healthy dog will probably do fine if exposed to salmonella. But since humans aren't as strong against salmonella, the real problem is what could happen when you handle their food with a problem. Kibble and treats have recently been recalled for salmonella. Take precautions with ALL food, even pet food, for your own sake: Wash your hands regularly, and keep food prep areas clean.
... And Worry More About:
Swimming
Not all dogs can swim. Short-faced breeds such as the bulldog usually can't swim and they can drown easily. Even water dogs like Labradors can drown if they get too tired, the current's too strong or the water's too cold. Cats usually do OK. They can swim, usually pretty well, but they sure don't want to. And beware the warnings for algae blooms. If a pond or lake isn't safe for you, it's not safe for your dog.
Cats and String
Yarn, ribbon, thread or even the juice-saturated string from a roast -- your cat may eat any one of these and need surgical intervention to live. The cure is easy: Keep a lid on the garbage and put all hobby projects safely away when you're not working on them.
Temperature Extremes
Perhaps because they seem more "wild" then we are, we tend to think pets can handle high or low temperatures better than we do. But not so, especially for pets who are unfit, chronically ill or aged. Always protect pets from cold or heat, using shelter, protective gear and -- for heat -- having lots of cool water available.
Dr. Marty Becker, "America's Veterinarian," is the popular veterinary contributor to ABC-TV's "Good Morning America" and the resident veterinarian on "The Dr. Oz Show." He is a frequent guest on national network and cable television, and radio shows. He has also been interviewed for countless magazine and newspaper articles, and has served as a consultant to or veterinary spokesman for top animal health companies. Along with his writing partner, Gina Spadafori, he is a regular contributor to Parade magazine and the Co-creator of popular web site PetConnection.com You can also join Dr. Becker on Facebook as well as on Twitter. Copyright © 2010 ABC News Internet Ventures
Hear Dr. Marty Becker on Animal Radio®

Get a FREE BAG of By Nature Cat or Dog Food NOW!

The Surprising Science of Animals' Inner Lives
Author Dr. Karen Shanor, Bats Sing, Mice Giggle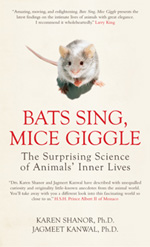 Did you know that chimps have out-scored college students on memory tests? Birds can see the magnetic lines of the earth. Ant's 'tag' their enemies so others know they're dangerous. Elephants hear with their toes. Dr. Karen Shanor joins us to expose the astounding animal facts that have recently been discovered, in her new book, Bats Sing, Mice Giggle.
Dr. Shanor is amazed at what is going on around us. We now know a lot more with the help of current technology, which allows us to pick up the frequencies of animals, their vibrations and sounds that they emit. There is also a lot more behavioral research that has been going on. This has upended everything we ever thought about human nature. We now know that many animals show empathy and take care of each other. They warn and help each other in times of danger. They also problem solve even more effectively than humans €" and they build, create and entertain themselves and others.
For example, female frogs eavesdrop on male frogs' conversations. They listen to hear what the males are broadcasting about themselves. But, the male frogs listen to other male frogs and lie to make themselves sound better!
In Japan, they set up a memory test with Chimpanzees and taught them the numbers 1 through 9. They then scrambled the numbers around and the chimps had to remember where each number was. As it turns out, the chimps were better at this memory test than were the college students that they competed against!
Bats Sing, Mice Giggle book coverMany animals can count, including bees. They can also do math. For example, if a herding dog is in charge of 120 sheep, it makes sense that they might have some kind of account going on of some type to make sure that all animals are accounted for.
There are so many facts in this book. We now know that ants are extremely intelligent and can recognize each other; have cemeteries and hospitals; are capable of terrorism; and can even "tag" their enemies by using pheromones.
All of this new information shows us that we really need to listen to the animals. For example, animals really do know when earthquakes are coming.
Bats Sing, Mice Giggle is the culmination of many years of research that reveals how wild animals, as well as pets, have secret, inner lives of which until recently €" although animal lovers will have instinctively believed it €" we have had little proof.
Listen to Dr. Karen Shanor on Animal Radio®



Pet Resort For $1,000 A Night
What is probably on your mind when you are headed to that really dicey one star hotel in a rotten neighborhood is - I am truly happy my pet can stay in a nicer place than me. If this is you, then Jet Pet Resort, near the Vancouver International Airport, is for you. For instance, dogs can get the full Rock Star Package. For $1,000 a night your dog gets a private limo pick up and drop off, a luxury suite with 24 hour care, daily dog park adventures and private walks, luxury spa treatments, doggie massage, catered meals, and a picnic in the park. Word has it that Keith Richards is looking into this - for himself! If something a bit less lavish is more your style, your dog can still get a private suite w/ a plasma TV (and we know how much dogs hate a fuzzy picture) for $69. Cats can get suites starting at $20, where they can visit the cat lounge, also w/ a plasma TV, where they can watch their favorite, the Bird Channel. Hopefully the Jet Pet Resort will also offer therapy to owners that don't get to stay in such a first rate place -perhaps the Doggie Downer Bargain Martini Lounge.
Woman Fights Off Bear With Zucchini
All that zucchini you grew this summer... it's not just for foisting off on your friends and co-workers anymore. A huge Animal Radio tip of the cap to a Montana woman who saw a black bear attacking her 12-year-old dog on the back porch of her home near Missoula. The woman screamed to draw the bear's attention, and it charged her and swiped at her leg. She jumped back into her kitchen and grabbed the closest thing, which ended up being a 12-inch zucchini from her garden. She thru the zucchini at the bear, it hit him square on the noggin', and it turned tail and ran. Neither the woman nor her dog needed medical attention. Wildlife officials are trying to locate the bear.
Bikers Against Animal Cruelty
If you are tooling down the road in Connecticut and come upon a group of guys and women on motorcycles, you may be getting the pleasure of meeting lawyer Jan Trendowski and his group, BAAC. That's Bikers Against Animal Cruelty. This group hosts music events at the legendary Toads Place Nightclub, and puts on group motorcycle rides that benefit abused animals. They have raised over $90,000 that has gone to animal shelters to help families pay vet bills and to pay vet bills for abused animals. Their official mascot is Chance, a dog that was abandoned in an apartment with no food or water. He is on the road to recovery and, if you are interested, up for adoption. Their website is BikersAgainstAnimalCruelty.org.


Events Calendar
Send your events to: yourvoice@AnimalRadio.com
Operation Blankets of Love Bingo Night
Wednesday, November 17, 2010
Hosted by the Fabulous Bingo Boy and Bingo Hostess, Bridgette of Madison County
Hamburger Mary's
8288 Santa Monica Boulevard
West Hollywood, California
7:00 p.m. - 8:30 p.m.
$20 suggested donation at the door
Includes 10 regular Bingo game cards and two Grand Prize Bingo game cards. Raffle prizes and a live auction. For best seating, arrive by 6:30. No reservations required. Full menu and bar. Valet Parking available.
Celebrate your pets right now at AnimalRadio.com


Copyright 2003-10 Animal Radio®, its logo and Animal Radio Network(TM) are registered trademarks of Animal Radio Network LLC. All rights reserved. Submissions for newsletter, programming, editorial comments and opinions may be sent to: YourVoice@AnimalRadio.com. See our website for additional information.