Animal Radio® Show #613
Passing the Chips

A California pet microchip law clears the State Senate and is headed for a vote by the Assembly. The law sponsored by Senator Ted Lieu would require owners of either dogs or cats to have their pets implanted with the tiny chips. Lieu said that studies show that three-out-of-every-four lost pets embedded with a microchip is reunited with their owners.
Want $25 Million?

Can you solve the problem of pet over population? If so you could win a 25 million dollar prize! Across the world, scientists from more than a dozen institutions are harnessing cutting-edge technology to develop a non-surgical sterilant for dogs and cats.
Yes, There Are More Fleas!
A moist season is partly to blame for the proliferation of fleas this year. Hard data shows more incidences of Lyme disease and other flea and tick borne illnesses. Dr. Mary Bryant explains the factors driving this increase and how to eliminate them from your life.
What Has Your Pet Ruined?
The calls never stop. Dogs and other rambunctious animals are ruining stuff everywhere with inappropriate chewing. Listeners chime in on what stuff their pet ruined.
Listen to this Animal Radio® episode
ATTENTION XM SATELLITE LISTENERS: Animal Radio® has moved. We're now on XM 166 at the same times - Saturdays at noon eastern and Sundays at 5pm eastern on "America's Talk" XM 166. Don't forget you can also listen on 100 of the best AM-FM stations nationwide, on any phone, and our podcast.


Animal Radio® Show #612

Babies Make Pets Fat
New research reveals that pet obesity grows in households with a new baby. Why do our furry friends pack on more pounds when a newborn arrives? 78% of new parents said their dog was free to gobble up food dropped from the baby's high chair.
Do You Stress Out Easily?
If you get stressed out easily, you may be a cat person. Researchers from the University of Texas at Austin discovered that cat people were, as a group, 12% more neurotic than dog people.
Budget Cuts Put Goats To Work in L.A.

A scrubby patch of weeds in Los Angeles have disappeared - thanks to a herd of goats that gobble up to 15 pounds of grass a day. They've become something of a sightseeing attraction. Total cost to the city: $1,250 an acre.
Starting a Lucrative Pet-Sitting Business

Bonnie Best has NOT returned to her old job. That's because she works less hours and makes MUCH more petsitting. She says quit your crappy job and start your own business with pets.
Listen to this Animal Radio® episode


Get 25% off by entering "save25" in promo code box


Animal Radio® Show #611


Humane vs. Canine Training
It's no secret that many well-known trainers have different philosophies and modalities. Cesar Millan and Victoria Stilwell have opposing methods. So which is right? Animal Radio® goes in-depth with author Alana Stevenson to uncover the myths about techniques used to correct problem behavior.
Flea Medication Resistance
Are the spot-on treatments for fleas and ticks becoming less efficacious over time? Some say the fleas are building up a resistance to the common cures.
Obsessive Destructive Behavior in Pets
What happens when a dog chews its own toes off? Is this a psychological problem or could there actually be reason to amputate the entire limb? Hear what happens when an animal has this 'over-the-top' disorder.
Banning Street Animal Sales in Los Angeles
Shoppers flock to downtown Los Angeles' Fashion District for turtles, bunnies and birds. Officials say the underground economy is out of hand and they've passed a law that makes buying animals on public streets or sidewalks illegal.

Listen to this Animal Radio® episode


Get a Stella & Chewy's Sample - Lowest prices Online!!

Animal Radio® Show #610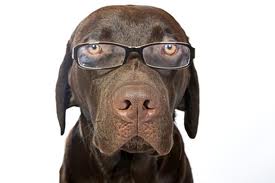 My Dog is a Genius!
How smart is your dog? Research indicates that dogs have the mental ability of a human that's between the ages of 2 or 3 years old. So love him all you want he will never be a brain surgeon.
My Dog Drinks What Michael Jordan Drinks.
If you want to help your pet beat the heat, stock up on Gatorade. When dogs and cats lose fluids, they also lose electrolytes, essential minerals. Giving your pets an electrolyte solution like Pedialyte or Gatorade will quickly replace these minerals.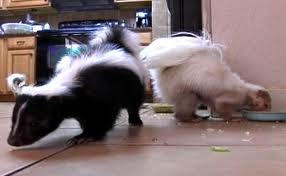 Skunks as Pets
Donald and Brenda Hoch have 15 unusual pet skunks. They say they're like a cross between a dog and cat. Hear the full story how this one couple ended up with so many of these critters.
Your Groomer is Ripping You Off!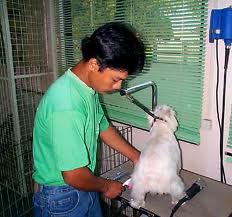 According to Animal Radio's own Joey Villani, groomers are adding extras into your visit and doing whatever to up-charge. He'll tell everyone what to look out for and when your groomer is "B-S-ing you."

Listen to this Animal Radio® episode


Thefts of dogs in U.S. up 32% in '11
Just past dawn, a gray SUV pulled into Hailey Shelton's driveway and made off with Chloe and Dixie.
Nobody heard a bark on that June morning. Nobody found an open gate. The only explanation came from a neighbor, who witnessed the early morning dognappers from across the street.
"They just straight-up took two puppies," said Shelton, 19, who lives in Durham, N.C.
Animal advocates are reporting a sharp rise in dog thefts €" murky and hard-to-track crimes that often are not reported.
The American Kennel Club tracks thefts through a national database, and its figures show at least a 32 percent uptick so far in 2011. The group bases its numbers on media reports of stolen dogs and customers who call its Companion Animal Recovery service.
The AKC database showed 224 animals were stolen during the first seven months of this year compared with 150 during the same period last year and 255 in all of 2010. In 2009, 162 thefts were reported to the AKC, said Lisa Peterson, spokeswoman for the New York-based group.
"Some are taken out of homes, some are taken out of cars, some are taken out of pet stores," Peterson said. "I've even seen some taken out of a child's arms on a park bench."
Peterson said the AKC's numbers exclude lost dogs. It counts only animals that likely have been stolen €" from a locked car or during a home break-in, for instance.
The motive for stealing a dog is always money €" whether dogs are resold, sold to laboratories or used in fights.
Peterson said dog thieves are misguided and naive. Animals can't be pawned. High-priced dogs require registration papers. Collecting heavy ransoms is unrealistic.
Shelton's dogs were pit bulls. They, along with other large breeds, tend to be stolen most often.
In the case of Shelton's dogs, the perpetrator found enough incentive to open a 6-foot-tall fence when every resident was home.
The number of stolen pets is small compared with those that are lost or abandoned.
The SPCA of Wake County maintains an entire wall of posters of lost pets, with only a few marked as stolen.
In 2010, most of the 18,297 animals that entered the county's shelters were strays with no identification, according to Mondy Lamb, the SPCA's marketing director.
Lost and wandering dogs that haven't been stolen create a far greater problem, she said.
Stray cats, estimated at 50 million, are too common for anyone to steal, said Pam Miller at Safe Haven for Cats in Raleigh.
Still, some call the threat exaggerated.
The California Biomedical Research Association, for example, describes the idea as "The Pet Theft Myth."
The myth says shadowy figures are luring animals into vans and selling them to research labs, but most dogs and cats used in research are specifically bred for that purpose, the group says.
A suspicious dognapping happened to Debbie Hawes' son Zach in Knightdale, N.C. After posting a missing pit bull report, she said, Zach discovered second-hand through a rescue group that the dog had been found. But the person who recovered it didn't want to return it directly to the owner, and he wanted a $125 fee.
Hawes said her son paid the fee and didn't ask questions. It was worth it to have his friend back home.
For a list of pet-theft prevention and recovery tips, got to www.akc.org/press_center/pet_theft.cfm.

Listen to this Animal Radio® News

Get Animal Radio® Headlines emailed to you, or catch us on

Twitter and

Facebook.
"Like" Animal Radio® on Facebook - get deep discounts and free pet stuff!

Ask the Animal Radio® Dream Team
Listen to Animal Radio® LIVE every Saturday at noon eastern and Sundays at 5pm eastern on XM ch. 166 (America's Talk) or on any of the 100 AM-FM radio stations. Call with your questions toll-free 1-866-405-8405 or email yourvoice@AnimalRadio.com

Post-Dental Cleaning Query
Linda: Dear Dr. Debbie, My cat, Simba, age 10, had dental work done by my vet (dental feline scale and polish). They gave me clavamox 15ml to give him for 7 days. About 4 days after that he started having trouble chewing and stopped eating. I tried everything to get him to eat, different dry food, canned food and even baby food. He would put it in his mouth and could not chew it because it must have hurt him. I took him back to the vet and he had an infection in some of his teeth. They gave me clavamox to give him again for 7 days. He is now eating watered down turkey baby food and tiny bits of ultra thin sliced turkey sandwich meat but still has a hard time chewing. I am wondering if there is any safe oral pain relief I can give him so that he won't hurt when he chews? He seems to know when he is going to the vet and gets so traumatized when he returns home that he hides under the bed for days so if I can I would like to avoid taking him and to be truthful I am living on a modest pension and my Social Security and the vet bills are very expensive. Your advice would be so greatly appreciated.
Doctor Debbie: Sorry to hear of Simba's mouth pain...I didn't read in your email if he had any dental extractions or any problems like feline resorptive lesions found in his mouth. I might expect more oral pain if these were present - what you are describing is a bit unusual after just a scaling & polishing.
My favorite post dental pain relief for cats is buprenorphine applied trans-mucosally. It is an opiod pain medication that is squirted on the gums or tongue. It works very effectively for pain. This medication isn't terribly costly - in my office it might run $30 or so.
An alternate drug to consider is Tramadol- but it would need to be made into a liquid form for your cat.
 
In cases of severe gingivitis I might consider a steroid to decrease inflammation.
 
If your veterinarian hasn't offered any pain medication options, then I would definitely raise the topic of the drugs I mentioned. Cats can develop serious medical problems if they don't eat for 3 days or more, so I would get some pain relief as soon as possible- and get him back to his kibble!
 
I hope Simba is feeling better soon!
Dog Eating Poop
Edwin: When Jr. my Boxer has his ball, Jake (my low key Lab.) chases after him growling and snapping at him. Jake also runs full force at a sitting Jr. and rams in to him. Jr. has started acting out going up to dogs in an aggressive manner and lunging at them.
Vladae The Russian Dog Wizard: While It's simple to blame the dog, the fact of the matter is, you are the problem. It seems that your big bully is a race car without brakes (you had never installed). Dogs playing roughly is okay... but when one dog persistently physically dominates the other, well that's not okay. Intimidating and aggressive behavior can only worsen, very rarely improve. As pack leader, you assume the policing functions of your pack. Stepping in isn't a choice... it's a duty. Boxers are dream dogs only when they learn self-control -- along with wrong from right.
Self-control can be taught with 3 simple exercises;
-walking on a loose leash
-no jumping on others
-teaching place command (going to dog bed and staying until released)
Walking on a loose leash takes a few repetitions but is not difficult. First, get a Herm Sprenger german pinch collar. They imitate the way a doggy mother snaps... gentle yet firm. On leash, go out on the sidewalk, and try this out. The moment your dog lunges ahead of you immediately turn around (180 degrees) and give a [very] fast leash snap. Slack is critical before snapping to ensure both speed and power are convincing. Repeat this a few times until your dog walks in-line with you calmly... always looking for you to lead.
Jumping is annoying, common, and convenient to stop. If the dog jumps at you, or anyone else for that matter, yell in a deep loud tone "AHHHHHGT!" while clapping your hands and freezing in place. In canine language, lurching the back over and freezing implies, "If you don't stop I'll bite".
Teaching the dog to go to bed is even more easy. To make your dog feel like they are one their own, place a 5 ft clothesline on their collar. Say "place", then guide dog to bed with a pointed finger and make the dog lie down. Reward them with treats when they are down, and only when they are down. Any attempt for the dog to get up should be followed by a snap of the clothesline (with collar attached). Practice will make perfect and this command will be especially useful when guest are at the home.
Always surpervise the dogs, especially when they play to correct the bully Boxer. In canine court, much our own court, you must witness the action and punish the perpetrator to do justice. The best tool at your disposal is the Pet Convincer, a training tool that combines two technologies in one device. Using a silent whistle, coupled with an air blast, produces a human means to immediately end the bully behavior. When your boxer crosses line, say in a firm manner "enough". If he tells you, "that's not enough mother" in return simply press the button. Air will fly much like the dog will! Do the same with any aggressive/intimidating behavior. Winning about 4 consecutive battles on the bullying will end your problem for good.

Listen to Dr. Debbie & Vladae on Animal Radio®



Events Calendar
brought to you by



Send your events to: yourvoice@AnimalRadio.com
APPLAUSE FOR PAWS!,
Where: River Walk in Shelton, CT, 86 Canal St, Shelton, CT 06484
Date: Sep 10, 2011 (Sat)
Time: 9:30am-4:00pm
Phone: 203-558-5911
Join Trap Falls Kennel Club and learn what it takes to be true to your best furry friend with proper training, communication, food and more. Enjoy Obedience and Rally Demos and matches; Agility Demos; see if you dog is well mannered enough to take the AKC Canine Good Citizen test (CGC). Enter your pooch in Best Kisser; Best Dressed, or Best Trick Contest. At 'Meet the Breeds', you can find out about different breeds of dogs and which one might be right for you! Micro Chipping services will be provided by Countryside Veterinary Hospital (Shelton CT). There will be Face Painting, Great food and a variety of Dog-related and Non-dog related vendors. Best of all, it's FREE. Leashed Dogs are welcome with their human companions.
GET YOUR LICKS ON ROUTE 66
Where: Bark Avenue Foundation, 545 S. Main St., Los Angeles, CA 90013
Date: Sep 18, 2011 (Sat)
Time: 10:00-3:00pm
This nationwide adoption tour is brought to you by North Shore Animal League, Fido Friendly Magazine and Animal Radio® - Join us as we kick off the 3rd year. This life-saving tour travels across the US: Arizona, California, Colorado, Illinois, Kentucky, Missouri, New Mexico, New York, Oklahoma, Texas, and Utah.




Celebrate your pets right now at AnimalRadio.com


Copyright 2003-11 Animal Radio®, its logo and Animal Radio Network(TM) are registered trademarks of Animal Radio Network LLC. All rights reserved. Submissions for newsletter, programming, editorial comments and opinions may be sent to: YourVoice@AnimalRadio.com. See our website for additional information.