Listen Before You Donate
Animal People Watchdog Merritt Clifton uncovers the financial details of all the non-profit animal welfare organizations. What CEO is making a half-million dollars? What organizations are corrupt and who is really helping the animals?
What Your Pet Says About You
Dog owners are more likely to be in management positions, cat owners are likely to be physicians. Laurie Roberts dissects a CareerBuilder.com survey. She also shares what your pet's name says about you. Owners that named their dog "Killer" are more likely not to pay their vet bill.
Freedom Frustration
Just another big name for bad behavior spurred by confinement. Vladae the World Famous Russian Dog Wizard deals with this every day and has solutions to turn your bad dog into a good dog.
Pet Friendly Seattle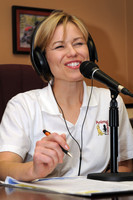 Susan Sims is sending someone to Seattle's Hotel Vintage Park for a night with your favorite pet. Some lucky dog will get Kimpton's five star service for two and four legged creatures.
How To Avoid The Vet
Dr. Debbie shares the top cases she sees in her office around the holidays. Needless to say, humans are mostly responsible for the hazards. Hear this list and you'll know what to avoid.
Listen to this Animal Radio® episode

David Frei Announces 6 New Breeds
Our friend and host of NBC's National Dog Show, David Frei is on to explain the six new AKC breeds. He tells us what it takes to be registered as an official breed.
Do Our Pets Get PMS?
Not a silly question from an Animal Radio® listener. If women get PMS, wouldn't it be safe to say, so do our dogs and cats? Our pets may show it differently.
Toilet Training Your Kitty
Wouldn't it be grand if you didn't have to worry about a cat litter because Fluffy does her business on the toilet? It may not work as planned. And do you really want to wait in line to use the bathroom because your cat is reading Cat Fancy on the toilet?
Dog Yoga - Doga
Get introduced to this new relaxation technique. Imagine bonding with your dog during Yoga. Instructor Amy Stevens says you can get your pup to sit still for Yoga. She hasn't met my dog. PETCO has a special organic gift basket for our listeners.
Anesthesia Free Dental Cleaning
Dr. Debbie is steaming mad because two of her patients are sick after an Anesthesia Free Dental Cleaning offered by a groomer. She says "beware of any groomers that offer Anesthesia Free Dental Cleaning. It may be an illegal operation."
Listen to this Animal Radio® episode


Get 25% off by entering "radiospp" in promo code box


It's Animal Radio's "Black Furday" Special
We're celebrating Thanksgiving weekend and giving you the gifts!!

The entire dream team voted for their favorite pet products from 2010. We took all the common items and put them in our yearly countdown. We even have giveaways of all these goodies.
These are the items you, your pets, and your pet-lovin' friends want for the holidays:
Eyenimal Pet Video Camera is the first brand of miniature video cameras that allow dog and cat owners to step into the lives of their favorite pet.
The Pooch Power Shovel is a more than a lightweight cordless power tool; it's the next generation in pooper-scooper technology. Whether you have a small Maltese or 2 giant mutts, the Pooch Power Shovel can handle all of your dog's presents.


The Scoop Free Automatic Litter is the only self-cleaning litter box that uses disposable litter trays to provide hands-off convenience and unbeatable odor control.
WAHL's Deluxe Series Pet-Pro Kit provides home groomers with a versatile clipper at an affordable price. The kit includes all the tools and step-by-step instructions needed to make the grooming experience great for both the owner and pet.
Top Picks at PetGadgets.com
Black Furday Holiday Picks!!!
Listen to this Animal Radio® episode


Get a Stella & Chewy's Sample - Lowest prices Online!!
Does Your Dog Look Like John O'Hurley?
Animal Radio® welcomes the return of actor/host John O'Hurley. Best known as 'J. Peterman' on Seinfeld, the first winner of Dancing With The Stars, and host of Thanksgiving favorite, The National Dog Show. O'Hurley is looking for dogs that look like him. He says "it doesn't hurt if they're pompous and arrogant like me."
I've Got Bed Bugs
Dr. Debbie brings in a test tube full of bedbugs. Do bedbugs affect your pet? How can trained dogs help us find bedbugs? You'll learn more today about bedbugs than you ever thought you could possibly know on the subject!
'White Knuckles' Video Explained

Have you seen the latest video to drop from the band OK Go? How did they train 15 dogs to do those tricks? Bassist/Vocalist Tim Nordwind explains the process. After leaving EMI, a major record label, they are finding new ways to penetrate the market with their unique brand of music.
Grab the Antiseptic - Time to Clean the Cat
"Dogfather" Joey Villani says you can groom your kitty without the chain-mesh gauntlets and vodka. He'll share his tips for cleaning the furr-ball.
Listen to this Animal Radio® episode

When Smokey Talks
Legendary Motown singer Smokey Robinson is this week's special guest. He promoting his new album, the first Afro-American artist to appear in the Cracker Barrel CD collection since a NAACP lawsuit. He doesn't have an affinity for animals and we're still scratching our heads figuring why he's on Animal Radio®.
Shattering Training Myths - Sorry Cesar
Oprah's dog trainer, Tamar Geller says you don't have to be dominant, you don't have to teach submissiveness or ingrain fear to get your dog to behave. She is the creator of the wildly successful Gandhi-esque dog philosophy, The Loved Dog"¢. She tells listeners how to empower their dog within 30 days.
Removing Tar and Gum
No, you don't have to cut your pets hair to remove the gum still in Fido's fur since Halloween. "Dogfather" Joey Villani brings his expertise to the Animal Radio® Dream Team every week. With a little Mineral oil and Dawn dish soap, you'll have the gum or tar out of your furry-friends coat before you can say "Thank you Dogfather!"
Taking On a Stubborn African Gray
Parrots can be pretty aggressive. Their attitude can outlive ...well, you. Imagine the mind games this witty bird can play on its human. We've run into a bird that can emulate the phone, door bells, other people. He's determined to drive his owner crazy. "Help Dr. Debbie!"
Listen to this Animal Radio® episode

Dog that 'came back to life' gets new home

REDFORD TOWNSHIP, Mich. €" A rottweiler that was supposed to be put to sleep will live the rest of its life frolicking in the country.
Mia, who survived a botched euthanasia, has been given a new home with other rottweilers on an 80-acre farm outside Hillsdale.
Mia was given a second lease on life through touched reader's donations after news of her coming back to life spread around the world.
Mia's owner, Matt Oliveraz, 27, said because he was facing foreclosure and was forced to move to a small apartment in Detroit, and because his 11-year-old pooch had a myriad of health problems, he had decided to alleviate her suffering.
Last month, Olivarez said he took Mia to the Westcott Veterinary Care Center in Detroit.
Olivarez said he returned to his garage Sunday morning and noticed Mia missing from where he'd placed her on a pile of hay the day before. He'd planned to bury her in his grandfather's back yard.
Instead, he turned to find her standing on all fours, staring at him.
"Are you still my dog?" he said, saying he felt like he was living a scene from one of the scary movies he enjoys. "It was like a scene from 'Pet Sematary."'
Olivarez said Westcott officials speculated afterward that the drug dosage wasn't strong enough or had been watered down.
Now, Mia has undergone steroid injections paid for by animal lovers around the world and seems to be recapturing part of her youth.



Get Animal Radio® Headlines emailed to you, or catch us on

Twitter and

Facebook.
"Like" Animal Radio® on Facebook and get deep discounts and free pet stuff!
What Your Pet Says About Your Career Pick

We've all heard people claim to be either a dog person or a cat person, and this pet preference is supposed to provide insight into their personality. But does the type of animal you own say anything about your career path?
According to a nationwide survey released today by Careerbuilder.com, it does.
The online survey, conducted by Harris Interactive, looked at pet ownership in relation to a person's chosen profession, compensation and job satisfaction. More than 2,300 U.S. workers with pets were polled for the survey.
It found that workers with dogs were more likely to hold senior management positions, such as a CEO or senior vice president. Workers with snakes or other reptiles were more likely to earn six figures, and bird owners were more likely to be satisfied with their jobs, according to the survey.
In terms of career paths, the survey found that owners of certain pets were more likely to report being drawn to certain professions. Specifically:
- Dog owners were more likely to be professors, nurses, information technology professionals, military professionals and entertainers;
- Cat owners were more likely to be physicians, real estate agents, lab technicians, machine operators and personal caretakers;
- Fish owners were more likely to be human resources professionals, financial professionals, hotel and leisure professionals, farming/fishing/forestry professionals and transportation professionals;
- Bird owners were more likely to be advertising professionals, sales reps, construction workers and administrative professionals; and
- Reptile owners were more likely to be engineers, social workers, marketing and public relations professionals, editors or writers and police officers.
See Animal Radio® News Headlines



Talented Dogs Make Video History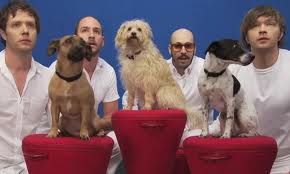 (Animal Radio® Newsroom November 22, 2010) The pop band OK-Go has made video history with their latest creation garnering more than 7.5 million hits on You Tube.
Amazingly, there is no major recording label behind their success. In fact, they parted ways with EMI, a major record label that has propelled the career of hundreds of popular artists.
Tim Nordwind guests on Animal Radio® this week and explains the difference in philosophy between OK-Go and EMI.
Nordwind says EMI's only interest was in the recording of the song itself. "We look at everything we make as a piece of art, that includes the video."
So why is the 'White Knuckles' video become so popular? Perhaps it's the 15 dogs that star in it. They seem to dance, perfectly choreographed in time with the music. Nordwind says it took about 130 takes to get it right. No Photoshop. This is the real thing.
While most of the dogs were professional "Hollywood" trained, there is a cameo appearance from OK-Go singer Damian Kulash's dog.
Nordwind says "It's crazy to say that for three weeks our job was to go to a warehouse and play with dogs for 6 hours."
Hear the interview: http://AnimalRadio.com/572PODCAST.mp3
See the video: http://www.youtube.com/watch?v=nHlJODYBLKs

Ask the Animal Radio® Dream Team
Listen to Animal Radio® LIVE every Saturday at noon eastern and Sundays at 5pm eastern on XM ch. 158 (America's Talk) or on any of the 100 AM-FM radio stations. Call with your questions toll-free 1-866-405-8405 or email yourvoice@AnimalRadio.com

Rosi M Gonzalez: Hi Dr. Debbie, Mork is my 4 year old Scottish terrier. For the last 4 months I have taken Mork twice to the vet for this problem. He gets a dandruff like condition on his
back, paws and under his mouth. Vet says it is yeast infection. She gave him medicine and shampoo and he got better for a while. It came back vet recommended different shampoo and pills. The problem remains same. Mork looks like his back itches. Is there a home remedy I could try?

Dr. Debbie: Dear Rosi, Hello to you and Mork! Yeast infections in the skin are usually secondary to some underlying problem such as food allergies, seasonal allergies, skin mites, hypothyroidism, etc. So if you just treat the infection it will just come back again without addressing any underlying health condition. I doubt there is a just simple home remedy I can advise, but I would suggest addressing some other aspects of Mork's skin.

My first suggestion with chronic yeast infection is to to address possible food allergies. Many pets with food allergies continue to have skin issues on and off. I like the hypoallergenic Royal Canin prescription duck/potato diet or the hydrolyzed protein diet by Hill's called Z/D. It can take 6-8 weeks to see an improvement. Be ready that prescription diets can cost more on the front end, but when used correctly it can often save more costly vet bills along the way.

Seasonal allergies and thyroid problems can be tested for at your veterinary office.

Chronic yeast infections will mean chronic topical treatment- so don't give up using the home care products. I use Malaket shampoo and/or spray as often as twice a week or down to every 7-14 days to control yeast in the skin.

Oral medication for yeast also needs a more chronic approach. Treating for 1-2 weeks doens't do enough for the pet with chronic issues. I always compare yeast infection in dog skin to that of people battling nail fungus. In both situations it can takes weeks or months of medication to control. Stop too soon and it will seem like the medication didn't help the problem.

I often advise home supplementation of omega 3 fatty acids for pets with skin disease. One of the richest sources of omega 3's is Eicosacaps.

I can understand how frustrating these sort of skin problems can be. My main message would be to look into underlying skin conditions and to talk to your veterinarian to see if chronic home care with shampoos/sprays is an option.

Best Wishes to you and Mork! I love his name!

Listen to Dr. Debbie on Animal Radio®
Surreal Rescue of Deer from Ocean
Animal Radio® Exclusive Click on Photos to Enlarge
Four young Sitka black-tailed bucks fell upon good luck Sunday as they were pulled from the icy waters of Stephens Passage, Alaska by a group of locals on Tom Satre's 62-foot charter vessel. Four juvenile Sitka black-tailed deer swam directly toward the boat.


Once the deer reached the boat, the four began to circle the boat, looking directly at the humans on board. Clearly, the bucks were distressed. With help, the typically skittish and absolutely wild animals came willingly onto the boat.  Once onboard, they collapsed with exhaustion, shivering.
Here the rescued bucks rest on the back of Tom Satre's boat, the Alaska Quest. All four deer were transported to Taku Harbour.  Once the group reached the dock, the first buck that had been pulled from the water hopped onto the dock, looked back, then leapt into the harbour, swam to shore, and disappeared into the forest. After a bit of prodding and assistance from the humans, two others followed suit, but one deer needed more help.  Here he is being transported by Tom Satre
Tom, Anna and Tim Satre help the last of the "button" bucks to its feet. They did not know how long the deer had been in the icy waters or if there had been others who did not survive.  The good Samaritans (humans)  describe their experience as "one of those defining moments in life."  I€™m sure it was for the deer, as well.
See Similar Stories at AnimalRadio.com


Would You Get Between Your Pet And A Bear?
That is what a Gig Harbor, Washington woman did recently, as she and her medium sized dog were out for a walk, when a brown bear startled them. The woman scared the bear away and she and her dog are both fine. Come to find out that 72% of pet owners said they would do the same thing, or probably do the same thing. 18% said no, they would scream and run for help. One person in the poll said his dog would take on the bear for him. This particular bear is still on the loose, avoiding Fish and Wildlife officials.
Stacy Kimball with Oscar the pig Oldest Pig Has Gone to Hog Heaven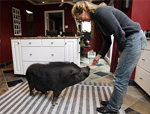 Oscar, the 21-year-old Vietnamese pot bellied pig that held the Guinness World Record for oldest pig, has gone on to hog heaven. Oscar passed away recently, just after his birthday. He had quite a life, though. As a piglet he would stride through the streets of Chicago on a leash, he also had a career as a TV star with a pet psychologist and once joined his owner Stacy Kimball on a ski vacation. When Oscar was in his modeling years, weighing 60 pounds, he posed on an Avanti Greeting Card wearing pearls. Later on, he had stories about him in the news, including People Magazine, got several invitations, including one to Italy he had to decline and did a show for Animal Planet. Oscar, who eventually weighed 130 pounds, loved to be a guard pig at his Dallas home, where he had a miniature house next to the swimming pool, an umbrella to protect him from the sun, weekly baths and rubdowns and he would love to fall asleep in front of the TV.
If You Travel With Your Pets During The Holidays, You're Not Alone
A recent survey by PetRelocation.com of more than 7,000 pet owners reveals that 63% will travel at least 50 miles with their pets. 85% of those that travel with pets for the holidays say that their pets influence how far they will travel. A majority says that while their pets do not influence the length of their trips, they do influence where they choose to stay. A third of those asked said they will stay in pet friendly hotels, while most say they stay at the homes of family and friends. A large majority travel with dogs and a majority say they travel with their pets because they are a part of the family and should be with the family on holidays.
New York City Animal Shelters Stop Taking Lost Pet Reports
New York City animal shelters have stopped taking lost pet reports and no longer will search their three facilities for missing dogs and cats. Deep budget cuts have forced the non-profits to cut their budgets by more than 1.5 million over the past two years. Owners are being told to search the three shelters in Upper Manhattan, East New York and Staten Island for their lost pets. Rescuers and pet fans alike are extremely concerned about the number of animals that will not find their way home.
Listen to the latest pet news on Animal Radio®


Purrs Lower Blood Pressure
New studies show that the vibrational purr of a cat can lower blood pressure and calm a stressed out brain. One third of American households have a cat, and there are 16 million more pet cats in this country than dogs. Recent research shows that cats can be caretakers for us and our families, improve our health and teach children to be kinder, gentler souls.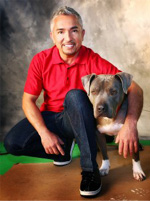 Cesar Millan's Dog Banned from Canada
Dog whisperer Cesar Millan has been forced to keep his pit bull, Junior, at home during his 11-city Canadian show tour, because of a ban on pit bulls. The ban was enacted after several vicious attacks. Many politicians in Canada believe it's the deed, not the breed, and are trying to amend the legislation. The 2005 dog owner's liability act covered many breeds of the terriers. People that already had the dogs when the law went into effect were allowed to keep them, but needed to have them spayed or neutered, kept muzzled and on a leash. Mr. Millan, who is well known for his work with dogs, has always said it's not about the dog; it's about the owner. Several Canadian politicians say that this whole situation is pretty embarrassing.

Hear Cesar Millan talk about Breed Bans on Animal Radio®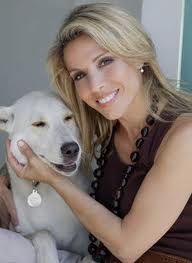 Shattering Training Myths
Tamar Gellar, 30 Days To A Well Mannered Dog
Oprah's dog trainer, Tamar Geller says you don't have to be dominant; you don't have to teach submissiveness or ingrain fear to get your dog to behave. She is the creator of the wildly successful Gandhi-esque dog philosophy, The Loved Dog Method"¢. She tells listeners how to empower their dog within 30 days.
Tamar states that her and Cesar Millan are like oil and water €" they don't mix! She doesn't believe that a wife, a husband, a child or even a dog want to be taught while they are being made to be submissive. She believes everyone likes to feel good about themselves, particularly when you want to build a team, where your team player will do anything for you. She feels it makes more sense to realize that when someone is a willing partner, it is a much better approach than to have a team member do something out of fear.
In order to make your dog feel like a willing partner instead of feeling they have to be submissive is the same technique you would use on your husband or your child. You find what makes them happy. You find out what excites them, and you incorporate that into the coaching. It is like empowering them and making it fun for them to learn.
She states that Gandhi was a leader and so was Saddam Hussein. Tamar doesn't think that most people would choose to work for Saddam Hussein. Why? Because it was scary for them. But with Gandhi, they were willing to go the extra mile, because he was such an amazing leader.
With dogs, Tamar uses games. We know that the best way wolves teach their young and the best way toddlers learn are through games. We also know that the dog is developmentally the closest to a toddler.
In the old days, you would hear about men stating that kids and wives had to be submissive and disciplined. She states that these methods are from the dark ages and we need to get them out of the dog world as well. She feels anyone who tells you that you need to be the "Alpha Dog" and that the dog needs to be submissive, has not read any behavioral research that has taken place in the last 30 to 40 years.
When asked if a dog that has been previously trained with an alpha dog method can be retrained her way €" she states absolutely yes! In fact, she is currently working with a dog who was not only trained this way but was severely abused by someone who called themselves a dog trainer.
Her technique uses "safe words" which she describes as giving words to good experiences. For example, when this abused dog meets someone new and likes them, she repeats the word "friend." This comes in handy when meeting other people, so she can remind him by saying "friend" that this new person is a good person and safe.
We all evaluate life, this includes both people and dogs, according to pleasure and pain. Is meeting someone going to be pleasurable or painful? Dogs who were trained with harsh methods have post-traumatic stress disorders. They think that everything in their life is going to mean pain. They are afraid of taking chances and exploring, because they are afraid they will get screamed at or yanked.
She uses her practice on every breed of dog. She looks at dogs like ice cream. There are many different flavors of ice cream, but no matter what flavor it is, the ice cream was made the same way, with the same ingredients. It doesn't matter what brand or flavor. So whether it is a Chihuahua or a Pit Bull, they have the same basic needs.
To get your dog started with her training, the first thing you need to do is stop saying "Good dog." This doesn't give enough information. You want to treat a dog the way you would treat a toddler. When you work with a toddler, you give a name to everything. For example, if your dog follows your commands, you want to say, "Good sit," "Good come," "Good belly rub." You want to make it a fun learning experience.
You can also use this technique with your children and spouse!
Listen to Tamar Geller on Animal Radio®



Events Calendar
Send your events to: yourvoice@AnimalRadio.com
Pet Photos with Santa and Holiday Boutique
When: Saturday, December 4, 2010 from 10 am to 4 pm
Where: Escondido Humane Society, 3450 East Valley Parkway, Escondido, California 92027
SISA NIght to Remember
When: Sunday, December 5, 2010 from 6:30 pm to 8 pm
Where: The Society For The Improvement Of Conditions For Stray Animals, 2600 Wilmington Pike, Kettering, Ohio 45419
Santa Paws is Coming to Town!
When: Saturday, Dec 11 2:00p
Where: Hotel Palomar Philadelphia, Philadelphia
Pet Photo Night at King of Prussia Mall
When: Wednesday, Dec 5 5:00p
Where: The King of Prussia Mall, King of Prussia
Celebrate your pets right now at AnimalRadio.com


Copyright 2003-10 Animal Radio®, its logo and Animal Radio Network(TM) are registered trademarks of Animal Radio Network LLC. All rights reserved. Submissions for newsletter, programming, editorial comments and opinions may be sent to: YourVoice@AnimalRadio.com. See our website for additional information.