Animal RadioŽ Show #630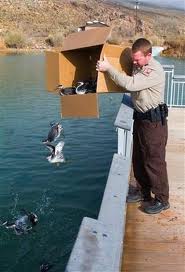 Strange and Unusual Mass Bird Crash
Thousands of migratory birds were killed or injured after apparently mistaking a Wal-Mart parking lot, football fields and other snow-covered areas of southern Utah for bodies of water and plummeting to the ground in what one state wildlife expert called the worst mass bird crash she'd ever seen.
Knock Knock...
Who's there? Certainly not an gator. Or is it? A Florida woman answered a knock made by a alligator rubbing his nose against her door. Local animal control officials were called in to trap the 6 foot meat-eater.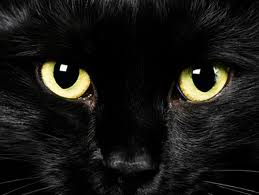 One Rich Kitty!
Tommaso, a four-year-old former stray, is likely the richest feline in the world after his owner, Maria Assunta, left him an inheritance of more than 13-million dollars. Italian law says the animal can only be named beneficiary once a trustee has been named.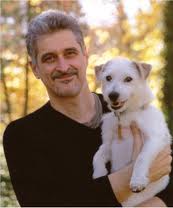 Mutt's Creator Explains Muse
Who is the driving force behind Patrick McDonnell's weekly comic strip? Any reader would know it's the animals in his life. Patrick is guesting for his fourth time.
We Don't Make Mistakes?
Everybody does! Our New Year's tradition is playing them back for all to hear. Don't miss the end of year outtakes. The animals are laughing at us.
Listen to this Animal RadioŽ episode





Animal RadioŽ Show #629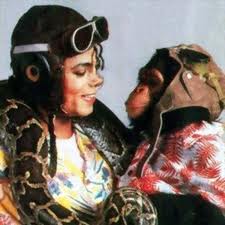 Michael Jackson's Zoo
What ever happened to Michael Jackson's animals? Michael's friend and assistant, Frank Cascio joins us to share intimate stories of the pop star's menagerie.
More Gifts For You and Your Pet
In our final week of the 12 Dog Daze of Christmas Basket Giveaways. You'll win great goodies from: Tagg Pet Tracker, Pet-E-Pure, Bergan Pet Products, Flava Burst, Snaps Pet Collars, Overby Farm Hip Flex and Disney.



Furry Holiday Special
Grab your pets and join us for our special holiday weekend show including stories and music for pet lovers like us. ASPCA President Ed Sayres has the low-down on how dogs and cats came to be.
Aflatoxin Behind Pet Food Recalls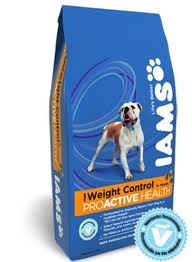 High levels of toxins are being blamed for a huge dog food recall. Procter and Gamble say it's recalling a year's output of several food brands. The food may be contaminated with aflatoxin and can cause liver failure or death. Iams ProActive Health Smart Puppy dry dog food is the most popular brand affected.
Listen to this Animal RadioŽ episode



Animal RadioŽ Show #628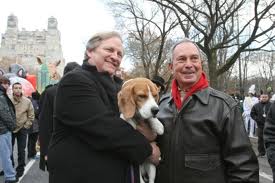 Best in Show
David Frei guests this week. He's the host of the National Dog Show on NBC's Thanksgiving lineup. Over 18 million viewers watched this year. David has a new book based on his companion animal therapy program called Angel on a Leash.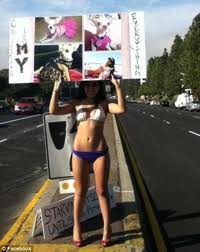 A Little Skin For a Missing Dog
A California woman is hoping that showing a little skin will help her find her missing dog. Arlene Moss Corona was wearing a bikini as she stood next to the road holding a poster of her missing Chihuahua. The UCSD student says she's tried everything to find her beloved pet, from calling the pound to contacting a pet psychic. The only other option was to wear her bikini in the cold weather and not eat until she finds the dog.
Gift Baskets Getting Bigger
This week we're adding the Tagg GPS Pet Tracker to the 12 Dog Daze of Christmas Giveaways. Also goodies from Overby Farm, Planet Dog, Oreck, H204K9 and Warren London. Listen to win!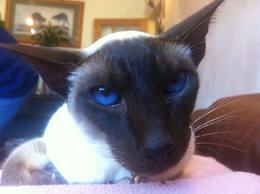 OCD Feline
Can a cat have a compulsive disorder, or OCD? Absolutely! We'll talk to the guardian of a psychotic Siamese? And yes, there is such thing as Kitty-Prozac!

Listen to this Animal RadioŽ episode




Animal RadioŽ Show #627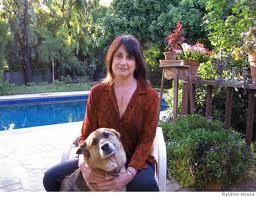 Stupid Human Interviews
The brainchild behind David Letterman's Stupid Pet Tricks and bestselling author Merrill Markoe is back for more insanity with the Animal RadioŽ crew. This time, she puts Animal Communicator Joy Turner in the hot-seat.
Parvo Outbreak at 'Occupy SF' Movement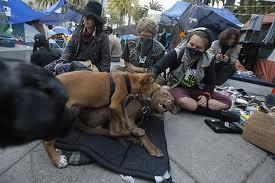 Three pooches at the Justin Herman Plaza space have tested positive for the highly contagious and deadly parvovirus, putting all four-legged friends there at risk. The San Francisco SPCA and Animal Care and Control visited the camp Monday afternoon to offer free veterinary services.
The Top 5 Pet Gadgets of 2011


Gadgeteer Geoff Mott returns for his yearly count-down of the hottest pet gadgets and goodies. You may be surprised by this year's picks. See Geoff's list: http://www.petgadgets.com/AnimalRadio.htm.
More Gift Baskets Giveaways
Animal Radio's 12 Dog Daze of Christmas continues with two-baskets chock-full of goodies from Clear Conscience Pet, Zodiac Eden, Whiskas, Overby Farm, and Sleepypod. Listen to win.
Listen to this Animal RadioŽ episode





Animal RadioŽ FREE Pets & People Drug Discount Card
SAVE NOW ON ALL UNINSURED MEDS!! For both you and your pet!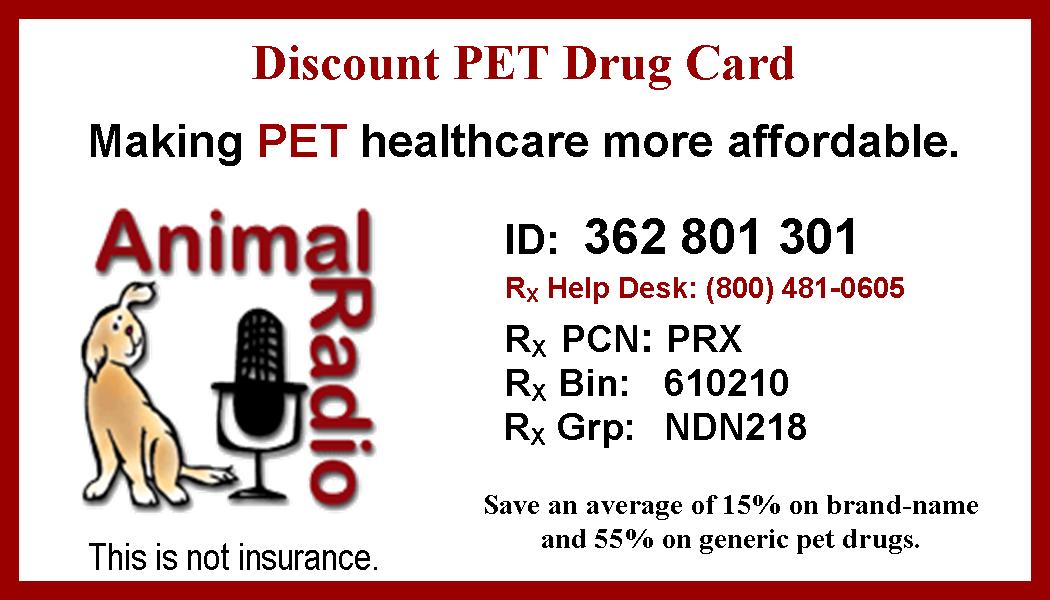 You may already know how expensive pet medication can be. Especially when pet insurance doesn't cover drugs.
All of us at Animal RadioŽ are doing our best to help out. After all, we're all in the same financial boat and don't want the pets to suffer because a medicine's cost is prohibitive. We made a deal with the top pharmacy benefits managers. Here's what we came up with:
- The Animal RadioŽ Pets & People Drug Discount Card is FREE.
- It offers 15-55% discount on pet medicines or uninsured human medicines.
- It's usable at almost 60,000 pharmacies, including Walgreens, Wal-mart, Rite-Aid, Target, Costco, CVS...all the biggies!
- Card is pre-activated and never expires.
- Great for small businesses that can't afford benefits for employees, or even your church or local Senior Center. We will gladly send you as many cards as you need.
- You can print out the FREE card online at: http://animalradio.com/Pets_People_Discount_Drug_Card.html
Or, if you would like us to mail you a free card, send a self-addressed stamped envelope to:
Animal Radio Drug Card
699 Paula Street
Morro Bay, CA. 93442
Please help spread the word. Your friends will thank you.
Print Your Free Drug Discount Card




Animal RadioŽ Headlines
Did You Get Your Flu Shot? How About Your Dog??
There has been an increase of dog flu in the northeast and Texas. The extent of the "outbreaks" and whether widespread public concern is warranted is unclear, because no central agency or institution monitors influenza in dogs.
The virus doesn't cause illness in humans and generally is not considered serious in otherwise healthy dogs unless it leads to secondary infection.
Across the United States, canine influenza has been documented in 38 states since the virus first was identified in 2004, according to the website www.doginfluenza.com, which is maintained by Merck Animal Health, makers of one of two canine influenza vaccines on the market. Clinical signs of flu in dogs are similar to those in people: runny nose, cough and fever.
Without laboratory diagnostics, canine flu is difficult to distinguish from other respiratory infections. The advice given to most human patients to receive a flu shot annually does not apply to dogs because they usually do not mingle with other dogs to the extent that people mix with other people.



Oldest Living Dog Dies
The oldest living dog in Guinness World Records, died on Dec. 5, 2011 in Sakura, Japan. He reached the ripe old age of 26 years and 9 months.
Pusuke was certified for the Guinness title last December. The previous record was held by a 28-year-old beagle from the U.S. who died in 2003.
War Dogs Develop PTSD's
If anyone needed evidence of the frontline role played by dogs in war these days, here is the latest. The four-legged, wet-nosed troops used to sniff out mines, track down enemy fighters and clear buildings are struggling with the mental strains of combat nearly as much as their human counterparts.
By some estimates, more than 5% of the approximately 650 military dogs deployed by American combat forces are developing Canine Post-Traumatic Stress Disorders (PTSD). Of those, about half are likely to be retired from service.
Treatment can be tricky. Since the patient cannot explain what is wrong, veterinarians and handlers must make educated guesses about the traumatizing events. Care can be as simple as taking a dog off patrol and giving it lots of exercise, playtime and gentle obedience training.



With A Best Friend Like This, Who Needs Enemies?
It's happened again; A hunting dog has shot its master. This time, a man in Florida was hit in the thigh by a round from his Remington .308. The culprit was a bulldog named Eli.
Billy E. Brown, 78, was driving to go deer hunting with a friend on a bumpy road in Pasco County near Tampa when Eli "got excited in the truck" and bumped the rifle. The gun discharged, the bullet hit Brown in the right thigh.
He was taken to a hospital in Tampa.
Brown and the friend were about one-and-a-half miles into the woods when the accident occurred.
This incident follows one Dec. 1 in which a hunter in Utah was hit in the buttocks by birdshot after his dog stepped on a shotgun laid across the bow of a boat.

Ask the Animal RadioŽ Dream Team
Listen to Animal RadioŽ LIVE every Saturday at noon eastern and Sundays at 5pm eastern on XM ch. 166 (America's Talk) or on any of the 100 AM-FM radio stations. Call with your questions toll-free 1-866-405-8405 or email yourvoice@AnimalRadio.com

Shedding
Amy: My boyfriend has an American Bull, is there a type of dog food he can feed him to lessing the amount this dog sheds?
Doctor Debbie: Dear Amy, I hate to break the bad news- but no diet is going to decrease shedding, unless the diet is of poor quality. There is no single good or bad food, but price does count when it comes to food quality...so if your boyfriend shops for good quality food (purchased at pet store) and the food isn't one of the low cost discount store brands, then you are probably okay there.
 
Most Pits will shed- ALOT and the trick is to stay ahead of the hair growth cycle. The best tips are to bathe 1-2 times a month with a non-medicated shampoo (look for one enhanced with fatty acids) and to brush several times a week with a short bristle brush or even a Furminator.
 
Here in Las Vegas we see alot of pets with dry skin or haircoat- and they may shed more than other dogs. For them I suggest a good oral supplement of omega fatty acids- can definitely help keep the luster, but honestly doesn't make a dog shed less. There are a ton of supplements sold online that will promise to decrease shedding (be careful of what you read) but brushing still wins out as the best shed fix!



Get a Stella & Chewy's Sample - Lowest prices Online!!
Those Problem Anal Glands
Connie: Any ideas for helping our 48-lb Beagle/Bassett (rescue) keep his anals clear at least for a longer period of time than 3 weeks?
He eats Stella and Chewys' raw with Natures' Recipe Kibble;  added pumpkin in PMs, green beans for snacks (is on a diet);  yogurt in breakfast. Azmiras' Fiber as well, along w/ holistic herbs and DMG.
Doctor Debbie: Veterinary products such as Fortiflora or Prostora;
Hypoallergenic diet - a trial on a hydrolyzed protein diet may be helpful for some dogs.
Anal sac infusion - ask your veterinarian about this possibility. This is when we use a small catheter to flush the anal sac contents and infuse an antibiotic cream. I have had nice success with some patients after ag infusions - decreasing interval of expressions and decreasing discomfort on expression of anal glands.
 
The last resort is surgical removal of these nasty little glands. It's the last thing I turn to when either we have recurrent infections.
Hope that helps ya some!
Listen to the Animal RadioŽ Dream Team


Get 25% off by entering "save25" in promo code box
Events Calendar
brought to you by



Send your events to: yourvoice@AnimalRadio.com
The Greater Philadelphia Pet Expo
Friday, January 13, 2012 12:00 AM - Sunday, January 15, 2012 12:00 AM
Greater Philadelphia Expo Center
Our Pet Expos are designed to educate and entertain the public about the wonderful world of pets. They are family oriented events featuring many educational demonstrations and seminars, hands-on-petting opportunities, special attractions, pet adoptions, and entertaining exhibits. Our Pet Expos also make available an outstanding shopping venue of products and services pertaining to pets and children.
Walk.Run.Wag 5K9
January 15, 2012 - 8:00 AM to 12:00 PM
Del Mar Fairgrounds 2260 Jimmy Durante Blvd
Walk or run a 5K or 1 Mile course with your dog, or without a dog. Also, events and pet fitness expo will be held for everyone. A portion of the proceeds from your registration will directly benefit local pet charities through the Petco Foundation.



Celebrate your pets right now at AnimalRadio.com

Get Animal RadioŽ Headlines emailed to you, or catch us on

Twitter and

Facebook.
"Like" Animal RadioŽ on Facebook - and win goodies for you and your pet.

Copyright 2003-12 Animal RadioŽ, its logo and Animal Radio Network(TM) are registered trademarks of Animal Radio Network LLC. All rights reserved. Submissions for newsletter, programming, editorial comments and opinions may be sent to: YourVoice@AnimalRadio.com. See our website for additional information.